Now that it's summertime, you may consider picking up a new hobby or two. If starting your own podcast is something you've been interested in doing, but don't know where to start, SquadCast.fm is always here to help.
Redfin reached out to podcast experts from Toronto, ON to Austin, TX, including us, to get our best advice on how to create the ultimate podcast space in your house. From installing noise buffering materials to helping you create a cozy, quiet, and welcoming environment, these tips can help take your space and your podcast to the next level. This blog post initially appeared on their website here, but we wanted to share it with our readership.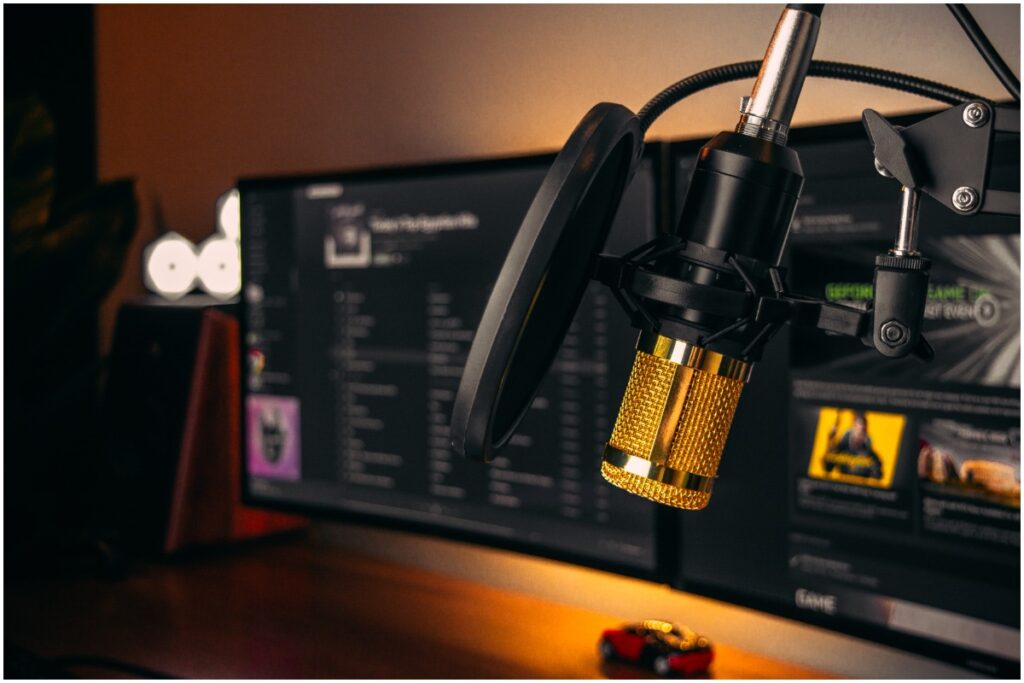 1) Consider what your podcast will be used for
If podcasting is a hobby, set aside a basement and go for it. It's not about the cost or return, it's about being happy and having fun. However, if your podcast is part of a business plan, then consider renting space in a nearby professional studio when you need to record. Do your creative work, thinking, and planning at home, and when it's time to record, use a space that is designed for it, equipped for it, and part of someone else's monthly overhead. – Solid Gold Podcast Studio
2) Choose a smaller room and fill it with items
You want to pick a smaller room in your house because this will lower the chances of echo or reverberation. Echo is the enemy of podcasts, so start with a small room, and then put things inside that room. Pictures on the walls, couches, a bookshelf, anything that is in the room will help to absorb the reflections and reduce the echo picked up by your microphone. – Pleasant Podcasts
3) Record in your closet
Spaces with hard surfaces will bounce sound back into your microphone creating reverb. To avoid this, equip your studio with sound-absorbing materials including carpets, curtains, upholstered furniture, cushions, and even foam acoustical panels that can be purchased online. Believe it or not, many podcasters choose to record from their closets because they don't often have windows and hanging clothes can provide the perfect sound-absorbing material. Lauren Popish of Swell Podcast
4) A walk-in closet works as well
For podcasting, you need a space that's small and soft, with very few noisemakers like windows and refrigerators. A big walk-in closet with a door, desk, and a power outlet would be perfect, and it gives sound-absorptive purpose to all those clothes you can't convince yourself to part with. – Pacific Content
5) Make sure to measure your podcast space
For your podcast space, select the most optimal area, measure it, and decide how much of it you need to occupy to be comfortable podcasting. Aside from the equipment essentials, acoustic treatments, lights, decorations, air fresheners, incense, and cozy furniture are just some examples of things that you might consider to create the right ambiance for your podcast studio. Some people just feel more creative with a certain ambiance, so think about what kind of atmosphere helps you be the best podcaster you can be. – Live365
6) Create a pillow fortress
If you're still starting out and need to treat the room acoustically, you can create a pillow fortress. Fill the room and the surrounding area with pillows or sound-absorbing materials (e.g. carpets, curtains, and blankets) that keep the sound from bouncing. This is a basic way of soundproofing which works for anyone who's starting out. – Podcast Engineers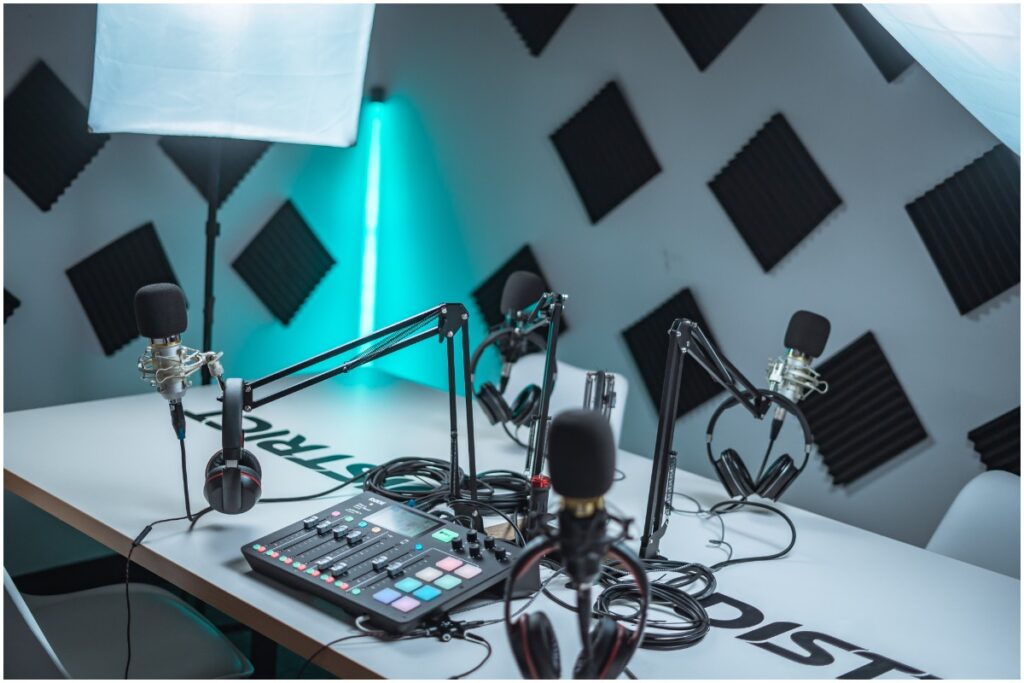 7) Expensive isn't always the best option
This goes for everything that you could possibly buy for your podcast space – mics, headphones, editing software, etc. Spend some time watching YouTube videos, listening to podcasts, and learning from experts who've tested out the products to learn what the best options are for you at this stage in your podcasting journey. – SquadCast
8) Start with the area around your mic
Most aspiring podcasters think that you need to renovate an entire room to make it sound good – but you only need to treat the area around the mic itself. One novel recommendation I often make to folks short on budget and space is to pop their mic into a cat bed or cat house – the type of thing you can buy for less than $10 in a pet store. This creates a tiny "studio" around the mic and will kill the reverb in your recordings – even in the worst sounding of rooms. Matthew McLean of The Podcast Host
9) Make sure you invest in comfort
Invest in a comfortable and quiet chair, a table, and podcasting gear such as a microphone (with a good stand), audio interface, or mixer. You may think an empty room will provide the best sound for your podcast. However, it doesn't. Select a small area that has tons of soft surfaces – pillows, rugs, comforters – even your closet will have you sounding like a podcast pro. – Motor City Woman Studios
10) Angle your light source
Curious how people look good on camera? Don't worry, it's probably in the lighting, which is a simple fix. Never put the light source behind you, it'll darken your face and deepen every line and wrinkle. You'll want to face toward light whether it's a large window or an artificial source, and if you're going the artificial route, you'll want to light your face from both sides, not just one, in order to avoid looking like you're starring in a scary film. – Tiffany D. Davidson 
11) Always wear headphones when recording your podcast
It's crucial that you monitor the sound of your voice and your guests to catch mistakes before you are in the editing process. Plus, wearing headphones will not let the audio from your guest be recorded through your microphone. Resonate Recordings
12) Consistency is key
As a podcast grows, consistency becomes more and more important. Dedicating a podcast space to do your show not only makes the sound quality and production level more consistent, but also reduces variables in your workflow, making the process of producing and publishing your episodes easier. Delivering your show to your audience on time, every time, is paramount to your growth and success. – Podomatic
Zachariah Moreno is the co-founder, CEO, & CTO of SquadCast. He is also a podcaster, author, developer, and designer. He and his team are on a mission to amplify collaboration.