Podcasting and SquadCast have never seen a year like 2021. These are the moments, both groundbreaking and inspiring, that made this year so notable.
As long-time innovators and investors in podcasting, the team here at SquadCast has seen a ton of growth across this ecosystem. Between the maturation of the Cloud Recording Studio category and Podcast-YouTube cross-pollination, more content is being recorded remotely than ever before.
To celebrate all this, we've put together this highlight reel of the moments, achievements, and trends that made 2021 monumental. Have your own thoughts to share about what made this year in podcasting so unique? Let us know on Twitter @SquadCastFM.
More Remote Recording Than Ever Before
We are proud to have helped SquadCasters and their Guests record well over 26 years' worth of quality audio and video in 2021. On average, over two years of audio and video is recorded on SquadCast every month. To help SquadCasters keep track of their time spent recording, we added the category's first and only Recording Time Analytics.
Our Community is Thriving
Community is at the center of our work to empower podcasters. The ways that we connect with, learn from, and uplift our community members are vast – spanning…
8 industry-wide events
52 episodes of "Between Two Mics"
Thousands of active members helping each other
15 Squad P'Audits (Community Podcast Audits)
30 Clubhouse/Twitter Spaces
52 issues of SquadCast Weekly and SquadPod Weekly
15 educational workshops
Hundreds of SquadShots shared
4 in-person breakfasts
Harper is in on the #podcast action joining me on @SquadCastFM ! So easy a #bulldog can do it. Thanks for being on the pod, buddy! 🙂 pic.twitter.com/FSDUEHsw54

— More Than Work Podcast (@MoreThanWorkPod) December 27, 2021
Thank You, SquadCasters, for making this year so much fun!
Podcast Growth from YouTube Videos
Local HD Video Recording launched on SquadCast in January 2021 and SquadCasters like Andrew Yang and Motion Agency are leveraging videos to reach new audiences with the help of YouTube's recommendations. In August we increased the video quality to 1080 (Full HD) from 720 (HD) to unlock creative possibilities like panning and zooming around a video without reducing quality or needing to upsample.
Growing Podcast Production Teams
Increasing our Cloud Recording Studios capacity to 10 people (1 Host + 9 Guests) not only makes it the most in the Cloud Recording Studio category. It also unlocks new opportunities to collaborate with more people in new ways. For example…
Larger productions at organizations like ESPN, Google, and Microsoft can now include more people from their teams to collaborate in new ways and
Shows with multiple co-hosts and lots of guests can record together in the same studio quality that creators have come to depend on from SquadCast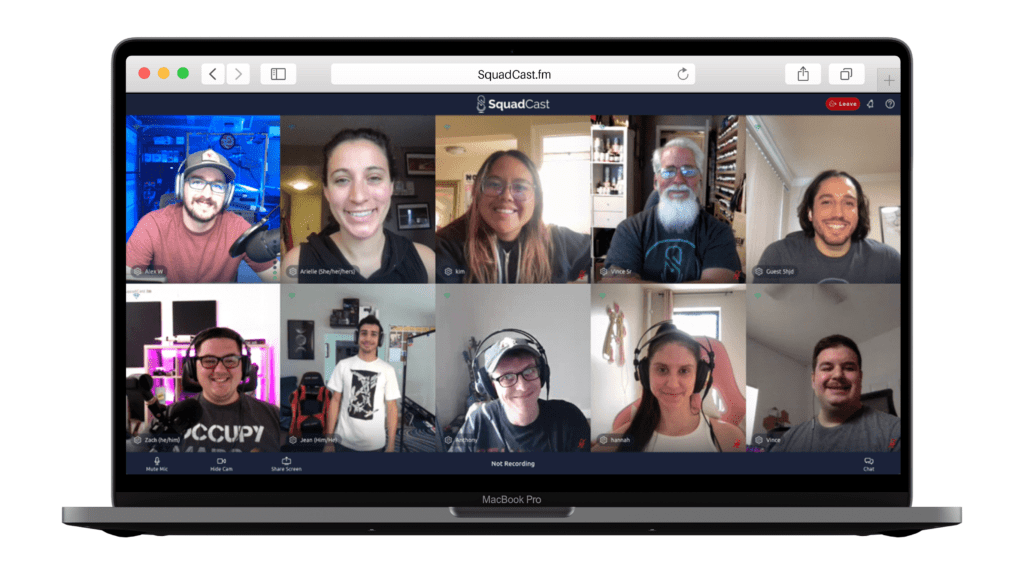 Automating Podcast Workflows
Integrations are helping SquadCasters build powerful automations and connect apps like never before with our category's first and only public API. Connecting your Cloud Recording Studio to Zapier, Dolby, Auphonic, Dropbox, Captivate, Camo, and SavvyCal is easy on SquadCast. These webhooks and workflows are saving valuable production time by empowering new automations like creating a Recording Session when your Guest schedules with you on SavvyCal or saving a copy of your recordings to Dropbox.
iPhone and iPad Podcast Recording
As of December 2021, iPhone, iPad, and Safari fans can now join in the remote recording fun with our category's first and only full-featured Cloud Recording Studio. This expands on long-time official support for macOS, Windows, Android, and Linux operating systems in Chrome, Firefox, Edge, Opera, Brave, and Silk web browsers.
Metaverse Podcast Recording
For the early adopters in our community who want their Cloud Recording Studio in the Metaverse, we are excited to share that our team has successfully tested experimental support for Oculus VR headsets. More on this later.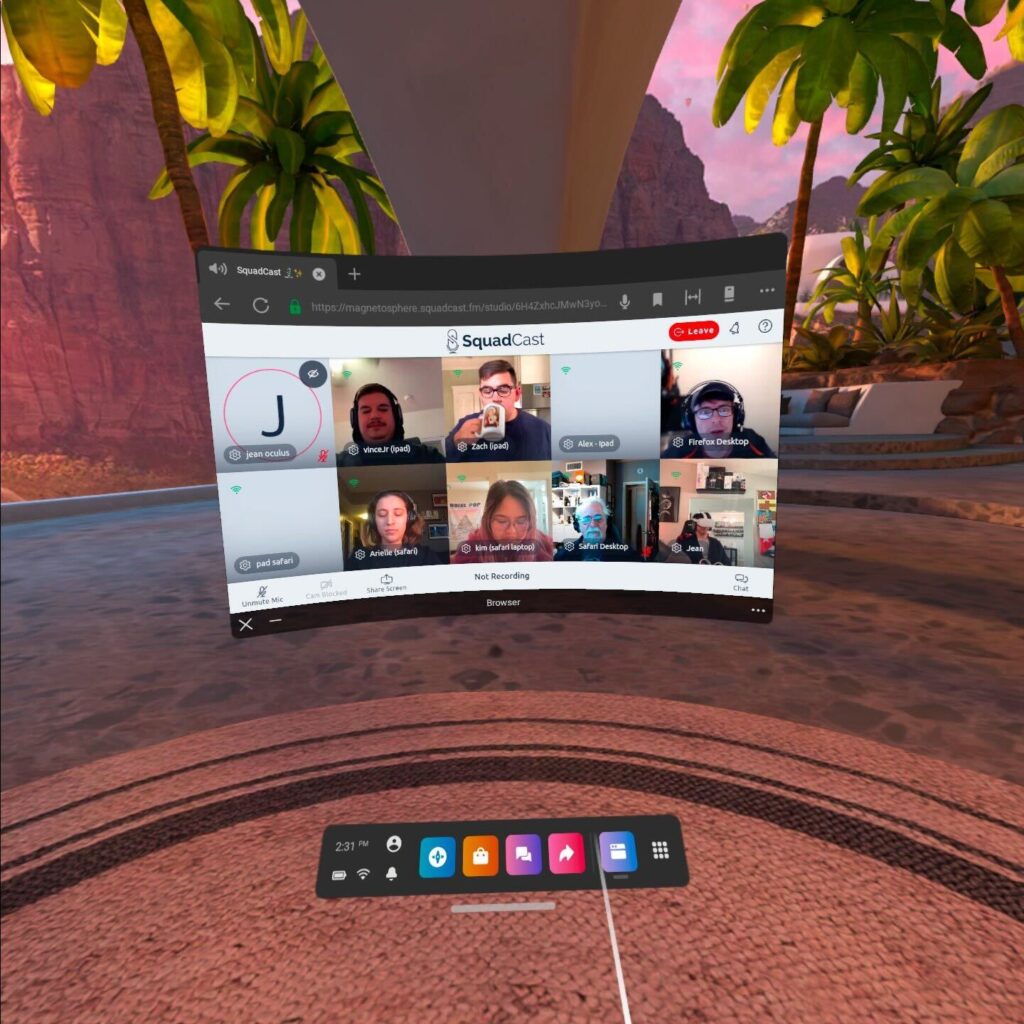 Looking Forward to 2022
We will continue to lead the Cloud Recording Studio category by amplifying collaboration across organizations with multiple Shows, each with Teams of people with various roles. V5 is on track to land for SquadCasters in Q1 and will feature a beautifully redesigned experience and powerful new capabilities like Search, Segments, and Backstage.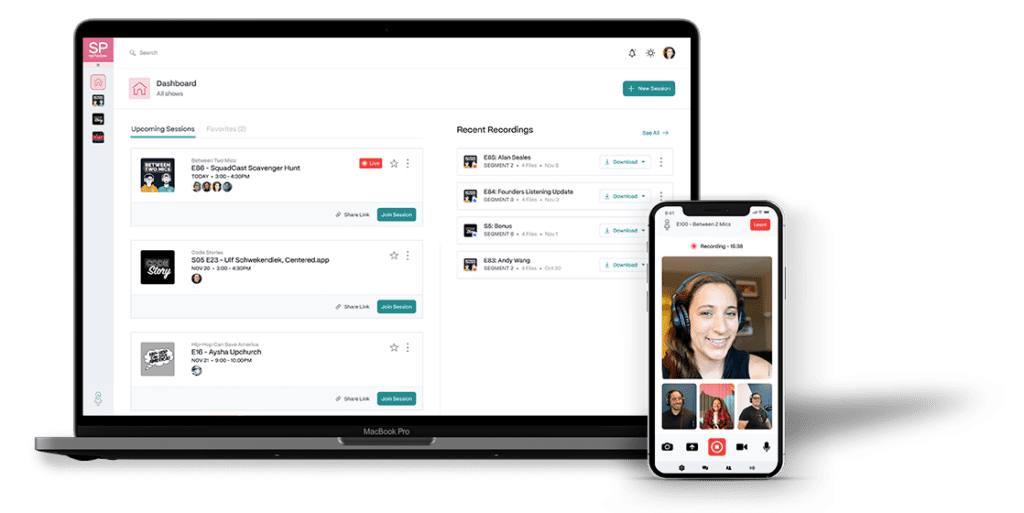 2021 has been amazing and we are grateful to our community of SquadCasters for pushing us to continually innovate, design, and build every version better than the last.
Happy New Year!