If you haven't already heard, the New SquadCast Cloud Studio and Backstage is here,  featuring a whole slew of improved features that are packed with value for podcasters.
We're out to make remote podcasting simpler and easier than ever. From improved security and refreshed design to integrations that make your workflows run smoother, you'll love all the ways we've taken SquadCast to the next level.
Read on for a countdown of the top 10 new SquadCast features that you can use today to make podcasting easier, simpler and just plain more fun. You can also check out our YouTube channel to get the scoop directly from our very own Maribel Quezada Smith!
10. The new design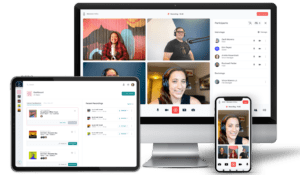 Our mission is to amplify collaboration for podcasting teams, especially when they're remote. From pre- to post-production on every one of your shows, we want to make the experience of working together even better.
In service of that mission, we've reimagined the entire SquadCast experience. Look out for our new logo, color palette, typography, icons and layout. Each of these elements is designed to make podcasting more user-friendly and more all-around enjoyable!
9. New and improved chat groups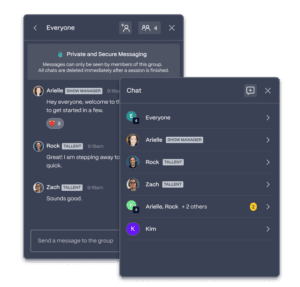 The more the merrier certainly applies to podcasting!
Supercharging collaboration in the new SquadCast experience means more collaborators in your studio from start to finish. But we made sure to maintain privacy and foster more fun!
We've expanded SquadCast chat to feature as many groups as you like. And with at-mentions, slash commands, and emoji reactions, you'll find the robust chat experience that you're used to in community platforms like Slack — right from the comfort of your SquadCast Studio. 
8. Automatic quality checks
We've always recommended doing a quick sound check with your guests before you start recording. But we get it: Life happens, and sometimes we forget!
Enter automatic quality checks.
Now, you can preview all of your recordings shortly after you click "Record." This means you can preview the files while you're still recording them — which, in turn, means you can make proactive key adjustments before you dive all the way in.
And get this: SquadCast is the first and *only* cloud recording studio that offers this awesome feature. It's made possible by our patented recording engine with progressive uploads. (Can you say game-changer?!)
7. Invite your team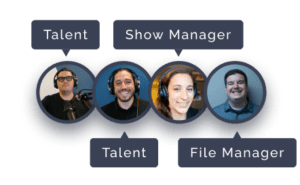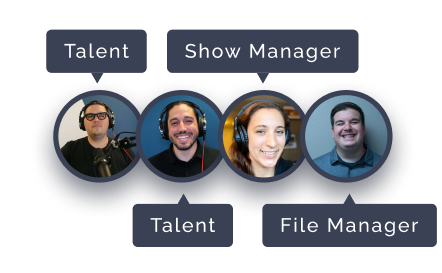 You can now give your team members the right SquadCast access by inviting them to collaborate on your shows! We know each person has an important part to play in your podcasting process, so you can use our robust roles to designate access and recording controls for everyone involved.
Best of all, this feature also makes your podcasting sessions more secure. It lets everyone have their own SquadCast account and login. So long, password sharing!
6. Squad Shots (Say "cheese!")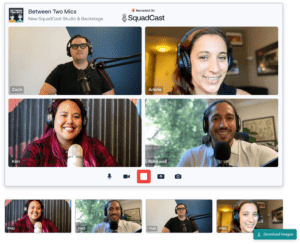 Snapping a screenshot of your SquadCast recording has always been a simple and easy way to hype upcoming episodes on social media. But now, we've made it even easier by building it right into your studio!
Meet Squad Shots. When you click the Squad Shots button, each of your guests will have the option to opt in or out of the photo op. For everyone else, count from five and smile for the screenshot. The photo will even come complete with your show's branding.
You can then share the image directly to Twitter or download it for additional editing. Squad Shots are saved as individual photos for each person and combined into a group shot. This means greater flexibility to use Squad Shots in post-production for thumbnails, YouTube and more!
5. Editing in Descript
New to Descript? No problem! Descript is an app for video and audio editing — to use their words, it makes editing "as easy as a doc." When you click the "Edit in Descript" button from your SquadCast Studio, your files will be imported directly to your Descript account. No downloads or uploads needed!
Descript is just one of the ways we're connecting tech to keep your workflows fast and efficient with our all-new Workflow Drawer. And speaking of…
4. The Workflow Drawer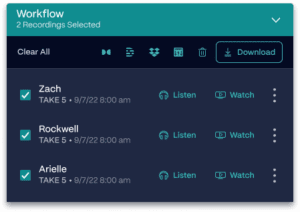 "Better together" doesn't just apply to your team. We happen to think your tech is better when connected, too. That's why we've introduced the Workflow Drawer for integrations that make each part of your process smoother.
Simply plug recordings into your workflow straight from your dashboard. You can:
Mix with Auphonic.
Master with Dolby.
Send to Dropbox.
Edit with Descript.
3. Search in your studio
We know that prolific podcasters are also busy podcasters. Many have multiple shows and oh-so-many recordings on hand. With that in mind, we've made your studio even easier to navigate.
New search features let you quickly filter your recordings, episodes and shows to find exactly what you're looking for in record time.
2. Our all-new Backstage
If you've ever wanted guests at your recording session who aren't on the mic or camera, this feature is for you!
Whether you've got PR or legal folks who need to listen in, fact-checkers or fans of the show, Backstage lets these friends tune in — in real-time.
What's more, the Backstage feature also doubles the number of participants you can invite to your recording session. So enjoy having *twice* the podcast fan club!
1. New pricing model
While technically not a new Squadcast feature, we're still so pumped to share that we're making video recording accessible and affordable for creators, no matter their budget.
Our engineering team has put in incredible work to optimize the platform. So with all of these new features, everyone's getting more bang for their buck with SquadCast.
The future of podcasting is here!
Which new feature are you most excited about?
We know you'll love these additions and expansions to the New SquadCast Cloud Studio and Backstage designed to make your podcasting life better and easier. And we can't wait for you to try them for yourself.
Zachariah Moreno is the co-founder, CEO, & CTO of SquadCast. He is also a podcaster, author, developer, and designer. He and his team are on a mission to amplify collaboration.