Powerful Search, Multiple Shows, Team Invites, and WAY More
This blog post is part of our introduction of the New SquadCast.
We designed the new Dashboard to help creators stay organized while working with multiple Shows and more Team Members. The new Search feature helps your Team find what they need fast, like your Upcoming Recording Sessions, Favorites, and Recent Recordings.
Organizations and Shows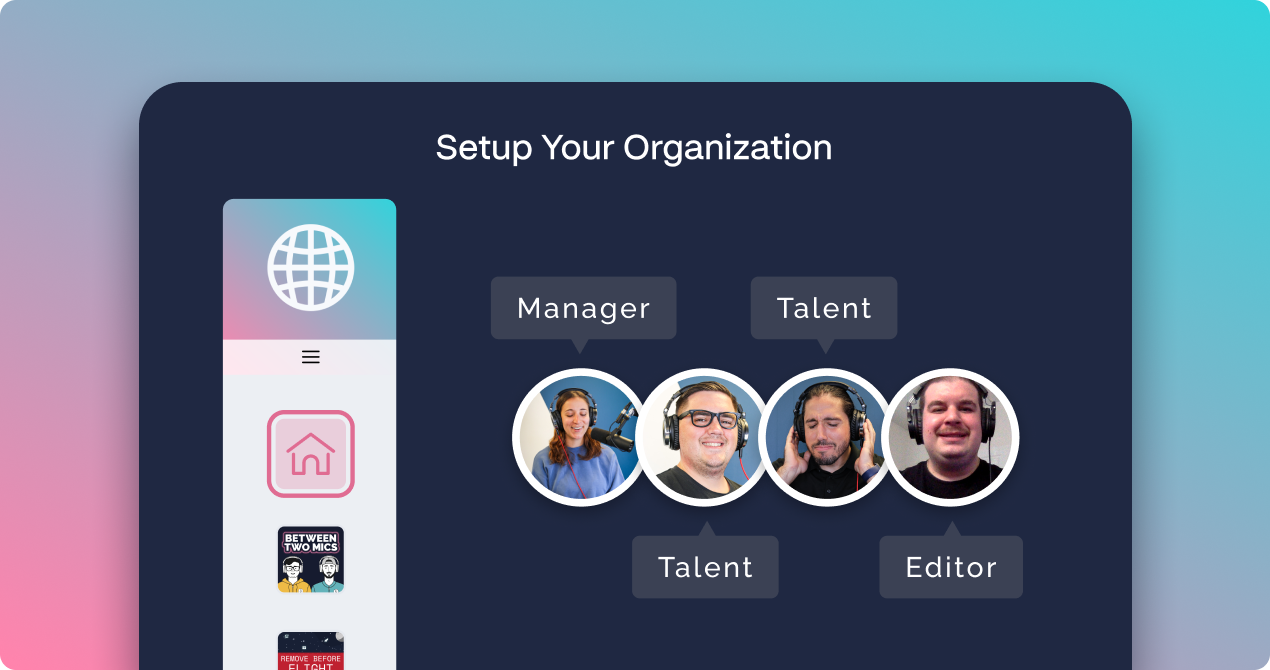 Organizations are on a new level that empowers collaboration across one or more Shows while applying branding for a customized Studio experience. A Show is a group of Recording Sessions, a group of Team Members, and Branding displayed on your Dashboard and in your Studio.
Invite Team Members
Invite your Team Members to share access and collaborate on producing Shows. Roles like File Manager and Show Talent give Owners and Admins the fine-grained access controls our Organizations need.
Search All The Things
Search all of your Recording Sessions to find what you're looking for in milliseconds. Quickly refine your search with participants and show filters.
Take One, Two, and Three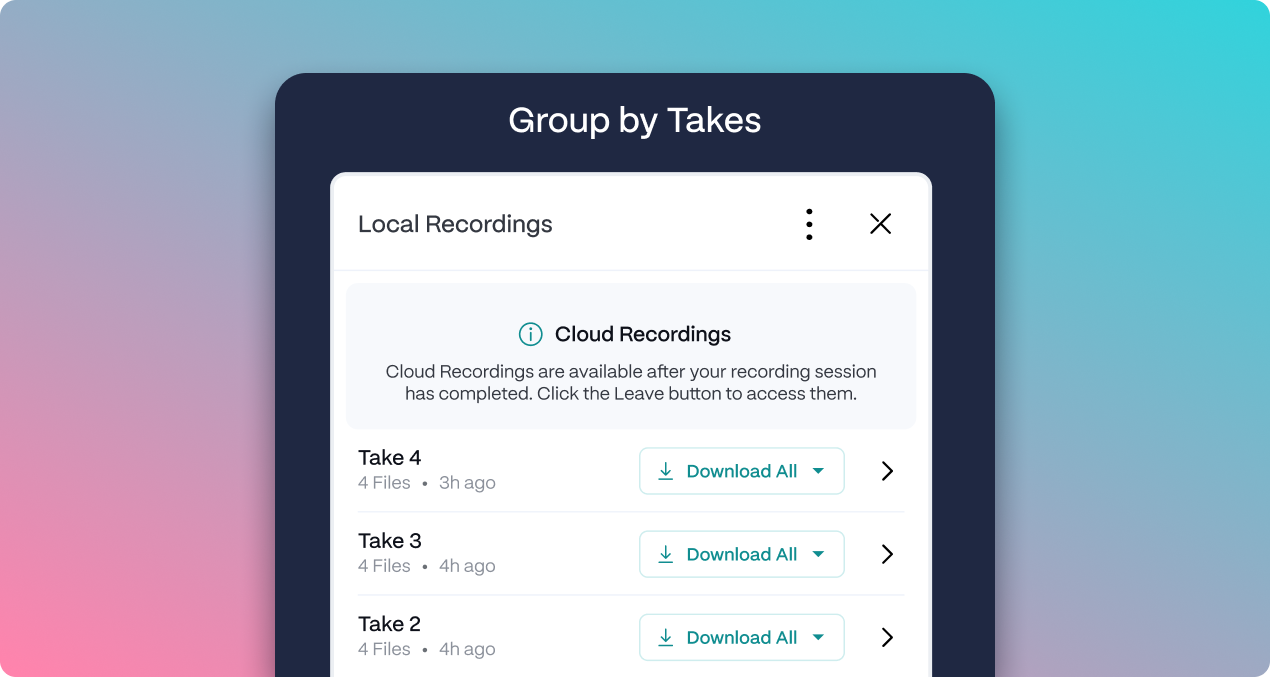 We record in groups, but why aren't our recordings also grouped? Groups of recordings are now called Takes, and they help creators stay organized in the New Studio. Takes are named automatically with Take 1, Take 2, etc., but can easily be renamed (to something like "Intro") to help your team stay organized with lots of recordings.
Workflow Drawer
Remote production workflows vary in complexity, from publishing the raw mixed audio recordings to adding lots of post-production value in apps like Pro Tools before publishing. The new Workflow Drawer plugs the recordings you select directly into whatever the next step in your workflow is. Download everything in the format you choose, transfer them to your connected Dropbox, Mix Audio, Master Audio with Dolby, and now Edit in Descript.
Edit in Descript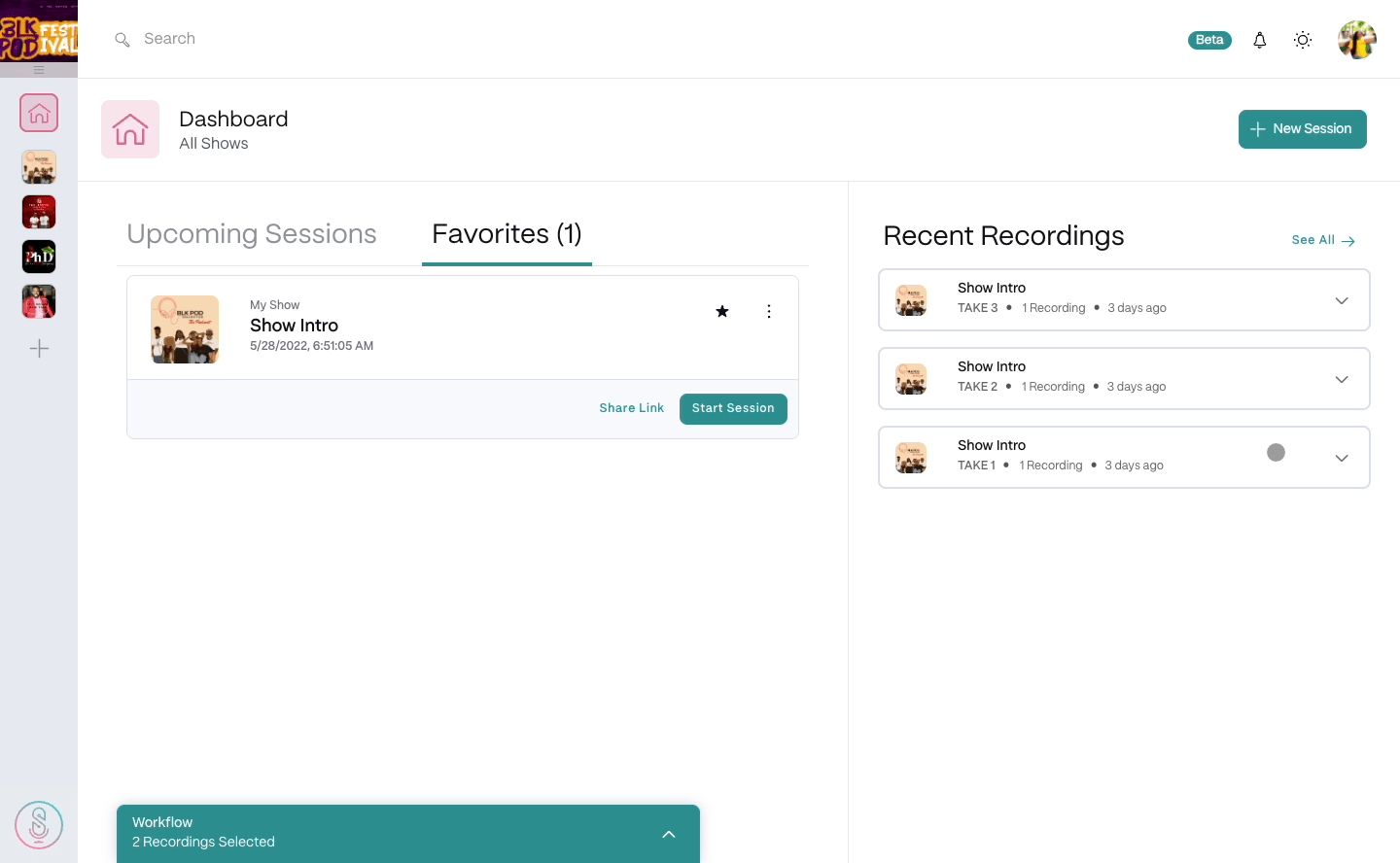 Are you tired of downloading massive media files to import them into your favorite editing apps? That takes too much time for content creators to scale their businesses. Our new integration with Descript will save your team a ton of time that they can use to add production value instead of waiting for downloads.
Learn more about the Edit in Descript integration.
Instant Recording Sessions
Opportunities to capture unique content can present themselves at a moment's notice, and with the new Instant Recording Sessions, your production flow can move at the speed of opportunity.
Favorites
Favorites are the new way to access Reusable Sessions. Mark any Recording Session as a Favorite, and it will be accessible below the Favorites tab within the new Dashboard.
Brand Your Studio
Prominently display your Organization and Show branding with artwork throughout your Studio. Your brand is displayed prominently throughout your Studio, your Talent on The Stage, and your Viewers Backstage.