Here at SquadCast, we're always looking for ways to help creators work together better.
Our goal is to make the podcasting process as simple as possible, especially when you're collaborating remotely. Luckily, SquadCast comes complete with new-and-improved features made for each member of your team.
Join us for a quick rundown of three ways we're making podcasting even easier with collaboration tools designed for podcasters by podcasters, courtesy of our own Maribel Quezada Smith. (You can also head over to YouTube to hear it straight from the source.)
Let's dive in!
1. Use roles to collaborate in SquadCast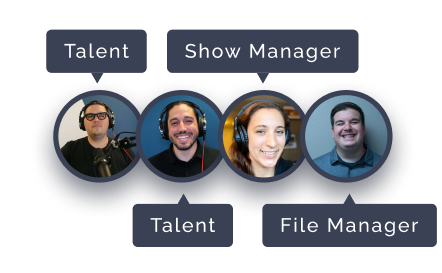 At SquadCast, we understand firsthand what goes into creating content. (ICYMI, we have our own podcast, Between Two Mics, and regularly share podcasting protips on our YouTube channel.)
All of that content means a lot of collaboration: with our engineer, our hosts, our producer, our transcriber and our designer. And these different roles require different levels of access to the recording files in SquadCast.
Then: In the past, to make sure everyone had what they needed, we had to either share login information or have one team member tasked with downloading the files and sharing them via a cloud storage solution, like Dropbox or WeTransfer. Neither of these approaches was ideal.
Now: We built a better way! Your SquadCast Account Owner can now invite content collaborators, designating various roles for each of your team members and guests. Let's take a look at these roles:
Show Manager: This role can do it all! They have full capabilities to control the session, manage participants, schedule and more.
Talent: These are users who are going to be mic'ed up and on camera but don't need to have control of the session.
File Manager: These are members of your team who only need access to the media files.
Viewer/Backstage: Other participants — like your production team members, producers and editors — are off-camera. They can watch and listen to the session but can only communicate through chat. This group also includes VIPs like guest team members and PR or legal folks.
A purple badge indicates the Account Owner, who has full control over the session. Their account is where the recording will be saved. And the orange Show Manager indicator lets you know who can manage the session details and send invitations.
The bottom line is that everyone's creative team looks a little different, so you can use the roles that work best for you. These new SquadCast capabilities ensure that everyone plays their own part in making the podcast magic happen.
2. Set up all of your projects clearly

You know what they say: creators gonna create! We know from experience that the podcasting bug is real — and once you've started your first show, you're much more likely to make a second, third and even a fourth podcast!
With all you prolific podcasters in mind, we've created a solution to help you keep your shows straight.
Then: Previously, the SquadCast dashboard listed all of your sessions together, so it could be tricky to tell your different shows apart without doing some digging.
Now: With the All New SquadCast, you can name each of your podcasts and upload cover art images to visually distinguish between shows. The new version of SquadCast also allows you to assign your creative collaborators to different roles within each show.
Trying to track down a previous session? Use the search function to find the one you're looking for, favorite it and reuse the details or guest invites as templates for your upcoming recordings. (Your future self will thank you!)
And here's the icing on the cake: all of these new features are included with every SquadCast pricing plan. No matter your budget, you can save time and stay organized — on top of all of the recording benefits you already know and love — with the new version of SquadCast.
3. Make your session screenshots shine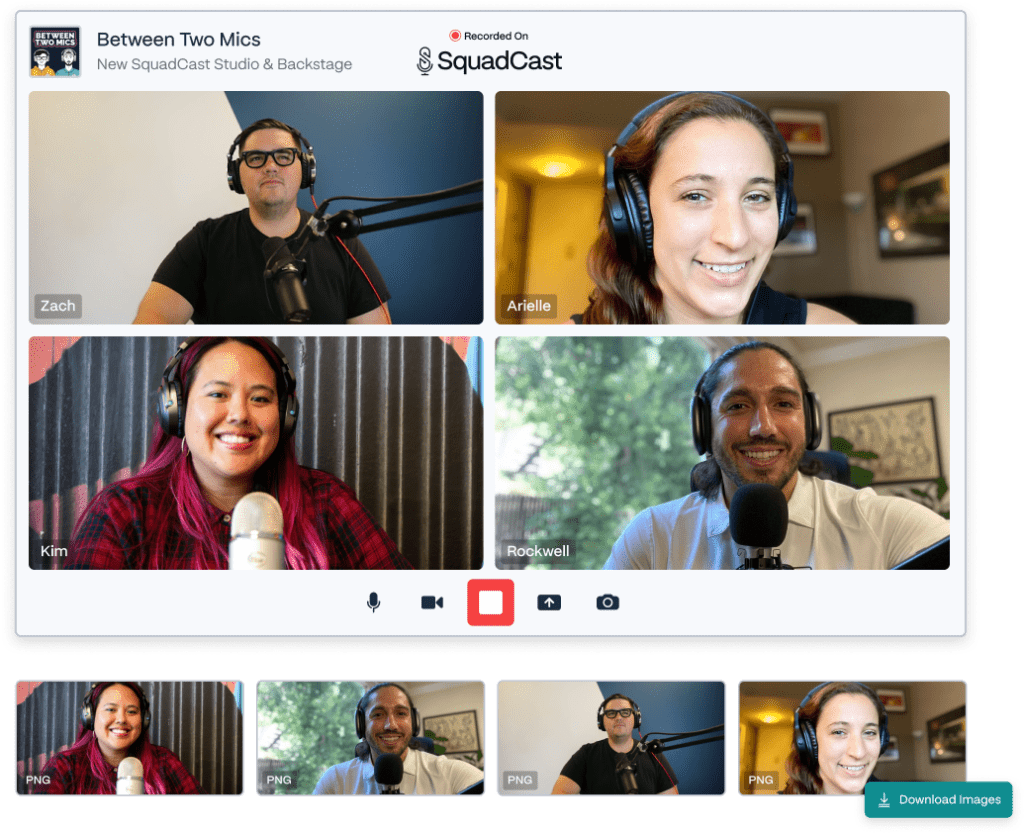 Need yet another reason to get excited? We've also updated Squad Shots! We wanted to make it easier than ever to share an image of your recording with your interviewee and with the world.
Then: In the past, capturing and sending a screenshot of your SquadCast session was a manual process.
Now: You can screenshot your session directly from SquadCast. Simply select the camera icon, opt in or out of the shot, and put on your best camera-ready smile.
Once you've captured that perfect shot, you're ready to share — straight from the session. Or, if you'd rather make some changes first, simply download the photo as an ISO file to edit and share later.
New features, same great platform
There you have it: three ways we've leveled up collaborative remote podcasting with SquadCast. We can't wait for you to see for yourself how these new-and-improved tools can help your team collaborate more effectively and efficiently.
We know how much passion and energy you pour into your podcast. So we're doing all we can to make your experience even better — while remaining the reliable recording cloud studio you love and trust.
Our platform is here for all of your recording needs, and our support team is here for all of your questions. We can't wait to see — and hear — what you do with SquadCast next!