SquadCast Joins Descript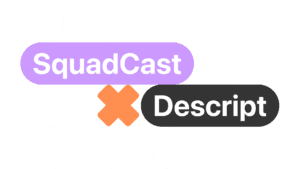 Now you can record, edit, and publish all in the same place
At SquadCast we believe we've built the best remote-recording platform out there. We're proud of that, and we're proud of the amazing podcasts and video that creators have made using SquadCast. 
But recording is only the first step for those creators — once you've captured your audio and video, you've got to turn it into something your audiences will love. That means exporting their recordings to an editing app. That means paying for multiple apps, and sitting there waiting for files to export and upload. It's a bummer. 
Well, not anymore. As of today, podcasters can capture studio-quality recordings and do professional-grade editing in the same app. This is all because SquadCast is now part of Descript, a fully-powered podcast editor used by all the podcast studios you've heard of: WNYC, The New York Times, Vice, and many more. 
Obviously, this is a major milestone in SquadCast's journey, and we couldn't be more thrilled. That journey has been fueled by our obsession with podcasts — with helping audio creators make great shows by building a reliable cloud-recording tool that would fit seamlessly into their workflows. 
Descript shares our obsession with podcasts and with building tools that make creators' lives easier. They sit right downstream of our cloud recording technology — and if you're a SquadCast customer, you now have access to Descript for free. Starting today, you'll only have to pay for one tool across your entire workflow.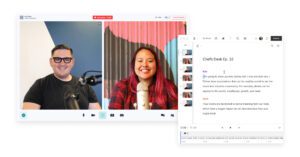 Editing in Descript: everything you need to make a podcast
Next time you're ready to make a new episode, you'll be able to record yourself and your guests in studio quality, from your web browser or phone, using SquadCast. When you're finished, your recordings will be automatically transcribed and instantly ready to edit in Descript. 
The best part: in Descript, you edit your audio — and video — just by editing the text in the transcript. If you're a beginning podcaster and you can type, you can edit a podcast in Descript. If you're an experienced audio editor, you'll be amazed at how fast you can edit in Descript — and then get down and dirty in Descript's fully-featured timeline editor, with all the sound design options you get from legacy DAWs (digital area workstations). 
Unlike those established editing tools, Descript was forged in the flames of AI, which is integrated throughout its workflows. So with a few clicks, you can do things like remove all your "ums", "ahs," and other filler words, or make your audio sound like it was recorded in a studio with Studio Sound. 
Descript has advanced AI stuff, too — Like voice cloning, where you make an AI version of your voice that you can use to correct mistakes just by typing (so much easier than re-recording), or even to serve as placeholder audio you can use to assemble music and other assets. 
Descript's Studio Sound redefines noise reduction by using AI to not just remove background noise, echo, and other sounds you don't want, but actually to regenerate your voice with all of that stuff stripped away. It can make you or your guest sound like you recorded in a studio even if you were in a noisy room, or they were using their phone for a mic.  
Descript's also got a new feature called Regenerate that makes those seemingly impossible edits — e.g., when a cut creates mismatched tones, or when a speaker's voice trails off mid-sentence — not only possible, but easy. One click. 
And when you're done with all those edits, you can publish directly from Descript to your hosting service. That's basically two clicks. 
And then, you can pop back into Descript to make quick clips for social media. Just copy the parts in the transcript you want to use for social promotion, paste them into a new composition, add captions, waveforms, video or images, whatever you want — and them export them through the cloud in seconds to post on your social feeds. 
We could go on, but you probably get the point: with the combination of SquadCast and Descript, you'll be able to produce a podcast, soup-to-nuts, using a single tool. And it will probably cost you less.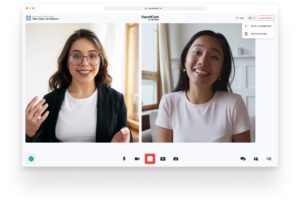 Integration timeline
So how's it going to work? The video below will show you the initial workflow. But before you watch, here's some context on how the Squadcast-Descript integration is going to roll out. Basically, there will be two phases.
In phase one, SquadCast will remain a standalone service, but we've really streamlined the integration with Descript — you'll see that in the video. Phase one begins today.
In phase two, we'll fully integrate SquadCast's tech into Descript and wind it down as a standalone service. That means you'll be able to make remote recordings from the Descript app, and have them ready to edit as soon as you're finished. We're working on this with our new Descript colleagues, but don't have an exact date yet. Stay tuned for more on that in the coming weeks. 
We're incredibly excited to join forces with the Descript team and to be able to serve more creators than ever before. We hope you feel the same. 
Resources for creators
If you've got questions about Descript or want help learning its workflows, we'd highly recommend you join the Descript community — it has tons of resources to get you started. There's a Discord channel where you can ask questions, weekly office hours, in-person community events, a support channel, and so much more. 
And if you want to ask us questions, we'll be streaming live on August 17th at 2pm et / 11am pt with Christiana Cromer of Descript and Arielle Nissenblatt, formerly of SquadCast, now of Descript. You can register here. 
Meanwhile, feel free to connect your SquadCast and Descript accounts and start creating. We can't wait to see what you make.