At SquadCast, Listening is Our Thing 👂
Listening is a key principle within our team's culture at SquadCast, and when the podcast community asked us to add Video Recording to our global recording platform…we were honestly a bit confused. We asked, "why would creatives collaborating on long-form audio content want to record videos?" We kept listening and asking questions to learn the truth about how Video fits into the podcaster's remote production workflow. We found that, thankfully, there is indeed a much more meaningful answer than, "Joe Rogan has videos…this is simply the way."
Podcasts are Changing…
Podcasts are not defined by audio files in an RSS feed; often they are made up of a website, socials, communities, merch, and yes, videos
Video clips are the best way for podcasters to share new episodes with their audience on social media. Big shoutout to our friends at Headliner & Waave for pioneering this effort.
Audiences see podcasts as part of a larger show that they can choose to engage with across a multitude of platforms, including YouTube & Spotify, according to Edison Research's The Infinite Dial Report
With our newly informed frame of reference, we also looked at the state of the art in Remote Content Production for long-form video creators, and spotted a familiar pattern that we had first seen in podcasting years before. The highest quality was being recorded with old fashion "double-enders," which were painstakingly crafted and nobody was happy or satisfied with the recording quality from conversation-first platforms like Skype or Zoom.
So we got to work; taking all of the lessons learned and innovative technology we developed for Audio Recording. We applied them to Video Recording all without lowering our standards for Quality & Reliability. In fact, we took the opportunity to increase our standards, improving the audio quality of your recordings. We spoke with hundreds of podcasters active in the community to gain perspective on key decisions like video quality standards, value-based pricing, and opportunities for design improvements.
It Was a Journey…
I am humbled by, and proud of the level of craft, hard work, and care that the SquadCast team put into this massive update. The results of our collective work (listed below) seek to uphold and expand upon our mission to amplify collaboration by removing barriers to meaningful conversations — this time with Video.
This is only the beginning, and we're only accelerating from here, with another big year planned to continue defining the standards in Remote Content Production.
Thank You,
Zachariah Moreno
Co-founder & CEO of SquadCast
🎙️ ➕ 🎥  Quality Audio + Video Recording
Record quality Audio & Video with remote guests
Videos are recorded locally & uploaded progressively
Video quality is HD 720 x 1280 at 30 frames per second
Audio quality is increasing to 48 kHz sample rate from 44.1 kHz
Videos are downloadable in mp4 (Audio + Video) & webm (Video only) formats
New Audio + Video Plans are based on $10 per recording hour, building on top of $5 per Audio recording hour
🎨  📐  Beautifully Designed Experience

We collaborated with the Community for 10+ hours of design testing across three major iterations and countless refinements
All new custom icons communicate more effectively and enhance the experience overall
Dark and Light Mode color pallets have been refined with new colors and offer a more accessible contrast
Redesigned onboarding and joining a Recording Session experience makes it easier than ever for new podcasters and their guests
Primary Recordings are now sorted by the time they were recorded, making it easier to find what you need
Select Multiple Recordings has been refined for Downloading, Mixing Audio, and Deleting batches of recordings
📬 🎁   More Help & Resources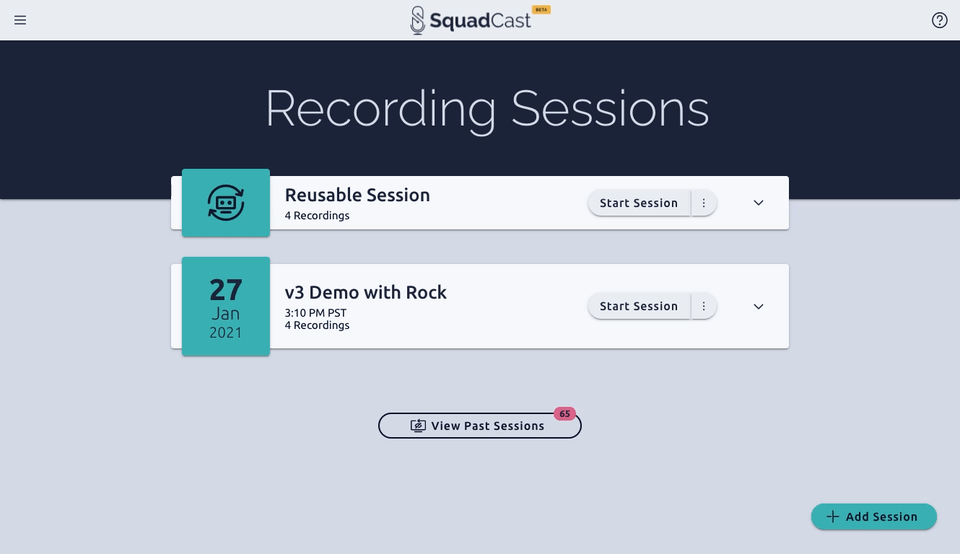 New Onboarding guides SquadCasters through their first Recording Session and beyond
What's New helps SquadCasters stay up to date on all of the improvements to the app over time
Connect and share with other SquadCasters in our Remote Recording Hub Facebook Community
Recommend SquadCast to other podcasters & get a 10% referral commission by joining our Affiliate Program
Updated Support Center docs and videos help SquadCasters learn how to do everything in the app
Track the Service Status of the SquadCast platform with our new UptimeRobot page
🦾 🤖  Better Backup Recordings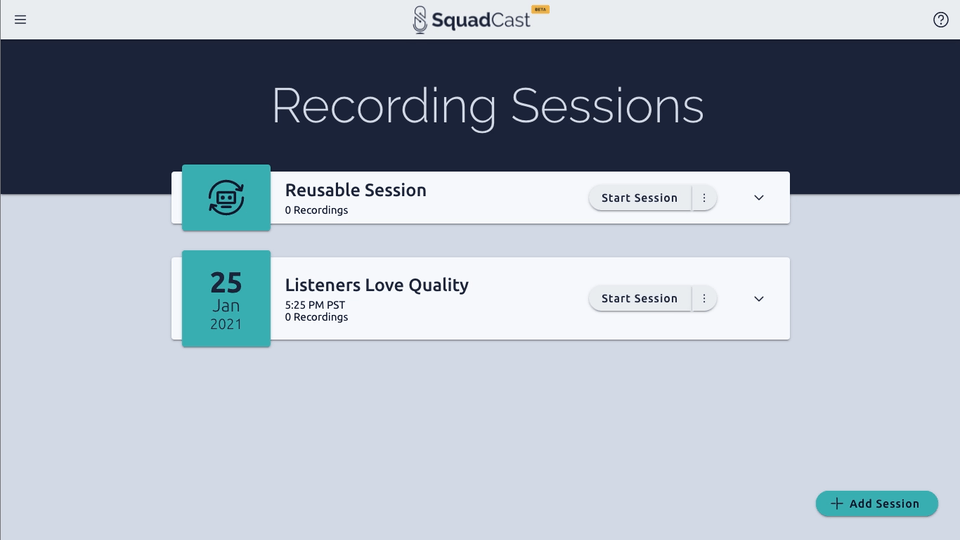 Videos are now available with Automatic Backup Recordings, removing anxiety from your production workflow
Progress is visible for each Backup Recording as it is rendered, making the process faster
Backups are now available within your Recording Sessions instead of email, making the process more transparent
Backups are now sorted by the time they were recorded, making it easier to find what you need
Known Issues – #Transparency (AKA Things We're Working On)
Recording Video from a camera that is not 16:9 aspect ratio (front-facing on mobile) will render mp4 video that is stretched to 16:9
Some backup video recordings are failing at 96%
Email Invites sent while creating a new session are not connecting properly for Hosts & Guests fixed on 2/1/2021
Audio Recordings rendered before 1/29/2021 include a progress bar for Videos that are not there fixed on 2/8/2021
Updating payment info is only currently possible while subscribing to a new plan fixed on 2/8/2021
The Edit Session modal's height is too short on some screen sizes fixed on 2/8/2021
Why the Beta Tag?
Audio + Video Recording has been in internal Beta for 2+ months to ensure thorough testing
With an update this massive, we expect to continue making refinements for usability & scalability
We expect to remove the Beta label after refinements in Q1 2021
We appreciate your patience in the meantime while work to stabilize the updated features
So Let's Record Audio + Video Together!