Celebrating 100 Podcast Episodes for Between Two Mics: The Remote Recording Podcast
Our podcast, Between two Mics: The Remote Recording Podcast, is celebrating 100 episodes! We can't believe it. The podcast has evolved a great deal since we started it in 2019…and the world has changed a lot, too. One thing remains the same, we love remote recording!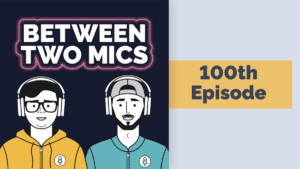 To mark the occasion, we're sharing 100 tips things we've learned since starting the show way back when. These are 100 things we've learned since starting this podcast…about the podcast world, production, starting a company, building a community, and much more. The tips in this episode come not just from Zach and Rock, but also from the SquadCast team on the whole. We hope you enjoy it!
100 Things We've Learned Since Starting Between Two Mics: The Remote Recording Podcast
There are no *real* rules to podcasting, just guidelines.
Wired headphones!
Thank you to our guests, who've enhanced the show.
Breaking up the show into a series is fun.
Breaking up the show into series also lets you take a break.
Stable internet connection is important.
Importance of visual cues while recording remotely.
Room treatment has major impact on audio quality.
Video is awesome but requires more gear.
Businesses seem to be "getting" podcasting.
Podcasting helps with your listening skills in life.
Podcast listening also helps with listening skills AND exposes you to more people and stories and experiences.
Podcasting helps with presentation skills.
Podcast conferences are the best.
There's no shortage of speakers at a podcast conference.
Take care of your feet when working the booth.
Stick around last day of conferences to find high-profile people less busy.
Everyone is perfecting their presentations night before.
There's no perfect length to a podcast.
Have an outline but don't script the interview out.
We've found success in breaking our interviews into three parts.
When interviewing people, always address them by name.
Take a SquadShot BEFORE your record.
Give yourself buffer time for banter and troubleshooting.
Researching your guest will help you stand out from other interviewers.
Listen to other interviews that your guests have done to hear which questions they always have to answer.
Don't *just* say subscribe anymore.
We now also say FOLLOW.
Ratings and reviews don't help you get on new and noteworthy.
But of course, creators always appreciate them.
Don't just link to Apple podcasts! Link to a universal link like Pod.Link.
If you want your guests to share the episode they were on, make sure your assets paint them in the best light – make it something they'll want to share.
You can create a podcast about anything.
Podcasting is not saturated.
Creators are artists and entrepreneurs.
A podcast or show is a micro-media company.
The concept of a "show" extends beyond a podcast.
Podcast is a slow and steady business.
There are a lot of hosting companies.
Choosing podcast software like hosting companies depends on your show's goals.
Barrier to entry in podcasting is low.
It's best to hire for tasks you don't love – editing/transcription.
Invest in transcriptions! They're important both for accessibility and for SEO.
Cover art matters! Make it clear and aesthetically pleasing.
When promoting your podcast on social media, don't just drop links.
You don't have to have a presence on ALL of the social media platforms.
Choose the one(s) you're most comfortable with and stick with them.
Social audio had a moment with clubhouse (RIP) and has been semi resurrected with well-put together twitter spaces.
Twitter spaces can be recorded now! It's a great way to interact with your listeners.
TikTok can be HUGE for podcasters and many people have reported spikes in their downloads from posting relevant content. But it's a lot of work.
Most listeners listen to 75% of a podcast episode.
It's far less for YouTube, like below 20%.
Always keep water while recording.
Eating sour things before recording helps! Green apples.
Silence notifications before recording.
Run a test recording before starting interview.
Follow up game is critical after the episode is published.
Just talking with your friends is not a podcast.
There are no rules, baby.
RSS feels like a religion.
This sets the stage for an epic battle of RSS vs stream.
Everyone thinks there's a discoverability problem in podcasting.
Subscribe to all the podcast newsletters out there – both recommendation newsletters and industry newsletters. Your show is part of a larger industry and you should know about that industry!
Podnews is an incredible resource for daily news.
Sounds Profitable is an incredible resource for podcast business news.
Spotify ain't playing around.
What the heck is Apple doing with podcasting?
How about Google?
At least Amazon is making it clear.
So many tv & movies in 2021 had podcasting as a storyline.
A significant amount of podcasters are ex-DJs.
Podcasting can be a lonely game.
Running SquadCaster pre-rolls and mid-rolls on our show is an awesome way for us to involve the SquadPod. (You can submit yours)!
Creating squadcast.fm/share increased folks sending in their SquadShots!
Asking for feedback, genuinely, gets you genuine feedback. On all things: the podcast, the product…
Create dedicated feedback channels for customers or listeners to share with you.
All recordings need to be edited in some way.
Don't limit yourself to only working with "perfect" audio.
Learn the ins/outs of your editing software so you're prepared to work with less than perfect recordings.
There are a lot of free plugins that can be downloaded/used for editing.
Save yourself time by learning the keyboard shortcuts for the editing software you're using.
Youtube is your friend! You can quickly learn anything you need from YouTube.
Always edit from the perspective of the listener.
Edit with some decent speakers, headphones, and everyday use headphones to gather multiple perspectives of how your mix sounds.
Ask friends or family to listen before publishing.
Configure your computer to be optimized for editing audio and working in/with editing softwares.
Trust your ears.
Take advantage of feedback from listeners.
Don't be afraid to change things up or try new ways of doing things.
Be transparent with your listeners. If you're taking a break, let them know!
Be transparent with your listeners. If you have poorer than usual audio quality one day, let them know.
Use an external hard drive to store records and files so they don't take up space on your computer.
For editing/producing audio or video content, Mac computers are preferred for a lot of different reasons.
While recording, turn off or remove cell phones and other devices. They emit a frequency that can end up in or affect recordings.
It's best to keep it simple. Don't complicate things with too much unnecessary equipment.
Don't use USB hubs, plug external equipment directly into the computer.
Invest in high-quality wires for your external equipment.
Be easy on your computer's USB ports, they can get worn down over time and loosen your equipment's connection when plugged in.
Restart your computer often. It never hurts to restart your router once a week or so either.
Podcasting is one hell of a way to build a brand and we're excited to continue plugging away at it for another 100 episodes.
We'd love to hear from you!
What have you learned since starting your podcast?
Do the above thoughts fit with your understanding of podcasting?
How can we improve our show?
Get in touch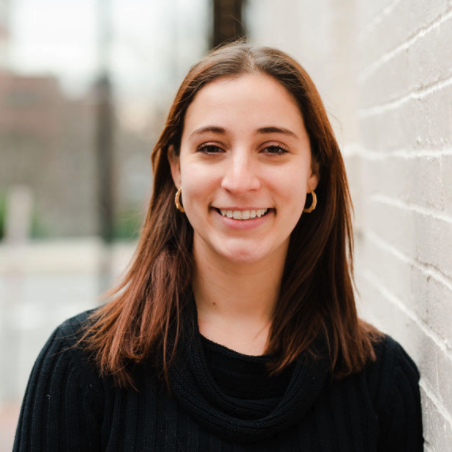 Arielle Nissenblatt is SquadCast's Community Manager. She's obsessed with all things podcast-related and is the founder of EarBuds Podcast Collective, a podcast recommendation engine. In her spare time, Arielle enjoys hosting zoom trivia for friends and strangers all over the world and rollerblading.