On the show today, Sam Walker and Steve Jones of the podcast American Vigilante. Hosts Zach and Rock wanted to learn what it takes to produce an award-winning true crime podcast.
About the show
KC is the American Vigilante – A hugely complex, intelligent, contradictory man who could save your life but end it too. Who leads a group of violent men standing on the blurred line between right and wrong, between revenge and redemption. A man you want on your side when it all falls apart.
American Vigilante is true crime, but so much more. It's saving abducted children, it's stepping beyond the law. It's rescue missions, assassination attempts and last-gasp protection. It's all the stuff you hope never comes to you, until it does.
About the host
Former BBC Journalist Sam Walker presents this Crowd Network original. She's been speaking to KC for months and has recorded everything he's told her. You'll need to listen to make your own mind up, but you might never be the same again.
In this episode of Between Two Mics, we discuss:
The morals of true crime podcasting
What makes a podcast a documentary, an investigation, or just a conversation
How the New York Times' Caliphate debacle affected their production decisions
How this show stands out from other true crime podcasts
How to produce a limited-run series while keeping open the possibility of more episodes in the future
Also in this episode:
Credits
Written and produced by Arielle Nissenblatt
Mixed and designed by Vince Moreno Jr
Artwork and logos by Alex Whedbee
Transcript for Ian Powell
Hosted by Zach Moreno and Rock Felder
Episode Transcription
00:00:00:11 – 00:00:14:11
Hillary
Well, hello, there, this is 
Hillary
 Russo, host of the Hilistically Speaking podcast, a show that is chock full of inspiring conversations of trauma to triumph through health, healing and humor. And yes, we are proud to say we record on SquadCast.
00:00:14:19 – 00:00:26:08
Hillary
You can find us wherever your headphones take you and on our web site at hilisticallyspeaking .com. OK, it's time to pass the mic over to Zach and Rock for this week's episode of the SquadCast podcast.
00:00:29:17 – 00:00:36:14
Zach
Welcome to Between Two Mics, the podcast that brings you remote recording resources from SquadCast.FM.
00:00:37:14 – 00:00:41:00
Rock
I'm Rock Felder, co-founder and CFO of SquadCast.
00:00:41:19 – 00:00:44:17
Zach
And I'm Zach Moreno, co-founder and CEO.
00:00:45:08 – 00:00:54:10
Rock
On Between Two Mics. We bring you interviews with podcasters experts in the field of remote recording. We discuss current events in podcasting and so much more.
00:00:55:02 – 00:01:03:10
Zach
We're recording all of this on SquadCast the best place to record remote audio and video interviews in studio quality.
00:01:03:26 – 00:01:06:00
Rock
Let's get Between Two Mics.
00:01:07:16 – 00:01:24:16
Zach
Today on the show, Sam Walker and Steve Jones from the American Vigilante podcast. We first got introduced to them by our friend and Podcast Pontificator, Evo Terra. Thanks, Evo. And what we really like about their show is that it stands out in the vast sea of true crime podcasts.
00:01:25:03 – 00:01:37:18
Zach
But how? By being so real that it leaves the audience wondering and we wanted to have them on the show to talk about what it takes to create an award winning podcast in the hyper competitive genre of true crime. (Interview Begins)
00:01:38:22 – 00:01:59:22
Zach
Welcome to Between Two Mics. Sam, you're the host of American Vigilante, and Steve, you're the producer of American Vigilante Welcome and American Vigilante is an award winning true crime podcast. And you describe yourself as the podcast as saving abducted children and stepping beyond the law, as the name implies.
00:01:59:22 – 00:02:11:03
Zach
So we'll get back to American vigilante, but first want to kind of start with what led your career in this direction? How did you evolve towards leading to this podcast that you worked so hard to create?
00:02:11:13 – 00:02:23:10
Sam
My gosh, how long have you got? Well, we'll do the quick version. So I was a radio host in the U.K., and I worked in commercial radio, you know, playing ten great songs in a row and giving away a car.
00:02:24:01 – 00:02:42:27
Sam
And then I moved in to kind of my what I called my serious face radio- serious voice radio. So I work for news BBC News. So I wrote for Station through local BBC Radio two BBC Radio five Live, which is a news and sports speech format, national BBC radio station.
00:02:43:13 – 00:03:00:14
Sam
And I worked there for about ten years before I decided to throw my entire life up in the air and moved to Pheonix, Arizona, from Manchester in England. And so I'd been working in audio for a long, long time in radio, and I started doing podcasting kind of around 2016 when I made a show that was commissioned
00:03:00:14 – 00:03:19:20
Sam
by Audible. And then I started doing some sort of branded content for different companies and the like and just thought, You know what, I want to do something different with my life. So as I said, quit everything moved to Phoenix, Arizona, almost on a whim, of course, made a podcast about it called Sam Walker's Desert Diaries, which
00:03:19:20 – 00:03:41:20
Sam
goes on BBC radio every week. But also is I was like a little ten minute audio postcard of what the heck it's like moving from very rainy England to the desert, as you can imagine. No spot. Spoiler alert, lots of scorpions, and so while I was here, what led me, I suppose specifically to Vigilante was
00:03:42:20 – 00:03:56:15
Sam
. Something that happened when I was living in a place called Paradise Valley, and it turned out the guy we were renting the house from was a horrific crook and it was a really unpleasant experience, actually very frightening. He was really threatening and violent.
00:03:56:16 – 00:04:05:24
Sam
And as he told us in writing, Arizona is an open carry state. And he made it very, very clear what his intentions were.
00:04:05:25 – 00:04:07:25
Zach
Also very different from the UK, right?
00:04:07:26 – 00:04:22:07
Sam
Yeah. Yeah, just a bit. (both chuckle) So after we essentially fled this house that we lived in, someone contacted me and said, you know what- was a friend of a friend? This guy essentially stole this money off you by handing you out of the house, not giving your money back.
00:04:22:08 – 00:04:31:17
Sam
What are you doing about it? And I said, Well, you know, I'm not going to do anything about it because he's horrible and I'm frightened of him. And they said, Well, you know, it could be arranged for him to be taken out into the desert, you know?
00:04:31:27 – 00:04:49:09
Sam
And I was like, So sorry, what? (everyone laughs) I was like, Where am I living? And of course, I turned to this friend of a friend down, but it made me aware that people like this exist. And so when Steve and I then started talking and he will fill you in on that side of the conversation, for me, it
00:04:49:09 – 00:05:09:05
Sam
was like, I don't automatically disbelieve this guy. I am aware people like him exist. I have already almost brushed shoulders with someone like him since living here in Arizona. And so that's when we started talking in earnest. And Steve, I guess I'll let you fill in the other side of how it all came to pass.
00:05:09:16 – 00:05:31:11
Steve
Yeah. So back here in normal English countryside, life away from the scorpions and the vigilantes, we so i, the content director, at a podcast network called Crowd Guard Network. And we get a lot of stories that come in and one day to a kind of random part of our website, which I think is usually usually used
00:05:31:11 – 00:05:51:17
Steve
for sort of sponsors to get in touch. This story just drops in the inbox, and it's one of those you kind of go, That's insane. And it was kind of it was initially pitched to us is would you like to follow the Brotherhood of Village vigilance, the brotherhood of vigilance as this sort of big sort of Real-Life
00:05:51:17 – 00:06:13:00
Steve
A-Team Adventure Group going off to solve crimes, you know, get revenge on people. It was like. I kind of, yeah, I'm interested in that. And so you kind of have that first Zoom call and you meet this guy without his camera on and he's 15 minutes late because he doesn't know how the technology works, which is fair
00:06:13:00 – 00:06:24:18
Steve
enough. Like, I don't think any of us did. It was March 2020, but it once you spoke to KC, you kind of went, I don't care about the rest of them. I don't really care about the, you know, he could have a team of 100.
00:06:25:17 – 00:06:39:08
Steve
This guy's incredible. So you kind of you just wanted to speak to him all day and you didn't know if it was real. You kind of thought, God, this is so far removed from my world. And I'd obviously I'd worked in the Same building as Sam, but I never really worked with her in the past.
00:06:39:18 – 00:06:58:25
Steve
So you were aware that this former BBC presenter is out somewhere in America and you do go a bit digging going on. Can you kind of put these two things together and kind it work because you need somebody that questions everything, but you kind of need somebody who's intrigued enough and could kind of see how it's all
00:06:58:25 – 00:07:02:16
Steve
possible and eventually go? Let's ask Sam if she wants to do it.
00:07:03:01 – 00:07:18:25
Rock
We're super interested in diving more into this individual, KC, and that's, you know, Steve, to echo what you're saying. I felt the Same way after listening to the first five minutes of the show of the first episode, just hearing him talk his voice the way it sounds, the stuff that he's talking about.
00:07:18:25 – 00:07:29:27
Rock
For anyone that hasn't listened to American Vigilante, just give it five minutes. And if you're not hooked, so it sounds like just talking with this individual, that's what really got you to think that there's like a story here.
00:07:30:03 – 00:07:35:02
Rock
I mean, Sam, from your perspective, what made you attracted to this as a as a project and a story?
00:07:35:15 – 00:07:53:01
Sam
Well, Steve and his colleague, another founder of Crowd Network, contacted me and said, Look, this is insane. This is the headline. This is insane. We've been approached by this guy. We've been put into contact by this guy. He says he's a vigilante.
00:07:53:01 – 00:08:08:19
Sam
He goes. He rescues kidnapped children. He busts open drug houses. He returns kidnapped executives to their homes. He kind of metes out justice on pedophiles. This is what he says he does. We don't know his real name. We don't know where he lives.
00:08:08:19 – 00:08:21:22
Sam
We have no proof he does this because he's telling us everything with just enough information to tell us the story. But so that he can't be traced because he is working outside the law, right? We know that everything he did, he tells us, is outside the seven year statute of limitations.
00:08:21:22 – 00:08:33:05
Sam
So do you want to talk to him because we're thinking this could be something, but we don't really know what it is? Yeah. And we need, you know, if you're interested, you want to talk to him. And I went, Well, what else have I got on a Wednesday afternoon?
00:08:33:05 – 00:08:47:05
Sam
All right. You know, it was it was this. And of course, you're intrigued. You know, as a journalist, as a human, as a mother, you know, you're like, Whoa, what the heck is this? And I knew it kind of existed because I'd already have this sort of brush with this world.
00:08:47:23 – 00:09:04:20
Sam
So I was like, OK, so I have this insane Zoom call where I can see the outline of this man and I say, Man, he's like a beast is enormous. You know, in silhouette, in a truck, somewhere in America because he wants to be totally in shadow, because he doesn't want me to see who he is.
00:09:05:01 – 00:09:12:05
Sam
And all I could thin well, talking to this man was, you know, have you seen Moana? Of course you've seen Moana, right? You know, the Disney.
00:09:12:05 – 00:09:13:07
Rock
Oh, yeah.
00:09:13:07 – 00:09:19:01
Sam
And it's one of the greatest ever. I've seen it 98 times because I've got two daughters, so, you know, and I'llwatch it 98 more.
00:09:19:01 – 00:09:32:19
Sam
It's amazing. But in the Dwayne Johnson voices Maui, who is a demigod, and he's this enormous muscled, long locks of curly brown hair, man. And as soon as I saw the outline of KC, I'm like, Holy shit, it's Maui.
00:09:33:00 – 00:09:50:24
Sam
(Everyone Laughs) That's what he looks like. He is enormous, man. He's a beast of a man, and his voice, as you've heard, is so engaging. And he told me stories within the first five minutes of meeting him. That made me feel nervous, upset, amazed, angry.
00:09:51:03 – 00:10:02:25
Sam
And as Steve said, You start to talk to him and you're like, I don't know if this guy's for real. I need to know more. And that's really where it began. But if you ask KC, then KC chose me.
00:10:03:00 – 00:10:09:09
Sam
We didn't choose KC. He chose, you know, he's very keen to say that I could have had anyone talk to me and I chose you as he tells me.
00:10:10:20 – 00:10:22:15
Steve
It's that when you when she realized when she think about it so much and what am I going to ask? What are we going to do here? What are we going to? And actually, once you spend ten minutes thinking about it, you realize that is the podcast.
00:10:22:16 – 00:10:39:04
Steve
You kind of go all of this, you have to record you, kind of. So Sam and I had a discussion early on about how much she should be briefed on each sort of potential story. And we settled on, not at all, because that would have ruined it, because then you just make everybody else's podcast where they kind
00:10:39:04 – 00:10:57:22
Steve
of sit somebody down. They have three or four talking heads. They tell you, I want to say this and then you say that. And he actually, I don't want that. I want somebody just listening and asking questions to this mysterious man who speaks like a, you know, fifties Hollywood star.
00:10:58:01 – 00:11:11:04
Steve
And he kind of goes, that's that's kind of what that's what I want, and that's what I listen to all day. We recorded for hours, obviously, and we just kind of the best of the best. But that's kind of every time you thought about it, you kept coming back to that's what the podcast should be.
00:11:11:08 – 00:11:23:13
Rock
It sounds like there was a lot of coaching that was involved. This, I mean, like a lot of guests that we interact with or customers of SquadCast to interact with, like they're not the most familiar with recording audio and or video, especially when it comes to remotely.
00:11:23:14 – 00:11:33:13
Rock
So what was that like, especially with the high quality product that you ended up producing out of the back of a truck? You can't see this individual. Tell us the ins and outs of what it was like to actually produce this behind the scenes.
00:11:33:28 – 00:11:35:09
Steve
Yeah, thank God for SquadCast.
00:11:35:09 – 00:11:35:11
Rock
Hey! (Everyone Laughs)
00:11:35:11 – 00:11:48:16
Steve
It was… It was different. So I still don't know where he lives. I know an address that he has access to that is hours away from where he actually lives.
00:11:49:00 – 00:12:02:16
Steve
So I think with the normal guests, you just go on Amazon, you buy a microphone and you send it off and it arrives the next day here. I had to basically buy all of the kits and we're talking, you know, microphones, headphones, laptops, hard drives.
00:12:02:16 – 00:12:16:21
Steve
And I remember him saying to me, send two, don't send one, because if you send one, you've got none. And I was like, I don't even know what that means, am I not?(Everyone laughs) And I think I think basically, you know, if you have one of anything, you've got to assume it won't work.
00:12:16:21 – 00:12:29:07
Steve
And that which case, that's it. It's all sorts of miracles and two of everything. I put it all in this box. I was in the bubble wrappers and it's all this stuff, and I've written this address and consult my local post office and the one behind the desk because that's £98.
00:12:29:07 – 00:12:38:11
Steve
And I was like, Oh my God, that's just the post, these guys, because this thing was, you know, and then he off it goes this random address and they give you a tracking ID and you just every day just checking it.
00:12:38:11 – 00:12:48:19
Steve
And where is it? And it's currently over the Atlantic somewhere. And it eventually arrives at this place and you let them know it's at this place. And so there is that step. But then there was the actual right. He's got it in front of him.
00:12:49:00 – 00:13:03:10
Steve
So now I need to be able to talk him through how everything works. And look, he is a really intelligent man. That was he just has never – He has never used to this stuff, man. Like, you know, we've been making audio for years, decades.
00:13:03:20 – 00:13:22:13
Steve
It was just like, right, how you start from scratch and knowing full well, that if he sounds rubbish, the podcast is rubbish. Like he is the podcast in many ways. So that's kind of you go. This has to sound perfect, and Truck didn't sound great and eventually hired someplace that I didn't even know what it was, but
00:13:22:13 – 00:13:29:02
Steve
it was a kind of place that he could go to for a couple of hours, helped by the fact we were in lockdown. So whatever it was, wasn't in use anyway.
00:13:29:11 – 00:13:40:27
Zach
To have a bit of empathy for somebody doing the things that KC is doing. It's got to be a bit of a double edged sword where it's like, OK, I'm convinced that I'm doing good and helping people and whatever that means.
00:13:41:01 – 00:13:58:09
Zach
To you, but like, you can't talk about any of it, right? That's kind of weird. So I wonder if at any point did they share with you that this actually felt good to talk about these things because otherwise it's just just me, and I'm the only one who knows, and that's how it's always going to be.
00:13:58:10 – 00:14:01:14
Zach
So that's kind of strange, right? Like, that dichotomy.
00:14:01:27 – 00:14:12:05
Sam
Is really interesting point. And actually, of all the interviews I've done about this podcast, I don't think anyone has ever asked me that. And I'd say from KC's point of view and Steve, you might have a view on this.
00:14:12:15 – 00:14:28:06
Sam
He always says, I don't do this for any glory. I do not do this to be the hero. And he, yeah, hasn't talked. He's at his family kind of knew he did something, but they didn't know the ins and outs of all the things that he had done.
00:14:28:25 – 00:14:41:23
Sam
And he said the reason that I am sharing this with you now is not so that everyone goes, Hey, KC, aren't you great? And I would say 50% of people say, Hey, KC aren't you great and 50% of people go something quite different.
00:14:41:26 – 00:14:58:21
Sam
But he said, he said, I'm saying this so that the bad guys know that people like me exist for a fact. That said, that was one of his motives. And the other one was to try and, he says, inspire other people to also stand up for their communities and their country.
00:14:58:22 – 00:15:12:10
Sam
This is his words, which I had some issues with which he would never take on board. He didn't really want to take anything on board, anything I would suggest. But they were. They were the two reasons that he shared What did he say?
00:15:12:10 – 00:15:13:03
Sam
Anything to you, Steve?
00:15:13:14 – 00:15:31:03
Steve
Always along those sorts of lines. I'm actually that last point in somebody. I'm really proud of this. For that reason, in the sense that we all live in our kind of bubbles, in our little sort of social media echo chambers where we just see people, we agree with the whole time to actually have two people from polar
00:15:31:03 – 00:15:46:05
Steve
opposite views on certain things, not everything, but on certain things have to talk to each other each week. I don't think happens in many places. You know, it tends to be far right podcasts. I'm sure it tends to be, you know, far left podcasts that do very well.
00:15:46:06 – 00:16:00:12
Steve
And it's kind of like, that's that's where we live in one of the two. And so it's kind of it was hard. It was uncomfortable at times, but I didn't mind it because he kind of thought and I was against the often recording against the backdrop.
00:16:00:18 – 00:16:11:21
Steve
I think the Capitol riots, I suppose it just happened and things like that. And you're looking at that going- I don't understand these people, but that's me because I'm in the media and I tend to be from the left.
00:16:11:21 – 00:16:24:04
Steve
And I, you know, I have my view in the world. So it was it was not a bad sort of social experiment, probably the wrong phrase, but I always find it interesting to actually just sit here and listen to two people have to talk about this.
00:16:26:04 – 00:16:31:14
Zach
We're going to take a quick break, but we'll be back soon with more from Between Two Mics.
00:16:32:09 – 00:16:46:21
Arielle
Hello, Between Two Mics listeners, this is Arielle Nissenblatt, your community manager and I am very excited to tell you about the SquadCast community. We have a very active, vibrant community of SquadCasters hanging out on Slack and we'd love for you to join us.
00:16:47:03 – 00:17:00:02
Arielle
We will have a link to the application form in the show notes. Anybody who is an active SquadCaster is welcome to join us in our Slack channel. We share all sorts of resources, we share opportunities for growth and so much more.
00:17:00:07 – 00:17:18:23
Arielle
We also host a monthly Squad Podits. Those are SquadCast podcast audits where we invite you to sign up and we'll listen to your podcast and offer marketing suggestions, content suggestions and more. You can join us at the squad pod and hang out with us on Slack by filling out the application form in the show notes of
00:17:18:23 – 00:17:22:19
Arielle
this episode. Thank you so much, and I hope you enjoy the rest of this episode.
00:17:26:07 – 00:17:36:08
Rock
What do you think about that, like where is he right? Is he wrong? I mean, it's it's a it's a huge gray area. There's obviously some illegal stuff there as well. But what were your thoughts on his profession?
00:17:36:20 – 00:17:39:25
Zach
And have they evolved over your time talking with them?
00:17:40:14 – 00:18:01:00
Sam
Well, of course, I would say for anyone listening, listen to the podcast because it is one season, there's twelve episodes and you hear the journey that I do go on. I sit down with someone who I I have no empathy with in terms of understanding his life and his motivation where he's from.
00:18:01:00 – 00:18:17:23
Sam
But that's what the podcast is as we start to discover. What does motivate this man? What makes someone decide to kind of walk for two months across Canada searching for a pedophile? Why would someone do that? You know, not because, oh, it's the right thing to do to bring someone to justice.
00:18:17:23 – 00:18:29:02
Sam
But how do you find yourself in that world in that life? I mean, someone said to me the other day, You know, Oh, I listen to the podcast and I'm, you know, I listen to the first three episodes and I'm like, Is he for real?
00:18:29:02 – 00:18:41:02
Sam
Is he telling the truth? Is he lying as he made this up to be true? Is there truth at the heart of it? But he's just embellishing these stories? Is he good? Is he bad? Is he good for the individual but bad for society?
00:18:41:02 – 00:18:54:09
Sam
Should he be banned? Should you know, like, what's the answer to all of this? And all I said was welcome to my world (Everyone Laughs) for 50 hours. You know, we recorded three times a week for a couple of hours at a time, over several weeks, if not into months.
00:18:54:25 – 00:19:10:03
Sam
And yeah, the short answer is no spoilers. It's complicated. You know, Steve just talked about the gray area and not often, especially in today's society. Do we have a sit in a gray area? It's which side are you on?
00:19:10:12 – 00:19:20:23
Sam
Who do you stand by? Are you pro-vax/anti-vax? Are you pro-Biden/Anti-Biden. Are you Black Lives Matter or Blue Lives Matter not saying that those things should be mutually exclusive, but you understand what I mean. Yes, yes.
00:19:20:29 – 00:19:39:25
Sam
We were asked to join tribes constantly and asked to kind of nail our colors to the mast. And what do we believe? And sometimes we don't sit firmly in one camp or the other. And it's really uncomfortable not to sit in one camp or the other, you know, and I've had people contact me, you know, saying they're
00:19:39:25 – 00:19:53:13
Sam
, disgusted that I would sit and talk to this person. Absolutely disgusted. You know, I've had some really angry, angry people. I've had other people telling me that I'm just an absolute moron. How can you believe a word this guy says? He took you for a ride.
00:19:53:13 – 00:20:03:11
Sam
You're a stupid woman. You're so dumb, you know? And I've had all of that side of things as well that I've had people saying, Wow, this guy's a hero. I love him. You must be so glad he's in your life.
00:20:03:11 – 00:20:21:11
Sam
So it's, you know, he's complicated. (Everyone laughs). But yeah, it's been intense. I mean, that sort of reaction shows that people have really engaged, whether they think I'm a moron or a terrible enabler of, you know, right wing fanaticism or whether they think he's a hero.
00:20:21:11 – 00:20:26:24
Sam
And thank goodness he's he's now being showcased and the bad guys know he's there. I mean, it's there's no right or wrong answer.
00:20:27:12 – 00:20:28:02
Rock
How about you, Steve?
00:20:28:26 – 00:20:38:06
Steve
So I obviously distance that with my producer hat on and you go, right? People are coming up to some guy. And is he for real? What do we make of it? Is he good? Is he putting them right?
00:20:38:06 – 00:20:51:19
Steve
That's it. That's exactly what we wanted. That's exactly the the whole point. This I've spoken to KC about this so many times, and I smile when people go. I don't know if he's real or not, because I kind of know that's that's what you're after.
00:20:51:19 – 00:21:03:22
Steve
It'd be really boring if you kind of went in episode one and go, now this is happening and it's just happening every day. And here's a kind of factual piece of information, and that's it at the end. And it's all.
00:21:03:22 – 00:21:17:03
Steve
No, actually, this is so insane that I can't believe it. And there's plenty of parts of it. I'm still not sure if I believe it. The worst podcasts I've ever made are the ones that no one's ever spoken about. Or kind of someone's ever asked the question.
00:21:17:04 – 00:21:21:19
Steve
You kind of go, did that even to even go out into the world whereas this is different?
00:21:21:23 – 00:21:35:02
Sam
Just as a little side point, I gave a talk at the Walter Cronkite School of Journalism here in Phoenix, Arizona, and sat in a room with, you know, 20 very engaged 20 year olds who were the hardest interview I've ever given.
00:21:35:03 – 00:21:57:12
Sam
They were like bang (laughs) asking me such deep philosophical questions, and we talked about what is a vigilante and what is a superhero. And you know, Batman is a vigilante, right? We all love Batman. And yet is the vigilante good if is just what defines the bad guys?
00:21:57:12 – 00:22:11:10
Sam
And is Batman a force for good or evil? Essentially. So we got super, super deep. But you know, this was an issue I had, and I said, Batman and KC are both quite skilled in what they do. You know, KC does share with me early on, he's ex-military.
00:22:11:10 – 00:22:23:24
Sam
He was trained with firearms. He knows how to fight. He's trained in various martial arts. You know, already this sounds like a movie I'm aware of. He's saying, Oh yeah, people should protect their country and should stand up for the right.
00:22:23:24 – 00:22:38:14
Sam
And, you know, if you see something going. Out in your neighborhood, that's wrong, and the police won't help you, then you need, you know, it is your responsibility as an American citizen to stand up for what's right and just and I went, Yeah, but KC, we all know about people who get firearms and don't know how you
00:22:38:14 – 00:22:56:23
Sam
can walk into Wal-Mart and buy one. You're saying that, people, this terrifies me. It terrifies me. People who don't know how to fight and how it would go and take on this kind of moral crusade. I mean, I shared the story on the podcast with the fact that in the nineties in the U.K. and into the noughties
00:22:56:23 – 00:23:11:20
Sam
, there was, you know, a big movement for people to kind of hunt down and entrap pedophiles. And it was people again taking on this moral crusade. Yeah. And a pediatrician's house was burned down because someone went, Oh, PPD there a pediatrician.
00:23:11:29 – 00:23:17:08
Sam
And just because people are dumb some times and they targeted a childrens doctor.
00:23:17:08 – 00:23:17:19
Rock
Increasingly so, it seems.
00:23:18:19 – 00:23:33:27
Sam
Yeah! And they targeted a children's doctor because they went on pedophile paid a pediatrician. It's the Same thing. You know, that's why you're asking people to take up arms with with firearms when people make stupid decisions, stupid decision.
00:23:33:28 – 00:23:38:24
Sam
And I find that really, really frightening. But he, you know, you'll hear the conversation. He didn't agree.
00:23:39:13 – 00:23:57:24
Steve
I kind of come from the view of the world is fucked up. There's a lot of bad stuff happening, and people aren't just making programs about the really nice stuff. It's not all unicorns and rainbows. Some of the best TV you've watched in the last few years will be about serial killers, pedophiles, rapists, whatever.
00:23:58:02 – 00:24:18:09
Steve
It hopefully means that the people watching the aren't going, Oh, I want to get out there and do all that stuff. And this is no different. This is this is a piece of storytelling about a person that we've met who does this stuff, and we know for a fact there are people doing it so that always I
00:24:18:09 – 00:24:28:05
Steve
was always OK with that because we weren't at any point going. You should be doing this too. Sign up for this vigilante mission.
00:24:28:05 – 00:24:31:10
Zach
Use this affiliate code! (Everyone Laughs)
00:24:31:10 – 00:24:32:02
Steve
Yeah, exactly.
00:24:32:28 – 00:24:50:25
Steve
You know, next, whatever. So that's fine. We have to be careful and we were sensible and we thought about it long and hard. But it is a, you know, this is happening. Whether KC is doing it is another story, but this is happening and we have every right to make it make a story about.
00:24:50:26 – 00:25:00:19
Rock
So it sounds like and I do agree that it is exciting that in some ways that we don't know if this what KC is telling us is true or not. But I guess for you two, how did you get comfortable with that?
00:25:00:20 – 00:25:15:25
Rock
Because I think sometimes with these type of podcast, these narrative driven podcasts, it does seem kind of like an audio documentary. And so more on the nonfiction side. So how did you get to a place of comfort that like, OK, if this is fiction or nonfiction, we're OK with it.
00:25:15:25 – 00:25:30:10
Rock
We'll put it out there because there's other things that come to mind. Like, I don't know if you're familiar with Caliphate where the story was fabricated. So but it sounds like the producers actually knew about that and kind of carried on, or they didn't do a bunch of due diligence, whatever.
00:25:30:11 – 00:25:38:11
Rock
That's a different show. But I'm just curious, like what made you comfortable with putting something out there that may or may not be true, that might be interpreted as truth?
00:25:38:16 – 00:25:50:25
Sam
I mean, we had that exact conversation, right, Steve? We talked about that. We referenced that exact Same podcast, and I said I would feel really uncomfortable saying, Hey, look, listen to this guy. He's a real life vigilante and he's done this, this, this, this and this.
00:25:51:09 – 00:26:01:15
Sam
And so we were like, Well, we won't say that yet. So we don't say that. We say I met a guy or I haven't met him. I don't know his real name. I don't know where he lives. He has told me this is what he's done.
00:26:01:26 – 00:26:16:07
Sam
Come with me on this journey of working out whether this guy is for real or not. And throughout all of that, I challenge him. I challenge him on stories he tells, like when you drove coast to coast in a truck without refueling.
00:26:16:09 – 00:26:36:18
Sam
How would you say what? That you rescue what? So there was so much skepticism. You know, challenging among these viewpoints and challenging him on some of his beliefs, but also trying to dig as deep as possible to go, Who are you?
00:26:37:06 – 00:26:56:22
Sam
What made you tick? What's brought you to this point? Are you telling me the truth? You know, all of this. So it was, as Steve said, it was never set up as this is facts 100%. You know, when when Caliphate happened this, you know, the individual that was was presented as real.
00:26:57:08 – 00:27:08:22
Sam
It wasn't a Hey, this person's come to us, and they may well have been an ISIS fighter, they may not. We don't know. It was like, Hey, we found this person and this is who they are. So it was a very different approach.
00:27:09:04 – 00:27:11:02
Sam
Steve, I don't know if you had extra thoughts about that.
00:27:11:25 – 00:27:20:14
Steve
Yeah, I I kept coming back to what if- I thought I kept thinking that is possibly a better story and a better podcast.
00:27:21:05 – 00:27:40:14
Zach
Really appreciate, you know, how you positioned and were diligent in how you told this story, I think that's critical to the trust of your your audience, that you've worked hard to earn the amount of trust needed to have this dialogue with somebody so far different from both of your backgrounds and the trust to have that dialogue with
00:27:40:14 – 00:27:56:19
Zach
somebody that you know on before any words are said like, we probably disagree on a great many things, right? Takes a lot of energy to walk into those types of conversations and and trust. So I really respect the work that you've put into bringing this story to life for people to take from it what they will.
00:27:56:19 – 00:28:09:25
Zach
But looking forward here. You did mention that American Vigilante was kind of a limited series, right? one season that begs the question like, what can we expect to come next from the two of you, from Crowd, from Sam?
00:28:09:25 – 00:28:18:05
Zach
And maybe if you have any thoughts about what's your relationship with KC going forward, if at all, expect any thoughts from him like in the future.
00:28:19:12 – 00:28:31:16
Steve
I email him every Friday with the download numbers. Just keeping him updated. (Chuckles) Yeah. Well, it's kind of it is. It sits as a twelve part as a standalone. It's done in that way that we could easily pick it up and do more.
00:28:31:25 – 00:28:42:09
Steve
I mean, there's we've always talked about if people want to know, get to know the rest of the Brotherhood and KCs gang, we can absolutely do that one day. So that's the in terms of what Crowd are up to.
00:28:42:25 – 00:28:59:09
Steve
You know, we've got a lot more documentary titles launching this year. When you Crowd Stories channel on Apple, it's going to be full of all our best stuff and they are, you know, there's this. There's a series working on coming out in March about the anthrax attacks of 2001, which you know, is completely different again.
00:28:59:19 – 00:29:12:19
Steve
But it kind of came about because people herad American Vigilante. They go, Oh, hang on, would you want to work on this? So in that sense, it's all coming together very nicely. And there's a lot there's a lot more coming from us, and hopefully I'll find it.
00:29:13:05 – 00:29:16:03
Steve
I'll find a series that I can work with Sam on again, one day.
00:29:16:11 – 00:29:21:05
Sam
That that'll be nice. And maybe, maybe we can actually meet properly. It's good.
00:29:21:05 – 00:29:21:14
Steve
That's a good point!
00:29:22:09 – 00:29:32:22
Sam
You know, saying is, I'm in, I'm from Manchester. I moved from Manchester, but Steve is not, as you know, we never really worked together when we were in the Same city, but hopefully I'll be able to finally get back this summer.
00:29:32:25 – 00:29:46:07
Sam
I mean, KC still messages me all the time. You know, how you doing, little lady? So I mean, he texted me yesterday, he messages me a lot. He did. I was over Christmas busy, and I did get a message from him, Steve.
00:29:46:07 – 00:29:55:02
Sam
I don't even know if you know this, but he called me a couple of times in one day and I didn't even notice on my phone. He uses only a specific app to contact me. He doesn't just call me first.
00:29:55:23 – 00:29:56:11
Sam
And then.
00:29:56:18 – 00:29:56:25
Rock
Cryptic!
00:29:58:05 – 00:30:06:22
Sam
At the end of the day I looked down. I was like, Oh, he called? He is in my phone as Maui. I looked down. I went, Oh, Maui, called, OK? And then two days later, he messaged and went-
00:30:06:22 – 00:30:18:16
Sam
So I was in Phoenix and I called to see if you wanted to meet because I've never met him and I just kind of thought, Holy shit, I was not expecting-And I thought if I'd pick the phone up, I would not have known what to say.
00:30:18:22 – 00:30:30:21
Sam
I feel nervous about me, clearly. But you know, the way that KC rolls he's like – not going to go, Hey, let's meet next Thursday, and I can prepare is going to be the one that he calls and goes, I'm outside your front door.
00:30:30:21 – 00:30:44:17
Sam
I just kind of know that. So we'll have to see, you know, I think there would have to be a lot of thought. I mean, we have never met. We've talked about meeting whether that comes out in podcast form or not, you know, who knows for the future.
00:30:44:17 – 00:30:52:22
Sam
But you know, I get almost daily messages from listeners going, What's next? What season two? So again, we'll see.
00:30:52:27 – 00:31:08:10
Rock
Well, before we let you go, I got to ask because I'm a super fan of the genre. I love true crime, whether it's in audio, in video, if it's true or untrue fiction, nonfiction. But it is a it's an incredibly popular genre, especially in podcasting.
00:31:08:10 – 00:31:16:00
Rock
Like, how does one stand out the way that American Vigilante did among, you know, so many other shows specifically in that genre?
00:31:16:09 – 00:31:35:10
Sam
I don't know. I didn't go into this (Maybe I should have) (everyone chuckles) I didn't go into this thinking, how do we stick out? I went into this thinking, How do I get through this? In terms of the stories he was telling and the world, I was aware that he was opening the door to a world that was going
00:31:35:10 – 00:31:48:23
Sam
to be really uncomfortable to sit in and the stories he told me, you know, as you hear as you go down the podcast, I had very, very visceral reactions to and it was incredibly uncomfortable. And I think I'm just a huge fan of being authentic.
00:31:48:23 – 00:31:58:25
Sam
And I think, you know, as Steve has said from a production point of view, we went into this going, we have to trust that this is going to take us to a place that is going to sound great.
00:31:58:25 – 00:32:09:03
Sam
And I think going in with the raw ingredients that we had of me authentically reacting to what he told me because I wasn't briefed, I didn't have a script. I didn't have written down questions because I didn't know what he was going to say.
00:32:09:15 – 00:32:20:02
Sam
So is that flying on the seat of the pants? And I think maybe that's what did make us different is that it's kind of the true crime genre. But this wasn't a scripted show. We didn't have a narrative arc before we started recording.
00:32:20:07 – 00:32:22:10
Sam
We didn't know where it was going to go.
00:32:22:12 – 00:32:39:05
Steve
I think most people go into- And this is changing. I think most people go in looking for incredible stories and then trying to work out how you tell them. So we kind of flip that and instead of finding a great story and then going, right, what characters can we find within that story and what access when they
00:32:39:05 – 00:32:51:15
Steve
give us? We managed to find the most interesting man I've ever spoken to. And then go -right? What show do we build from that? How much access can we get with him? Right. It's 50 hours or 50 hours of this fascinating man.
00:32:51:26 – 00:33:03:07
Steve
Then build your show and tell your story. Whereas I think what usually happens, you know, this is this is how I've always worked in the past because you have kind of development researchers and people working on stories, and I find this incredible thing here.
00:33:03:15 – 00:33:14:28
Steve
It might be the best story in the world, but I want to talk to you, OK? And another incredible story. They actually might be better off just trying to find the most interesting people and then going, right, let's tell that story.
00:33:15:04 – 00:33:23:13
Rock
Yeah. Well, for what it's worth, I don't think you should have changed. I think so, Sam, keep it the way you did it. Don't feel like you should have done something different. I think it is what makes it so unique and special.
00:33:23:19 – 00:33:24:06
Sam
Thanks.
00:33:24:18 – 00:33:41:10
Zach
Yes. Honored that we can play a role in helping tell these stories. That's super cool to me personally and really grateful that you found a way to expose this world and be skeptical of it and get get listeners interested in all the complexities that exist in this gray area.
00:33:41:19 – 00:33:46:08
Zach
Where can our listeners listen to the American Vigilante podcast? Subscribe, follow all that stuff.
00:33:46:12 – 00:34:00:00
Sam
You can find me on Twitter to tell me what your take your hot take on KC is. Should joy – genuinely I do love hearing. I'm fascinated by how people react to him and to our conversation, so you can find me on Twitter at Walker Sam.
00:34:00:21 – 00:34:18:29
Sam
I also host the podcast Sam Walker's Desert Diaries, which is very, very different. It's kind of fun and fluffy and contain scorpions -and Steve Crowd Network, you know, they make a bunch of absolutely incredible shows, really, really great shows, thought provoking, but also funny and informative.
00:34:18:29 – 00:34:22:22
Sam
And I've missed you, Steve. Not talking to you three times a week. (Everyone Chuckles)
00:34:23:00 – 00:34:30:21
Steve
If you're gonna do anything like up Crowd Network. And as I said on Apple, there's a new Crowd Stories channel that is probably a good place to start.
00:34:30:26 – 00:34:31:29
Rock
Excellent. Thank you both.00:34:32:02 – 00:34:32:25
Zach
Really appreciate it.
00:34:32:25 – 00:34:34:10
Sam
Thank you. Nice talking.
00:34:34:10 – 00:34:34:19
Steve
Thank you. (Interview ends, music starts)
00:34:40:14 – 00:34:43:18
Rock
Thanks for tuning in to this week's episode of Between Two Mics.
00:34:44:00 – 00:34:48:09
Zach
If you learned something or we intrigued you a bit? Let us know on social media.
00:34:48:27 – 00:35:04:21
Rock
You can follow us on Facebook, Twitter, Instagram and LinkedIn by searching for SquadCast FM. This show is put together by us, Zach and Rock. It's mixed and Produced by Vince Moreno with help from Arielle Nissenblatt. Our logo is designed by Alex Whedbee.
00:35:04:28 – 00:35:09:11
Zach
That's it for us this week. We're back next week with more from Between These Mics.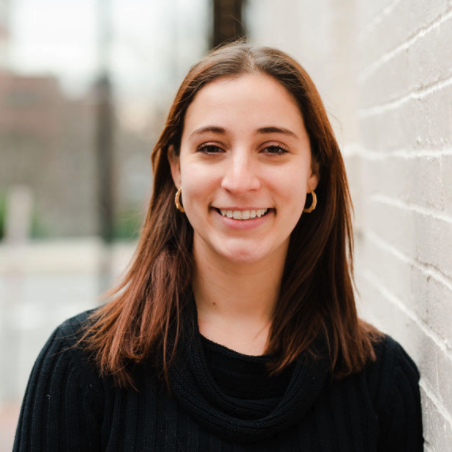 Arielle Nissenblatt is SquadCast's head of community and content. She's obsessed with all things podcast-related and is the founder of EarBuds Podcast Collective, a podcast recommendation engine.