We're so excited to share this episode of Between Two Mics featuring Damona Hoffman. Listen in as we discuss the similarities between dating and podcasting. Hint: you've got to market yourself when dating just as you marketing your podcast. Damona has been working in media for a while and has learned some really valuable lessons along the way. Each stage of her career has led to another opportunity. She sees her podcast, Dates & Mates, as a way of establishing herself as an expert in the field, and has used it to propel her vision as a dating coach.
Every time Damona shows up for a media appearance, she is VERY prepared. She then goes back and rewatches the tape to see how she can improve. She is committed to being the best guest she can be. Those guest appearances lead to more. Listen in to learn how to make this a reality for you as a podcaster!
The question isn't: HOW DO YOU GET ONTO THE DREW BARRYMORE SHOW?
The question is: WHAT DO YOU WANT OUT OF BEING ON THE DREW BARRYMORE SHOW?
Here's her bio: Celebrity Dating Coach Damona Hoffman has been coaching singles on how to find love online and offline for over 15 years. Her articles appear regularly in The LA Times and The Washington Post. Plus, she's a regular on-air contributor to The Drew Barrymore Show, NPR, and NBC's Access Daily. Damona also starred in two A+E Networks' TV shows: #BlackLove and A Question of Love. Her weekly podcast Dates & Mates has been featured in Cosmopolitan, Huff Post, Bustle and tops the charts in the Relationships category on the major podcast platforms.
Show Notes
Episode Transcription
Liz Sumner: [00:00:01] Hi, SquadCasters. I'm Liz Sumner and I host the podcast I Always Wanted To where I interview people who are doing things that others long to do, things like travel the world on your own, go parasailing, dig for dinosaur fossils or learn to sing. The list of exciting and interesting pursuits grows every week. What have you always wanted to try? Check out I Always Wanted To wherever I fine podcasts are streamed.  [00:00:30][28.2]


Damona Hoffman: [00:00:37] I always begin my dating coaching programs with who are you and then what do you want? And then we can develop a strategy to get that. So I think that could be also directly applied to podcasting. Who are you? What do you want to say in the world? Why are you doing this podcast? And then you can figure out what your path is going to be.  [00:00:54][17.0]


Zach Moreno: 
[00:00:58] 
Welcome to Between Two Mics, the podcast that brings you
remote recording
resources from SquadCast.FM. 
 [00:01:04][5.9]


Rock Felder: 
[00:01:06] 
I'm Rock Felder, co-founder and CFO of
SquadCast
. 
 [00:01:09][2.9]


Zach Moreno: [00:01:10] And I'm Zach Moreno, co-founder and CEO.  [00:01:12][2.3]


Rock Felder: 
[00:01:14] 
On Between Two Mics, we bring you interviews with podcasters, experts in the field of
remote recording
. We discuss current events in podcasting and so much more. 
 [00:01:22][8.7]


Zach Moreno: [00:01:23] Twice a month you'll hear a founders' episode. That's just the two of us chatting about all things remote recording, updates to SquadCast, what we're up to, and what we're listening to.  [00:01:34][10.9]


Rock Felder: [00:01:35] The other two weeks of the month, we'll bring you interview episodes. Zach and I will sit down with experts in the podcast space to discuss their companies, their podcasts, their thoughts on podcasting, creating content, and more.  [00:01:47][12.2]


Zach Moreno: [00:01:48] The most exciting part: we're recording all of this on SquadCast, the best place to record remote audio and video interviews in studio quality.  [00:01:57][9.1]


Rock Felder: [00:01:58] So let's get Between Two Mics.  [00:02:01][2.8]


Zach Moreno: [00:02:07] Damona, welcome. Thank you for joining us.  [00:02:08][1.1]


Damona Hoffman: [00:02:08] Thanks for having me.  [00:02:09][0.8]


Zach Moreno: [00:02:10] It's really inspiring, like how you've put your career together. And to go back to the beginning, you started as a dating expert and media personality. So like, how did you get that start coming from that place?  [00:02:23][13.1]


Damona Hoffman: [00:02:24] Well, I actually started as a television executive. I started out in casting and I used to teach classes for actors and how to market themselves and brand themselves, have headshots that would stand out to someone like me who they wanted to meet. And then, you know, how to tell their story, because I found they were really talented actors that just didn't know what to do to get a foot in the door. And then they'd get a foot in the door and then they'd put it in their mouth because they didn't know what to say in the room. And I was dating at the time and realized, wait a minute, there are some similarities here between what I'm doing in dating and what I'm telling actors. So basically, your headshot is your profile photo and a first date is essentially an audition. And once I sort of understood that and applied those techniques that I would tell my students, my acting students about marketing themselves to my online dating profile, I ended up meeting my husband online. And so I never I never aimed to be a dating and relationship expert. But once I had figured out that technique, people started coming to me and people started being referred to me and I realized that I actually had something. So that whole time I was in television, I worked up all the way to vice president of programing at NBC Universal at the sci fi channel. And then I was doing profiles, dating profiles on the side. But I came back to work after having my first child and realized that the job that I thought that I wanted, that I loved and worked so hard to get to didn't feel the same anymore and wasn't what I wanted. So I left. I don't even know why I left. I didn't really have a mission. Like, let me just start this dating coaching business. But I had the dating coaching to fall back on while I was looking for other jobs. But then eventually I realized that that was the job and that was my new path that I was going to be on.  [00:04:18][113.9]


Rock Felder: [00:04:18] Yeah, and quite a path it is. It's it's so impressive, you know, and I imagine there's other dating coaches out there. But you're like a dating coach expert, but like a media personality as well. How did you grow this media empire? Was it just you focused on one thing and started to accumulate other parts of the the enterprise, or was everything kind of happening in tandem?  [00:04:39][21.1]


Damona Hoffman: [00:04:40] Well, the media part was really by design. Everything else was by accident. But I really had to come to terms. Having been a development executive and programing executive, I know it looks glamorous, but like hosting is like fourteen steps down the ladder. Right. And it was almost embarrassing to admit that I actually wanted to be on air. I had gone to school for communications and performance and so it was kind of in me, but I would have never admitted it to myself while I was working as an executive. But because of my my experience in television behind the camera and the relationships that I had very quickly after I started my business, I was asked to do TV segments and it started really small. Like I started doing. I, I would like drive myself. I live in Los Angeles. I would drive to Palm Springs like two hours away to get up for the 6:00 a.m. spot on the morning news just to get that little piece of tape that that I could use to get on the San Diego station at eight o'clock at a more decent hour. And so. Each experience I had built to the next, but I will say starting my podcast Dates & Mates was always I always thought of that as a vehicle to build my media platform. And I've been doing it now for eight, almost nine years. So when I started a podcast, it was like, what? Like, what are you what is a podcast? I did it as a I didn't know anything about the technology, coming to you now, from my home studio booth, I went into a studio. I did it as a live streaming show that was like broadcast on this on this digital channel. And then we would just kind of distribute it as a podcast after the fact. So it wasn't until probably three years ago that I really started to embrace like I started to notice that media was like, oh, you have a podcast, we'll promote your podcast. And I started to really use this… One, think of it as a podcast, audio first, and then two, look at it as a tool to then build other media assets and build my portfolio and brand.  [00:07:09][148.7]


Zach Moreno: [00:07:10] That's really awesome. Like we're always talking about, like the concept of a show and like a podcast being kind of that hub where you can grow off of. And I think you're really demonstrating like putting that into practice and you get these other opportunities that that are maybe somebody else's content, somebody else's show. And and then that's the common thread that you weave between it. Right. Is the subscribe to the podcast. That's where you can learn more from Damona on Dates and Mates. like that's that's really cool to to see that compounding over the years that you've been creating the show. Is that how it feels to you? Like we always like to talk about the analogy of, like, compound interest. Is that your experience with, you know, the years you've put in?  [00:07:49][39.8]


Damona Hoffman: [00:07:50] That's a very smart analogy. And I didn't use such heady terms to describe it. But now I'm going to borrow that from you. Exactly. That's exactly how it works.  [00:07:59][8.9]


Zach Moreno: [00:08:00] Credit, goes to Rock, I think, initially. But it's it's a it's a cool idea. And we're always looking to validate that. It seems like that's a common pattern.  [00:08:07][7.7]


Damona Hoffman: [00:08:08] Oh, yeah. Check plus definitely validated. And, you know, people always ask me, like, they see me on the Drew Barrymore show or, you know, now I work with NPR on Life Kit. And do I do all this, like, top level media, and they're like, can you just introduce me to the producer? Like, can you get me in the door? It's like, no, they're like, how did you do it? And I'm like, well, first start eight years ago, OK? And then I can literally track back how I ended up on Drew Barrymore show specifically was the producer called me when they were starting up the show because she had seen a clip of a segment that I did on E! Daily Pop where I was doing a profile polish. And every time I show up for a media appearance, one, of course, I'm very prepared. I have real I really I study each appearance that I do. I go back and I watch it and I'm like, OK, this is how I can improve for the next time. I didn't know my talking point well enough on that. And I really it's a craft I've developed.  [00:09:07][58.7]


Zach Moreno: [00:09:10] Like a professional athlete.  [00:09:10][0.8]


Damona Hoffman: [00:09:10] Kind of, yea. But when I went into the Drew Barrymore show, I was like, they aren't going to just hire me for one show. No, I'm coming in with the mission of them being like, wow, we have a real find here. We're we're going to invite Damona back. So I always think in that way. But like, I can really trace back like Drew Barrymore. They saw me on E! Daily Pop. I think E! Daily Pop saw me. I done a profile polish in Oprah's now defunct O! Magazine. And so, like each experience literally can be tracked to a previous experience that I built upon. So I would completely cosign on your theory and then add on with the what do you want from it that I mean, that's the thing. Like I've spoken at Podcast Movement about media, how to build your media portfolio. And I a lot of people just like see the media and they're like, how do you get on the Drew Barrymore show? And it's like that is not the question. The question is, what do you want? Like, what do you want the Drew Barrymore show to do for you? And then you can kind of back into a strategy when you have an end game in sight.  [00:10:15][65.4]


Rock Felder: [00:10:16] I think that's a huge piece of insight for other podcasters looking to, you know, build up their media presence. And I think it really speaks to your confidence. Like, is that something that you would say comes natural to you or is that just something that developed? Maybe the podcast helped with that? It's helping me with my confidence.  [00:10:33][16.6]


Damona Hoffman: [00:10:34] That's a good point. I really feel like I've developed my skill set for television from doing the podcast for so long, because when I think about it, I'm like, wait, you know, I have like three hundred and seventy episodes where I've been having to and I did it live. Remember, I did a live live streaming for 200 of those episodes. So that really honed the skill for being able to do live television, live television is its own, its own thing, so use your podcast, I would say to your listeners as an opportunity, if you have a skill set that you want to get better at in practice. Use your podcast as that tool. But if you go back and you look at some of those segments and don't look at those segments that I did earlier earlier on, it was not at the level that I'm operating right now. And I think hopefully five years from now I will not be at the level that I'm at right now. I'm constantly looking for ways to evolve and and and learn from my experiences.  [00:11:36][62.3]


Rock Felder: [00:11:37] I think that's the right attitude. And actually, that's more inspirational to see that, you know, we all can get better. And that's why we like to use the analogy of compound interest is because it seems podcasting rewards persistence and consistency. And, you know, time and time again, we hear folks that are, you know, successful in podcasting, are successful because of their podcast. It's because there's there's really no substitute or corners that are cutting going on. It's it's all about doing the work and focusing on that. Now, getting back to your your dating experience and expertize. Is there anything, any insight that you can provide that might be helpful for a podcaster or when it comes to an interview? I mean, it's similar to a date, right. Is there anything that you can think of that would be beneficial for folks?  [00:12:20][42.9]


Damona Hoffman: [00:12:21] So funny. I was actually just talking to Anna Sale this morning from Death, Sex and Money. So I was interviewing her for Dates and Mates and we were talking about the skill set of listening and like having these challenging conversations, which I feel like a lot of times podcasts on podcasts, you're having challenging conversations on dates, you're having challenging conversations not because the subject matter is necessarily difficult, but because it just requires this intense presence, this intense level of listening. And that's the skill set that I feel like I have really, really honed in podcasting that I desperately tried to teach to my dating clients doesn't always work. I actually used improv with my clients, not because I want them to be funny and yuck, yuck up on a date, but because I want them to be comfortable in their own skin. And like when you said confidence, I kind of was like, I don't know that it's confidence, but it is a level of comfort of being me and just being right here. And I always try to get them to embrace that. And then literally being in the present moment that we're in, we're so fixated especially on dating, but sometimes also podcasting on looking back or looking forward, like we're ruminating about the past. Oh, did I say the right thing? What about this last episode? What about this last date? Or we're thinking about like where we're trying to get to or like, what if this relationship doesn't work out that we miss all the good stuff. The good stuff is right here, the good stuff, what's happening right now. And a lot of times you have to, like, really slow down. And when I'm podcasting and interviewing somebody, I'm always people are always like, you have the best transitions. And it's because I'm always I'm looking always for like, how can I tie this back for my audience? Not for me. It's not about me. I'm not listening for me. I'm listening because I want them to understand the point of what this person is saying. And I am looking for the openings to be able to tie it back to the theme or to move the conversation forward.  [00:14:33][131.7]


Zach Moreno: [00:14:34] That's really beautiful. And like practicing mindful listening is something that I am always kind of espousing and especially like we kind of think our job as a podcast or is to speak. But I think you're definitely on to something. And it's like it's it's more so about listening and also the listener. Right. So like that you seem to really be crafting an experience for for your listeners. What do you want your listener to feel while they're there listening to Dates and Mates or any of the productions you work on?  [00:15:03][29.0]


Damona Hoffman: 
[00:15:03] 
That was something I really cultivated at the networks because it was always about the audience and like just drawing from my experience as a buyer. So at the network, I was the person that if you had an idea for the sci fi channel, you came in and you pitched it to me and it didn't matter if I liked the idea personally. And many times I did it, I was like, this is amazing. And then I would bring it to my boss. And my boss is like, OK, we have these four buckets. They always call the buckets. We have these four buckets of like the spiritual seekers and the the sci fi nerds and like whatever they were, I don't remember the terms now that they had, but every network had that. This is our audience. This is what our research department has told us is our audience. And this is the challenging thing with podcasting is sometimes we don't have as many research tools, but you can create that dialog and like through Dates and Mates, I have people submit
questions
to me so I can really, one, I use it as content and I answer their questions on the show. But two, I can really hear what's on their mind, what their concerns are, what they need to know about. And then when I was a buyer, it's like if it doesn't fit in a bucket, we can't buy it. It doesn't matter if you think it's cool or groundbreaking or you just want to get it because you don't want that other network to have it and have a bunch of people watching it there. It either fits your brand or it doesn't. And so taking that into both the Dates and Mates podcast and then now I also host a brand podcast for Fresh Books, and that show is about entrepreneurship and drawing from my experience, running my dating coaching business and talking to other entrepreneurs. It's all about who is listening. And those are two very different audiences for my two podcasts. But if I'm thinking about what they need to know, what kind of questions they would have, that really helps steer the direction of the content. 
 [00:16:56][112.7]


Zach Moreno: [00:16:59] We're going to take a quick break, but we'll be back soon with more from Between Two Mics.  [00:17:04][4.8]


Zach Moreno: 
[00:17:06] 
Hey, SquadCasters, while we've got you here, we want to tell you a little bit about our
YouTube
channel. 
 [00:17:10][4.6]


Rock Felder: [00:17:11] Since we released our video feature in January, allowing podcasters to record both their audio and video on SquadCast, we've been working hard to walk the walk ourselves. In addition to listening to this podcast, Between Two Mics enthusiasts can also watch snippets of our show.  [00:17:26][14.6]


Zach Moreno: [00:17:27] We're working with our friends Tristan and Justin at Motion Agency.io to bring you highly produced and exciting video elements to further illustrate the points that we make with our guests on this show.  [00:17:39][12.1]


Rock Felder: [00:17:40] The first video we produced features Between Two mics guest Ona Oghogho. In her interview, Ona walks us through what it means to truly invest in diversity, equity and inclusion efforts in the podcast space.  [00:17:51][11.2]


Zach Moreno: 
[00:17:52] 
We encourage you to check out our
YouTube
channel and to see how we're experimenting with video. 
 [00:17:56][4.4]


Rock Felder: [00:17:57] So just head over to YouTube.com and search SquadCast.fm in the search bar. And please don't forget to hit that subscribe button.  [00:18:03][5.8]


Zach Moreno: [00:18:03] Now, let's get back to the show.  [00:18:04][0.9]


Rock Felder: [00:18:07] I'm so glad you brought up the the branded podcast you're working on with Fresh Books. So how did that get started? I am actually a big fan of branded podcasts. One of the ones that first got me hooked was eBay's podcast. I think it's called Open for Business. And I remember listening to it because they have great stories about different small business owners or entrepreneurs using eBay to conduct business. And I'm listening to that podcast knowing that it's a branded podcast for eBay. Right. Like, I know that this is a very glorious and very creative marketing vehicle. Right. But I still ended up selling stuff on eBay. And you know what? I got a few grand out of it. Like, it's great. But it my point is, is it works. It's entertaining, but. Yeah. What's your experience like? And I imagine it's very different from the Dates and Mates show.  [00:18:52][45.0]


Damona Hoffman: [00:18:53] Completely different, which is why initially the way it came to me, I was actually at Podcast Movement. It seems like all I do is go to Podcast Movement.  [00:18:59][6.5]


Rock Felder: [00:19:02] Us too.  [00:19:02][0.1]


Damona Hoffman: [00:19:02] I was at Podcast Movement a couple of years ago. And I went to one of the events that was sponsored by Fresh Books and my now collaborator at Fresh Books, the producer of the show got on stage and was like, we're looking for a new host for season two and they're a, you know, cloud accounting software. And I was like, OK, I'm not a finance expert, I'm a love expert. And I was like, who would I know who would be good for the show? Like, I wouldn't. That's not for me. But then I ended up going to dinner. This is a good reminder to always say, yes, I got invited to this really with this really weird dinner invitation that they sent out to a few of the speakers. And they were like, come meet us in this place and we're going to take you to this special location. And it was like very weird and secretive. And people like we're talking like, did you get the invite? Did you get the invite?[00:19:53][51.4]


Rock Felder: [00:19:54] Was it like some eyes wide shut stuff?  [00:19:55][0.6]


Damona Hoffman: [00:19:57] Yea yea yea. So I was like, you know what to say yes. This is what I would tell my clients. Just go, just go, go with it. So I went. I had the best time at that dinner. I heard that they were looking for somebody who really was an entrepreneur who could speak the language of entrepreneurship and sit in that chair, having had these experiences in everything from digital marketing to making payroll to, well, organizing your calendar, managing a team, all of these things I have done as an entrepreneur. And so in a way, I was actually uniquely qualified to be in that chair because, one, I had all of his hosting experience from doing Dates and Mates for so many years and two, I had this experience as a small business owner. And I had actually made the decision earlier that year that I wanted to broaden my brand not to get away from dating and relationships, but just to be more of an inclusive lifestyle brand. And anything that fit under like this is part of my lifestyle would be fair game to pursue. So I submitted. I had to it was not an easy process. I had to do like a demo and a deck and a whole thing, because this is corporate, you know, you got to do a deck. You always got to do a deck. So get your Canva skills ready. Get your PowerPoint skills. You got to you got to have those down. But because I had worked in corporate media, I knew also how to speak that language of working with a brand and how to get my idea across in that deck. So I've been doing that show now for two seasons. We've tried a lot of different things and gone a lot of different places and a lot has evolved. It started as an extension of their live event series. So initially I was interviewing people that were part of the live events or interviewing people live. Obviously, things changed a little bit last year, so we had to adapt that. But at its core, it's just about creating community, which I think is a really cool thing about podcasting. And one thing that I think has really solidified podcasting as a medium that's here to stay through the last year because we did that and you all did that, like creating a platform where people can still connect, still build community and still feel like we are in touch with one another, even if we are in different places. And that's one thing like from a brand standpoint, it's always a challenge to speak, you know, with one voice. And that's one thing that I've really loved about working with Fresh Books is that I'm not being asked to speak with a Fresh Books voice. I'm sure listening to the eBay podcast, it didn't feel like a commercial for eBay. And that's not what they want. They want me to speak with my voice and authentically connect with other entrepreneurs.  [00:22:46][168.5]


Zach Moreno: [00:22:47] Yeah, that's different. And I think that's meaningful. Right. That's a good thing. And that's really fascinating to hear. Like especially your dynamic range. Right, as a producer, as a host, being able to move between very different topics, very different focuses of shows and and still being successful and being successful for a brand. The stakes are higher. That's really awesome, and I think, you know, it's something that really speaks to how you've honed your craft over time. I also love what you said about the podcast community, and that's one of my favorite parts of podcasting as well. When we first showed up in the podcasting community, we were so worried that we wouldn't have any street cred or know anybody or like be kind of outsiders. And it's always been super welcoming and supportive and collaborative. So I'm really glad you said that. And what do you think is aside from the community, like what do you think is going right in podcasting versus like what do you think could be improved or changed?  [00:23:42][54.9]


Damona Hoffman: [00:23:43] Where do we begin? I'm going to speak for the indie podcasters first, as I imagine that is a lot of your audience. I feel like there's a lot of animosity sometimes towards these bigger names moving into podcasting. And believe me, like I've felt it too sometimes where I'm just like, wait a minute, I've been here in the trenches making this show puttin', shelling out my own hard earned money to get my show seen. And then here comes this celebrity that just came in and swooped up a Spotify deal or is at the top of the charts just because people know their name or is selected for, you know, carousel on Apple Podcast. But I actually think what it's done is really legitimize what we all were doing and bring more I would say eyeballs, but not eyeballs, bring more ear balls to this medium that we love and we want to keep doing so even if they come in and leave or a lot of money comes in and takes up a lot of the banner space. I think more for those shows means more for everybody. That's something that I've had to really come around on, but I feel passionate about continuing that that message of just like inclusivity. One trend that really irks me that I I hope people can get a grasp on, I'm sure no brilliant SquadCast users would do this. But so many times on these boards, these message boards, I'm sure you're seeing this to somebody will have an issue with like Apple Podcast or with Libsyn or whatever they've uploaded to. And then they'll like ask the community, like, I don't know what to do. Something is wrong with my episode numbering or something, something technical like that. And I'm like, do you guys see this?  [00:25:38][114.8]


Zach Moreno: [00:25:40] Oh yea, constantly.  [00:25:40][0.0]


Damona Hoffman: [00:25:41] Did you try Libsyn support? Did you did you talk to Simplecast first? I don't know why we go into the crowd sourcing for information that could be provided by the person, the company that's putting your podcast on. That's something that I really want to change and I fully welcome like all the newbie podcasters that are in it. But I'm just like, please go to the right source for the right information.  [00:26:03][22.7]


Zach Moreno: [00:26:06] I'm grateful that you've…  [00:26:06][0.7]


Rock Felder: [00:26:08] This hits home to us. Yeah, we have a lot to unpack here. So, uh.  [00:26:11][3.1]


Zach Moreno: [00:26:11] Yah I think.  [00:26:11][0.0]


Damona Hoffman: [00:26:12] Yea, oh and then they say, yeah, my SquadCast. Can somebody help me out there? It's like, could you just we have support right here.  [00:26:18][6.5]


Zach Moreno: [00:26:19] I was talking to somebody on Twitter about about a support thing. And thankfully it was pretty straightforward to help. And I was like, I got to know. It's like I just after the fact was like, now that we're good, can I ask why you chose Twitter as your channel of communication? And it was pretty much like I didn't really think about it. I was on Twitter and it's like, oh, that's cool. So are we. But like we have a dedicated team that, you know, this is what they do respond in minutes. And, you know, they're they're always happy to help. So I'm grateful you said that. I think the same is true for all the other companies in the space that we've talked to. So I encourage the same  [00:26:54][35.0]


Damona Hoffman: [00:26:55] Customer service is your friend.  [00:26:56][0.8]


Rock Felder: [00:26:57] Absolutely. And we take it very seriously. And we love to help folks, but, you know, just can't be everywhere. But I think what it speaks to, at least in my opinion and tell me what you think about it, Damona. But I feel like, you know, why people start podcasts are almost always for good reasons. And there's a lot of ambition behind it. But I think sometimes they see maybe some of these celebrity podcasts or just their favorite podcaster in general. And they they think all they got to do is have a microphone and show up and talk. But there's so much else that goes into it and a lot of it, like, again, talking about no substitute for doing the work, no cutting corners, like there's a lot of skill sets and just different jobs that need to be done as a podcaster, you know, and if you're you know, you don't have any funding or you don't have a lot of money to spend on your show, like you might have to take on a lot of these different roles and responsibilities yourself. Do you think it's like mis-managed expectations, not understanding what they're signing up for by being a podcast creator? You know, a content creator?  [00:27:53][55.7]


Damona Hoffman: [00:27:54] Yes. And I think that's why I don't have the stat in front of me. But I think it's something like five episodes is the average the average length of a… [00:28:03][9.7]


Rock Felder: [00:28:04] It's not high.  [00:28:04][0.3]


Damona Hoffman: [00:28:04] Podcast, so. Being now like 370 episodes in what I would say is, yeah, it requires so many hats and that was a big learning curve for me coming from the network where there was a person wearing every hat. And it's like, oh, you need marketing, you call marketing, you need you need legal, you call legal. And now it's like, oh, shoot, I'm wearing all those hats. That said, that doesn't mean you have to do every job. So I've also learned the things that I should, could and should outsource. Like, can I edit it? Yeah. Should I edit? No, because it will take me way longer. The quality will not be as good and that is something that is worthwhile for me to outsource. There may be people listening here who are like really good with with editing audio. I'm really good at planning content. It comes from my work as a producer and executive. So my show has segments. It's not just like let me get on the mic and talk about dating. Like I really segment out with Dates and Mates. It's a three segment show. It was always built with ad breaks because I wanted it to make money, but I funded it myself for many, many years. It's only really become profitable like in the last two years. But I built that in and I built in like first segment is headlines, second segment's interview, third segment is Q&A. And we really found that rhythm. And I've tried a lot of other segments out and we kind of landed on.  [00:29:29][84.6]


Zach Moreno: [00:29:29] I was going to ask, yea, the experiment, it gives you the freedom to experiment with like a smaller unit of episode than like, oh, let me try this. In that episode, in that in that episode, you can kind of swap these segments in and out.  [00:29:41][12.0]


Damona Hoffman: [00:29:41] And I really study my analytics. Like your listeners will tell you, if they liked that format or not, they will let you know. I used to have a co-host, some of my listeners don't like my old co-host at all.  [00:29:52][11.1]


Rock Felder: [00:29:53] They want Damona!  [00:29:53][0.1]


Damona Hoffman: [00:29:53] But I loved doing the show with him. It added a different dynamic, but then when he left he was like, maybe you should stop doing the show and I was like hell no. It's my show. I was doing it by myself before you and I'll continue to be doing it by myself after. But I did have to rethink like how I had formatted the show and and there was a little bit of a learning, a growth period there as well with the Fresh Books podcast. We do a lot of research. I have an internal team that that works with me on all of my content. I also do like a lot of other independent content like I work with OK Cupid and do like social media and media appearances for them. So my team works on all of my shows and projects that I'm involved in. And so they'll research, they'll do preliminary research on a guest for me. Then I'll do another level of research and then I'll do the interview. And then I mean, there's a lot of editing and post-production that goes into it. Then we have a composer, an editor. It's a whole big undertaking of which I play, even though it's my voice on the show, I play a small part of a larger team. So, you know, you really have to ask yourself again, what is your goal? What is your goal? And then where is your where are your strengths? What strengths do you want to develop and or what skills do you want to develop? And then what are your inherent strengths that you know, you can double down on and then maybe free some time up for other things? But I have always looked at my podcast. Speaking of Dates and Mates right now my podcast is my content engine for everything that I do. It's my content driver for social media, for my TV pitches, for everything else, for the book that I'm writing. That is what is the thing that helps me shape whatever else I'm putting out into the world. And so that was always my focus. It wasn't get rich if it was like maybe don't go broke, but it wasn't get rich, it wasn't get famous. It was like, let this be your proving ground. And that goal has helped me figure out where I need to spend my time and spend my money. But I was talking to another podcaster and she was having some problems with her podcast team. And I was like, yeah, I mean, I spend like a quarter of my week on my podcast. And she was like, what? She's also a small business owner and kind of using the podcast as a calling card for her company. And she could not believe that I spent at least a quarter of my week on my podcast and not on my business, but my podcast is my business.  [00:32:26][153.5]


Zach Moreno: [00:32:27] Yeah.  [00:32:27][0.0]


Damona Hoffman: [00:32:28] So it makes a lot of sense to me, but it might not make sense. Like you might have another full time job and you're doing your podcast five percent of the time, and that's OK too. But just manage your expectations for what you're able to put into it.  [00:32:40][12.4]


Zach Moreno: [00:32:41] Well said. Yeah, that's something I want to I'm curious. I want to calculate up our time of how much how much we put into Between Two Mics. Stay tuned for that, listeners, but.  [00:32:49][8.8]


Rock Felder: [00:32:50] Certainly not eight to ten years, what we put in, Damona.  [00:32:52][2.3]


Zach Moreno: [00:32:52] No.  [00:32:52][0.0]


Damona Hoffman: [00:32:54] Yeah, yeah. I mean, it's evolved. It wasn't even it wasn't maybe not twenty five percent then, but that's just where I am right now.  [00:33:01][7.0]


Zach Moreno: [00:33:02] How can our listeners, podcasters embrace and learn to love as you are?  [00:33:06][3.9]


Damona Hoffman: [00:33:06] Well, since that is my tagline on my website, love is you are really means when you are your most authentic self, when you really have clarity on that, and a lot of people are in different phases of that journey. But when you have clarity on that, that helps you attract what you want. So it helps you attract what you want in love. I always begin my dating coaching programs with who are you and then what do you want? And then we can develop a strategy to get that. So I think that could be also directly applied to podcasting. Who are you? What do you want to say in the world? Why are you doing this podcast? And then you can figure out what your path is going to be.  [00:33:43][36.9]


Zach Moreno: [00:33:43] I think I've seen a lot of people trying to represent that the next phase of themself, maybe while they're they're still kind of in the phase that they're in now and the people kind of pick up on that. Right. So I think that authenticity is really meaningful. And if those are the guests that you can attract now, those are the interviews that you can feel comfort and confident in, like do that, it's it's going to improve from there as as you have, for sure. So really, really grateful for all the insights and and wisdom that you've shared here today with us, Damona. Where can our listeners find the Dates and Mates podcast, the I Make a Living podcast? Like subscribe, where you're listening to this show now. But where else can they connect with you?  [00:34:23][39.4]


Damona Hoffman: [00:34:23] Yeah, I also have datesandmates.com, is the hub of everything, so that's where I have dating help. And that also can lead you to find out about all the other things. We didn't even talk about all the things that I do, but I don't have time because we don't have time. I don't know how I have the time, but I guess the pandemic cleared this, cleared the space to do the things that you really are meant to be doing. And I'm on all the socials, of course, at Damona Hoffman.  [00:34:51][27.8]


Rock Felder: [00:34:52] Well, thank you, Damona. And folks, even if you're not looking for dating advice, like just check out her web presence. It's so professional. It's so complete. It's something that we see a lot of podcasters, especially when they're first starting miss, is not having that like central website hub, which is a great place for your listeners to learn and get all the information they need to know about your show.  [00:35:11][19.3]


Damona Hoffman: [00:35:12] You know, and I also actually just today, I had a listener who was like I put out a newsletter every week about what the show is. And she was like, I don't know how to listen to a podcast. I'm so confused. And I was like, just click the blue button that goes to read the recap. And then I have the player embedded right there. You can listen to it right from your browser. You don't have to download anything. So making it easy for your listeners to find you and listen to you is really, really key.  [00:35:37][24.8]


Rock Felder: [00:35:37] Absolutely. Well, thank you for your time, Damona. It was great.  [00:35:40][2.2]


Damona Hoffman: [00:35:40] Thank you.  [00:35:40][0.3]


Rock Felder: [00:35:44] Thanks for tuning in to this week's episode of Between Two Mics,  [00:35:47][2.7]


Zach Moreno: [00:35:48] We hope you enjoyed our conversation. If you learned something or we intrigued you a bit, let us know on social media,  [00:35:53][5.7]


Rock Felder: [00:35:55] You can follow us on Facebook, Twitter, Instagram and LinkedIn by searching for SquadCastFM.  [00:35:59][4.7]


Zach Moreno: [00:36:01] And if you want to show the podcast some love, you can leave us a rating or review wherever it is you're listening right now.  [00:36:07][5.6]


Rock Felder: 
[00:36:07] 
This show is put together by us, Zach, and Rock. It's mixed and produced by Vince Moreno with help from Arielle Nissenblatt. Our
logo
is designed by Alex Whedbee. 
 [00:36:17][9.3]


Zach Moreno: [00:36:18] Since we're a podcast about a podcasts, we want to shout out the brands and products that we trust. We're recording using SquadCast.FM and here's our current stack for recording. We're using ATR2100 mics, Apple AirPods Max headphones, and Focusrite Scarlett 2i2 audio interfaces.  [00:36:37][19.6]


Rock Felder: [00:36:38] We edit the show on Adobe Audition in our hosting site is Simplecast.  [00:36:41][3.1]


Zach Moreno: [00:36:43] That's it for us this week. We're back next week with more from between these mics.  [00:36:43][0.0]

[2107.1]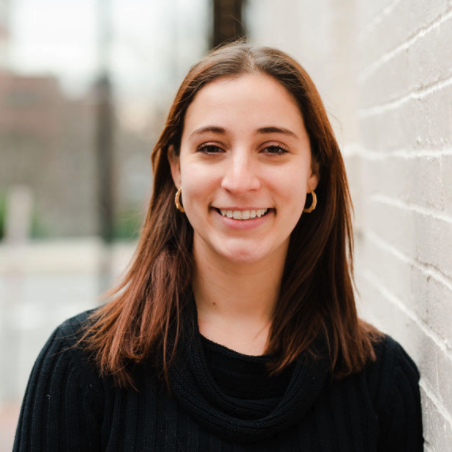 Arielle Nissenblatt is SquadCast's head of community and content. She's obsessed with all things podcast-related and is the founder of EarBuds Podcast Collective, a podcast recommendation engine.