In this episode, a chat with Jay Clouse. Clouse is a creator. He helps other creators become independent by building his own life of creative independence. He hosts the podcast Creative Elements (recorded on SquadCast), which explores how your favorite creators do what they do. Clouse also writes Creative Companion, a newsletter featuring weekly case studies, creative inspiration, and encouragement. He is also an online course creator, running courses with titles such as Podcast Like the Pros and Freelancing School.
Zach Moreno and Clouse discuss the power of social media — specifically Twitter — and how it can be used by podcasters to grow both their shows and their personal brands. Clouse recently started #tweet100, a Twitter accountability challenge that asks participants to write 100 meaningful tweets in 100 days, using the hashtag. By running this challenge, Clouse learned a lot about Twitter: engagement tactics, methods for achieving clicks, how to build a following, and more. In this episode of Between Two Mics, Moreno and Clouse discuss best practices and pontificate on the future of Twitter for brand development.
Tune in for practical tips on how to use Twitter to grow your podcast.
Also in this episode
Credits
Written and produced by Arielle Nissenblatt
Mixed and designed by Vince Moreno Jr.
Artwork and logos by Alex Whedbee
Transcript for Ian Powell
Hosted by Zach Moreno and Rock Felder
Episode Transcriptions
00;00;00;14 – 00;00;13;03
Keith
Hi my name is Keith, and before we get to this week's episode of Between Two Mics, I want to tell you about another show I think you're going to love and it's recorded on
SquadCast
. I host You First, the Disability Rights Florida podcast.
00;00;13;10 – 00;00;29;16
Keith
We dig into issues of national and global importance to people with disabilities. You may or may not have a disability, but you probably know someone who does, so tune in and learn a thing or two. You can find it wherever you get podcasts or on our website at Disability Rights Florida dot org slash podcast.
00;00;29;26 – 00;00;31;24
Keith
All right, let's get to Between Two Mics.
00;00;36;13 – 00;00;43;09
Zach
Welcome to Between Two Mics, the podcast that brings you
remote recording
resources from SquadCast.FM.
00;00;44;10 – 00;00;47;26
Rock
I'm Rock Felder, co-founder and CFO of SquadCast.
00;00;48;15 – 00;00;51;13
Zach
And I'm Zack Moreno co-founder and CEO.
00;00;52;04 – 00;01;01;07
Rock
On Between Two Mics we bring you interviews with podcasters, experts in the field of
remote recording
. We discuss current events in podcasting and so much more.
00;01;02;00 – 00;01;10;08
Zach
We're recording all of this on SquadCast the best place to record remote audio and video interviews in studio quality.
00;01;10;25 – 00;01;12;28
Rock
Let's get between two mics.
00;01;15;14 – 00;01;32;21
Zach
Hey, welcome to the show, Zach here. In a moment, you'll hear my conversation with Jay Clouse. Jay is the creator of the hashtag Tweet 100 Movement, a Twitter accountability challenge. He is also the host of Creative Elements, a podcast recorded on SquadCast.
00;01;33;11 – 00;01;38;26
Zach
And in our conversation, we chat about how podcasters can use Twitter for growth and to build a following.
00;01;39;14 – 00;01;55;03
Zach
Now let's get into it. (Interview Begins) Welcome, Jay Clouse to Between Two Mics. We were just talking off mic about the magic of Twitter and how this this integration came together, thanks to one of your tweets. You want to recap that story for us.
00;01;55;15 – 00;02;11;23
Jay
Yeah, I'm not even sure what the tweet was, that it put it out. I think, Oh, I know what it was. I was geeking out over some of the automations that I had put in place anyway, using Zapier and Notion because I built a pretty awesome workflow now with my guests where they schedule us Savvycal it
00;02;11;23 – 00;02;34;14
Jay
, send them a calendar link which used my SquadCast recurring room. But then it automatically made or updated their guest record in my production notebook in notion. It's just it's this beautiful thing that I'm super proud of, and I think it was you that might have replied to say, like, wait until you know, you can automatically schedule
00;02;34;14 – 00;02;55;05
Jay
a new room using Zapier and Savvycal. and Derek Reimer, the CEO of Savvy, saw that, and he said, Let's make it happen. And within like hours, this is now live. And now when somebody schedules for me, for my show creative elements, they it creates a new session automatically in SquadCast.
00;02;55;21 – 00;03;06;01
Jay
And it's great because now I to worry about this link that other guest might have. I've actually had interviews or somebody had the day wrong. I'm interviewing a guest and a future guest drops in. (laughs) Now it's like-
00;03;06;18 – 00;03;07;03
Zach
Oh wow!
00;03;07;15 – 00;03;13;13
Jay
Hello! I think you might have the date wrong, but it's great to meet you. (both laugh) This happened about a month ago. That's the only time it's actually happened.
00;03;13;14 – 00;03;15;12
Zach
Respect your level of preparation. Yes.
00;03;16;09 – 00;03;30;15
Jay
But you know, if you're bashing things, especially, then it becomes a bigger risk of like if I have three interviews in a row and it's using the same recurring room. So anyway, now this is just a magical workflow, and I love the magic of Twitter because between you and Derek, you know, this all got worked out in
00;03;30;15 – 00;03;34;06
Jay
a matter of hours, and now it's impacting dozens, hundreds of people.
00;03;34;19 – 00;03;49;27
Zach
The timing was really beautiful because we had recently launched our public API. And then, yeah, we're part of the tiny seed accelerator, which Derek is, is also a mentor, and I believe his startup is in this current batch.
00;03;49;27 – 00;04;05;04
Zach
So that's rad. And we had kind of like talked about the potential for integrations, but I don't think I think Derek missed the news or I didn't update him on the API and it was just like a matter of days before and then was like, Yeah, Twitter pulled this whole thing together.
00;04;05;04 – 00;04;07;04
Zach
And then of course, Derek starts.
00;04;07;04 – 00;04;12;25
Zach
Tweeting updates as he's like making modifications in real time.(both laugh) Yeah, the whole thing. Like, we'll link.
00;04;12;25 – 00;04;28;02
Zach
To it in the show notes. You can watch this integration come together, and it's also a really great testament to our engineering team was so stoked because it was like, Wow, this is a proof of the developer experience that somebody can put something pretty magical together in a very short amount of time.
00;04;28;02 – 00;04;41;12
Zach
And it actually inspired Kieran and Captivate to do an integration in his came together in a, you know, similar amount of time. And now we've been talking to other SaaS companies that we can have cool integrations with.
00;04;41;12 – 00;04;58;27
Zach
And it's like, Hey, here's the proof in the pudding. Look at this tweet thread with Jay and Derek, and it's really awesome. And I've I've also been improving my workflow similarly. And then I think you're you're bit with Notion actually inspired our our lead software engineer, Jean, to to write up a kind of a walk through how
00;04;58;27 – 00;05;13;26
Zach
to now we have like a whole developer page on our site that we had like API docs and stuff, but that's like super low level and boring, he wrote up like, you know, a walkthrough about how to how to integrate SquadCast with Notion using the API and or Zapier.
00;05;14;05 – 00;05;22;02
Zach
So that's really awesome, and it's something that inspired Jean to so beautiful. We're all inspiring each other and Twitter is at the center of it.
00;05;22;06 – 00;05;38;16
Jay
I saw in Derek's most recent product update from Savvycal, they say, like, "what's new in Savvycal?". They're also promoting this integration now. So it's becoming like a selling point for him, for new customers who might be podcasters who would love to have this like magical experience of going from the guest booking to now.
00;05;38;25 – 00;05;43;08
Jay
You know, they have a custom room and I have to set anything up that's just magical.
00;05;43;09 – 00;05;59;23
Zach
Exactly. So there's a lot that, you know, Twitter is a mixed bag, but I think we're we're optimists here and we'll we'll keep it positive. So magical place when it comes to content creators and connecting with your audience and engagement and connecting with guests, finding and growing, growing your show in different ways.
00;05;59;23 – 00;06;14;13
Zach
And I think you're, you know, innovating and on the forefront of what that can look like for creators that are seeking to grow in these ways. And you have this tweet 100 challenge that will get to here shortly.
00;06;14;13 – 00;06;22;25
Rock
But what was your relationship with Twitter and finding ways to grow prior? What was the story kind of leading up to to tweet 100?
00;06;23;10 – 00;06;38;14
Jay
Well, I got on Twitter pretty early, actually. I think I was like 2009. I've been on Twitter since, so I've always had like an OK following meaning like I was in, you know, above 1000 followers or something within the last couple of years.
00;06;38;28 – 00;06;48;27
Jay
And, you know, over time, I've just really fallen in love with Twitter and. The access that you get to people and their ideas. And I think Twitter as a product has just continued to develop in a really positive way.
00;06;48;28 – 00;06;59;06
Jay
I think, you know, as an editorial or moderation team like that could be argued, but from a product standpoint, the product just continues to become more and more compelling.(Zach assents) I think no doubt in over the ensuing years.
00;06;59;19 – 00;07;01;19
Zach
I didn't use to like it, now I have grown to love it.
00;07;01;29 – 00;07;03;03
Jay
What do you love about it most now?
00;07;03;18 – 00;07;21;15
Zach
I think it's that access and then the I don't know, it just feels less like a firehose. Now I think I've gotten I just saw Alban from Buzz Sprout talking about like, you know, muting words and phrases. And there's there's like better tools that give you ability to kind of improve your experience if you don't want to
00;07;21;15 – 00;07;35;06
Zach
see some topic with a bunch of friction around it and stuff like that. So I think there's kind of some tools like that. And then I have other ideas for like the creator tool side of things like fact checking as people, author cooldown periods.
00;07;35;06 – 00;07;46;14
Zach
If people are like commenting rapidly. I think Reddit has done interesting things there. But like, maybe it's like a cool down period on like the tweets themselves and I can go on and on about this. But sorry to interrupt you.
00;07;46;17 – 00;07;47;15
Zach
Please continue.(both laugh)
00;07;47;21 – 00;08;06;17
Jay
I just saw people around my peers and people that I look up to as creators just watch their followings balloon, you know, seemingly overnight or over a relatively very, very short period of time of months. And the key to that was volume, like just tweeting more and especially threads.
00;08;06;28 – 00;08;22;03
Jay
And so I'm sitting here and I'm interviewing guests on creative elements. I talked to David Prell and Dicky Bush and Steph Smith, and she's like, really clear. This is the strategy, and there's still opportunity to really grow a following on Twitter that you can then port over or siphoned off into the projects you care more about, and
00;08;22;03 – 00;08;33;09
Jay
that communication lines that you have more direct control over. But I just wasn't spending time tweeting and it was driving me nuts. It's like, I know this can be one of the most impactful things I do in my business.
00;08;33;16 – 00;08;48;02
Jay
Why am I continuing to procrastinate and put off just tweeting more like putting thought into writing? Every week I write a newsletter. Every week I write a script for my podcast episode intros. Why can't I sit down and write a Twitter thread?
00;08;48;19 – 00;09;00;02
Jay
So I needed a system of accountability because I just know that's what works for me. When I promise externally to do something to people and have a metric of seeing like, Am I doing it? I end up doing it.
00;09;00;12 – 00;09;11;08
Jay
So my first thought was just doing a public challenge because at one point through my email list, I had run a challenge that was just based on a spreadsheet. And my email list was small when I did this, so I could just send them a link and say, Hey, we're into this challenge.
00;09;11;19 – 00;09;27;27
Jay
I have columns for every day, just like Mark, if you did the thing or not. But on Twitter, I just thought that is not going to be secure. And if I do a 100 day challenge, which is what I wanted to do, somebody could go in there and just maliciously destroy all the progress (chuckles) of other people, lose
00;09;27;27 – 00;09;45;06
Jay
all these records. And so I just tweeted out like, Hey, how can I make a public leaderboard that people can update their own accounts? Other people can't ruin other people's data. People suggested spreadsheets, and then I got connected with Aaron of Automate All the Things, and he was like, "Come on, the stream will make a leaderboard out of
00;09;45;06 – 00;10;03;13
Jay
air table. " And I said, Awesome, let's do it. And so I went on the Automate All the Things stream, and we had this like challenge brief of, Hey, we want to have an air table database. So if I tweet and it uses the hashtag Tweet 100, then our automation notices that, it attributes it to your user
00;10;03;13 – 00;10;22;11
Jay
record in it, increments your days, tweeted by one, the goal being 100 tweets in 100 days that you're proud of. And we made that first version in Zapier we've iterated on since then. But now almost 15 hundred people have joined the Tweet 100 challenge and since 35,000 tweets and picked up over 110,000 followers.
00;10;22;27 – 00;10;23;21
Jay
So crazy numbers.
00;10;24;03 – 00;10;43;26
Zach
That's bananas. Congratulations. I mean, you saw this challenge that you wanted to embrace and wanted to have a clear outcome of growing your network on Twitter, your followers. And it's worth noting that probably a lot of people would would kind of think in word about that and maybe execute from that perspective.
00;10;43;26 – 00;11;00;10
Zach
But you then took the jump and said, Well, accountability is a key ingredient here. This is already a network, already a community. Let's embrace that and kind of add some network effects to this challenge that's rooted in, you know, some pretty clear data, right?
00;11;00;10 – 00;11;10;21
Zach
Like just to kind of back up for a second. Where did that come from? The volume and the threads knowledge? Just for people starting with beginner's mind, the thinking is you tweet more, you grow more?
00;11;10;21 – 00;11;11;12
Jay
Yeah, I mean.
00;11;11;27 – 00;11;22;17
Jay
I've just seen it because I mean, I saw it going all the way back to college. And there are a couple of guys who had a beef jerky company called Jerky Bro, and they were just crushing it on Twitter.
00;11;22;17 – 00;11;35;25
Jay
And I couldn't understand why. And they were tweeting like 20 times a day, and that was the answer. There's like, Yeah, we just tweet all the time. Even some number of those things get picked up. But now, as Twitter is iterated as a product, you know, it used to be that you only see things in your feed
00;11;35;25 – 00;11;54;19
Jay
that are from people you follow, and now they show stuff that is liked by people you follow. There's more retweets that happen, so there's more organic reach, it seems, on Twitter. And it's just a numbers game to some degree, like the more you tweet, the more likely that that is going to be seen by somebody and you
00;11;54;19 – 00;12;10;14
Jay
just kind of do that math ad infinitum. For threads, each of those tweets in the thread, if you construct it well, can take on a life of their own. Like, I think about threads as each tweet within a thread should be self-contained and valuable and useful so that if somebody just likes that one tweet in a seven
00;12;10;14 – 00;12;17;26
Jay
tweet thread and their retweet that that will get attention on the rest of it, you know, now, you know, instead of having one tweet today, you actually have seven.
00;12;18;11 – 00;12;34;00
Zach
And that's really one of the things you know to come back to your question about how my relationship has grown with Twitter was the threads and seeing how people like yourself and people like Arielle and Alban and the like people in the podcast community were using threads.
00;12;34;12 – 00;12;48;18
Zach
It just fit much more with my mental model because like yourself, right? I strive to be a consistent, prolific writer and content creator. My process, anyway, is like starting with like an outline. And then I kind of fill in details right as I go.
00;12;48;18 – 00;12;58;26
Zach
And that way I can keep it in my voice without reading a script. But all that and you know, we write for like the SquadCast blog and do guest post on other places, and I do the similar thing there.
00;12;58;26 – 00;13;14;07
Zach
And yeah, the threads really fit with that model for me because I'm used to like writing sections that add up to this grander whole of kind of looking at this topic. And that is something that has really impacted my relationship quite a lot.
00;13;14;07 – 00;13;31;20
Zach
And like, like you said, you end up with more tweets overall. I just did this for our, you know, I wrote a blog post for like our year in review all the different product things we did on SquadCast, from
video recording
to recording with ten people on Dolby to podcasting in the Metaverse or, you know, on
00;13;31;20 – 00;13;43;04
Zach
on the iPhone. And I was very proud of that blog post and it occurred to me. I was like, Wow, that was published like a few days ago. Let me do a thread summary version of it and then kind of feed back into the blog.
00;13;43;04 – 00;13;56;21
Zach
And yeah, a bunch of those tweets I typically will get engagement on, like the first one and two. But I've been noticing to your point that I'm starting to get better and seeing more traction on like the third and fourth and fifth.
00;13;56;21 – 00;14;16;13
Zach
And then those things individually get retweeted because I think it's exactly what you said. I'm trying to think of them as like self-contained units, but also feeding into each other. I'm not sure if there's any data you can share, but are most of the the tweet 100 participants contributors doing threads or, you know, one off-ers they're not
00;14;16;13 – 00;14;21;14
Zach
clear data or like, do you guys talk about other strategies in addition to volume to grow on Twitter?
00;14;21;27 – 00;14;36;19
Jay
It's definitely more so one offs, because people who are joining this challenge are likely already struggling with just the pure volume inconsistency idea they want to meet at least once a day, and threads are so much harder to do.
00;14;37;03 – 00;14;47;20
Jay
I interviewed Cody Sanchez for creative elements a couple days ago, and I was talking to her about threads and she was like, Threads are at least ten times harder than a tweet, if not like-
00;14;47;20 – 00;14;48;02
Zach
Wow.
00;14;48;22 – 00;14;55;13
Zach
It's weird. They feel it feels easier to me. I don't, but it is more. It takes longer. I know, I know that, but it's like, OK, I got my thread. I'm good. (laughs)
00;14;55;29 – 00;15;10;12
Jay
And it probably also depends on like your your frequency. Like if you have a goal for a thread every day, then yeah, that's going to be pretty hard. I think so. Most people are doing the one offs, but some people who have had a lot of growth typically are doing more threads.
00;15;10;19 – 00;15;30;06
Jay
You mentioned Arielle: she had 84% growth during her Tweet 100 challenge. She picked up almost 3000 new followers when she was participating, and she was doing mostly tweets. But it's kind of like a tweets plus approach because she's really good at encouraging responses in conversation.
00;15;30;19 – 00;15;31;20
Rock
Far better than me. (both laugh)
00;15;31;21 – 00;15;45;07
Jay
Yes. Yeah. Yeah. And that does really well for the algorithm in and for traction too. Like when Twitter sees that people are replying, they're going to push that further. And she was really good at that. But threads are what pick up followers first and foremost on Twitter right now.
00;15;45;08 – 00;15;55;15
Jay
It's just no question that is what picks up the most people because they get the most impressions, and it gives a better sense of like what people can expect from you because a lot of tweets are kind of like opinions.
00;15;55;15 – 00;16;15;19
Jay
And everybody on Twitter has an opinion, but the threads are more so stories and learning like teaching, so that's more differentiated. I would rather hear stories. I would rather learn something than just get another person's opinion on something unless I see a lot of tweets from them and say, OK, I keep seeing something for this person.
00;16;15;19 – 00;16;16;28
Jay
I guess. I guess I'll follow along.
00;16;17;15 – 00;16;32;22
Zach
It can be very interesting from like a market research perspective to, Hey, I have this question. Our team's on the fence about it. Like, What's the voice of the community here? And we do that internally a lot with our SquadPod community on like Slack or Facebook or something like that.
00;16;33;03 – 00;16;45;02
Zach
But more and more we've tried to kind of get those into the public eye. I mean, sometimes it's tough like we were just talking offline about. Our next major release, V5, some of that stuff, we want to kind of keep behind the curtain, right?
00;16;45;02 – 00;17;01;07
Zach
But some other things, it's like, Hey, what do you think about this? And that conversation that kind of ensues from there is is is typically pretty beautiful and, you know, insights are gained and it opens it up to a more diverse group of voices that can weigh in on product decisions or "I'm interviewing Jay Clouse, what should I ask?"
00;17;01;07 – 00;17;19;18
Zach
Right. That's probably something I should have tweeted.(both laugh) But yeah, can I ask you a different question about something that I personally struggle with with Twitter that maybe some of our audience members do too? For sure. I struggle with editorializing my tweets out of existence before I publish them.
00;17;19;27 – 00;17;32;10
Zach
This happens to me all the time where I'll be like, Oh, I should tweet something along those lines, or I should say something. And then I kind of think maybe too much about like, how will this land? Does this add value?
00;17;32;10 – 00;17;44;25
Zach
Like, does anybody give a shit all these different things? Why am I saying something? And a lot of times I'll just end up trying. I'll draft something out and then I ditch it, and I think I've gotten a little bit better letting it be and and all that.
00;17;44;25 – 00;17;59;03
Zach
But this volume approach kind of stands in contrast to to something like that, right? Maybe I should editorialize less. I don't know. Is this something you struggle with? Did you hear anything from the community that's emerged around Tweet 100 about the anxiety with What do I say?
00;17;59;04 – 00;18;10;22
Zach
Because I always tend to think of it like, OK, this is a big quote machine, and if I want to be remembered for a quote, it should be pretty meaningful. So I feel like my bar is maybe a little too high for that.
00;18;10;23 – 00;18;23;02
Zach
But you know, yesterday I tweeted about like the Super Boujee gooseneck electric kettle that I received for my Christmas coffee dreams, and that actually did pretty well. And it was like a comment on something else. I was like, surprised.
00;18;23;02 – 00;18;25;11
Zach
It's like, that's not a quote, you know, I'm not thinking like.
00;18;25;16 – 00;18;28;07
Zach
Yeah, how will history view this quote from.
00;18;28;07 – 00;18;34;18
Zach
Zach, right? Like, super grand kind of zoomed out perspective, but what have you picked up along those lines?
00;18;35;03 – 00;18;50;28
Jay
I do struggle with it. Sometimes somebody who really moved the bar on Twitter and how people use it, in my opinion, is this guy. Toby, who runs the Morning Brew Twitter account and has his own and his take on this is always just like, tweet more Just whatever comes your mind.
00;18;50;28 – 00;18;51;11
Jay
Just tweet it.
00;18;51;23 – 00;18;53;14
Jay
Doesn't matter, because reality is.
00;18;53;28 – 00;19;05;10
Jay
Most people don't care about you or I. Like if you're a politician or a much bigger public figure than you'd probably want to scrutinize more like right now, like most people who even follow, you aren't going to see the tweet that you put out.
00;19;05;21 – 00;19;16;07
Jay
I going to say it multiple times for people to see it, and the reality is like nobody actually cares about other people's stuff. So like, it's not going to make that big of a deal. You should just put it out.
00;19;16;09 – 00;19;37;18
Jay
You know, it is what it is. I mean, if you are being like, overtly hateful or insensitive, then yeah, maybe don't do that, but please do. Yes, Twitter like a rewards polarization anyway, like you would probably actually have a more traction if you were being, like, very opinionated in a way that somebody could disagree with it.
00;19;37;19 – 00;19;49;27
Jay
And this is sort of like hateful, but like if you're very opinionated, you take a strong stance on something to the point where other people could clearly disagree with it. That's going to get more traction than something that everybody agrees with because it doesn't need to be said, Hmm.
00;19;50;05 – 00;20;02;12
Zach
That's a really great point. And it's something that I guess just kind of implicitly I've observed where the tweets that don't land, they don't land in. Sure. Yeah, they're they're preserved by history. I guess you could go and delete them.
00;20;02;12 – 00;20;14;16
Zach
Like I remember there being some controversy about like Elon Musk doing that, like going back and like deleting some of his tweets and stuff. And it's just like, I guess that's another way to look at it, like you can kind of go back and trim the fat if you really care about it.
00;20;14;16 – 00;20;17;14
Zach
But like, totally, does it really matter, you know?
00;20;17;29 – 00;20;18;05
Jay
Yeah.
00;20;18;06 – 00;20;24;19
Zach
And in the grand scheme of things like the things that will land are going to land and the things that don't there, they're there, but it's OK.
00;20;25;03 – 00;20;36;27
Jay
You know, it's really interesting to me. This isn't Twitter, this is Instagram. And I guess you could apply it to Twitter. Do you know Michael Che, the Weekend Update guy on Saturday Night Live? Yeah, I think he's actually the head writer of SNL too. His Instagram.
00;20;36;29 – 00;20;47;12
Jay
He never has more than one post. He makes a post. People react, then deletes it, and then he'll have a post again, like he on his Instagram feed. If you look, he has one post right now, probably.
00;20;47;18 – 00;20;48;07
Rock
I like that.
00;20;48;25 – 00;21;01;07
Jay
It's very interesting. He has a ton of followers and people respond to his stuff, but he doesn't care about like the history of his account. And it's just like, here's what I'm saying today, and when I am ready to say something else, that one's gone.
00;21;01;18 – 00;21;01;28
Zach
I guess.
00;21;01;28 – 00;21;09;17
Zach
Like it will be preserved somewhere, right? Like if somebody really wanted like the Wayback Machine or something like that, but who's really going to go do that?
00;21;09;28 – 00;21;19;26
Jay
Yeah, I'm sure someone requested him from his data from like Facebook or whatever. I mean, let me make sure I'm not misleading you. I'm going to look up his account right now. "Che Thinks"… Ah he has two right now.
00;21;20;11 – 00;21;23;26
Zach
Maybe just like there's some bar that he has for. Like.
00;21;24;18 – 00;21;27;25
Zach
If it's good enough, it'll stay and it's just a super high bar. Yeah.
00;21;28;06 – 00;21;37;20
Zach
It just crazy. Look at the stats. It's like he has two posts, 641,000 followers, and he's following the zero people and his bio just says influenza.
00;21;38;07 – 00;21;48;20
Zach
Wow. Yeah, we'll we'll strive to strive for that. (Ad break) we're going to take a quick break, but we'll be back soon with more. From Between Two Mics.
00;21;50;29 – 00;22;05;14
Arielle
Hello, Between Two Mics listeners, this is Arielle Nissenblatt, your community manager, and I am very excited to tell you about the SquadCast community. We have a very active, vibrant community of SquadCasters hanging out on Slack, and we'd love for you to join us.
00;22;05;26 – 00;22;18;25
Arielle
We will have a link to the application form in the show notes. Anybody who is an active SquadCaster is welcome to join us in our Slack channel. We share all sorts of resources, we share opportunities for growth and so much more.
00;22;19;01 – 00;22;37;16
Arielle
We also host a monthly Squad Pod-its. Those are SquadCast, podcasts, audits where we invite you to sign up and we'll listen to your podcast and offer marketing suggestions, content suggestions and more. You can join us at the SquadPod and hang out with us on Slack by filling out the application form in the show notes of
00;22;37;16 – 00;22;41;12
Arielle
this episode. Thank you so much, and I hope you enjoy the rest of this episode.
00;22;43;06 – 00;22;57;07
Zach
Yeah, super interesting. The different ways that people use it, because I've seen, I've seen like the stream of consciousness stuff, right? And a lot of times I'll see that and you probably know people. I have people in my life where it's like, Wow, this person really has no filter.
00;22;57;07 – 00;23;12;13
Zach
Like they just say whatever's in their mind. And the more and more I've like practiced meditation, right stuff like that. I've learned to have some space between stimulus and response and and and that almost works against me in this in this context, really.
00;23;12;20 – 00;23;27;28
Jay
Dude, that's that's so true. It's like if you I'm somebody who actually prides myself on not having opinions about most things because like, yeah, you don't need to hear my opinion. I don't need to have an opinion until you asked me to have an opinion in which case that I can say, OK, well, based on what I
00;23;27;28 – 00;23;38;23
Jay
know in the data I have now, here's how I think about it. But most of the time, I just don't even have opinions on stuff, and I feel like that holds me back on social media all the time, because if you're just spouting opinions all the time, they get something for people to latch onto.
00;23;39;06 – 00;23;54;23
Zach
It's a double edged sword because there will be dissenting opinions on on anything. And yeah, I'm always trying to keep it middle of the road, but it is interesting to think about it as a potential strategy. And maybe this is something our listeners would want to experiment with is intentionally kind of being more opinionated.
00;23;54;23 – 00;24;01;08
Zach
I think if I was to go back and look at my my tweets, it's like it's all pretty middle of the road, you know, I'm not trying to offend anybody or whatever, and it's like.
00;24;02;07 – 00;24;03;20
Zach
Maybe there should be ten.
00;24;03;20 – 00;24;10;26
Zach
Percent of them that are more aimed at like polarization or something like that or calling out our competitors on their bullshit or something like that, right? Like maybe.(both laugh)
00;24;10;29 – 00;24;12;27
Zach
Maybe that would have some sort of a.
00;24;13;14 – 00;24;16;09
Rock
Positive effect on like the growth of our our followings.
00;24;16;17 – 00;24;23;16
Jay
Yeah. Seth Godin calls it making assertions. If you're not like making an assertion, then you're not really adding value.
00;24;23;23 – 00;24;42;03
Zach
That's I'm going to think about that with our strategy. Yeah, I I have learned a lot from from observing Arielle as our community manager and all the amazing way she uses social media to grow and foster the community with with SquadCast and trying to kind of observe and improve and make improvements to my my personal stuff
00;24;42;04 – 00;24;55;19
Zach
. In addition to that, my personal brand. And then, yeah, with Tweet 100, seeing all the amazing growth. I mean, at what point does Twitter contact Jay? And it's like, Hey, you're helping people grow? That's good for us, right?
00;24;55;19 – 00;25;04;13
Zach
This is a win win win. Where are you at with it now? I mean, like because they benefit from challenges like this. More content is great for them.
00;25;04;23 – 00;25;22;05
Jay
And it's a good question. I think volume will definitely increase to the point where I would probably have to pay for like an air table enterprise plan. But like I could see it, what am I like? Low key goals is that the hashtag becomes so popular that I can apply for a Twitter verification based on the popularity
00;25;22;05 – 00;25;37;04
Jay
of the hashtag and be the creator of it. I don't know. They might reach out at some point. I did get access to their communities product, which I haven't put into play because by the time they finally gave me access to make a Twitter community, I had already made a community on circle.
00;25;37;05 – 00;25;56;19
Jay
But yeah, incentives are definitely aligned. I don't know how much. Like, it doesn't actually feel like Twitter loves hashtags. It seems like that as like a trend on all social media platforms has kind of gone by the wayside to the point where, like, if you use more than one hashtag, I think the algorithm actually dampens your tweet
00;25;57;07 – 00;26;11;04
Jay
. So I mean, it's not affecting the folks who were doing Tweet 100 because like, I have the data, I can see it. But for the people who use Tweet 100 and then use another hashtag, when I see those tweets, they often have very low engagement and I think it's I think it's a hashtag thing.
00;26;11;09 – 00;26;23;19
Jay
So I don't know. Maybe they reach out at some point they'll be pretty cool. But right now it's, you know, my my content, creative elements. I talk to high profile creators about how they made a living as full time creators and the people who are trying to grow on Twitter.
00;26;23;26 – 00;26;38;19
Jay
A lot of them are trying to grow their own audience. So my other content is really aligned with what the people who are joining the challenge are interested in. So it's become a really interesting and useful and effective introduction to me in my work.
00;26;39;01 – 00;26;55;27
Jay
Yeah, it's seemingly grown the podcast organically, which is difficult to do, but you know, in the onboarding of joining Tweet 100, I recomend listening to my episode of David Burrell and Dickie Bush about how they, you know, grew on Twitter, I know that's super interesting to you if you join this challenge.
00;26;56;07 – 00;27;02;18
Jay
And in listening to those episodes of Creative Elements, you might think, Damn, it's a pretty good podcast. I'm going to subscribe to that. And that's great.
00;27;02;19 – 00;27;16;25
Zach
That's far out. Yeah, I love that. That that was actually my next question for you is. You are a creator of many things, but you are a podcaster. So the audience here, how do you think maybe with Tweet 100 or maybe in additional ways?
00;27;17;04 – 00;27;23;08
Zach
How have you seen Twitter help with the growth of content more generally or specifics of podcasts?
00;27;23;25 – 00;27;40;18
Jay
Well, we all know that discovery in podcasting is difficult. It just doesn't have the same search traffic that like web results or video results yet. But what used to frustrate me a lot is I would see people with large Twitter followings
start a podcast
and then tweet at somebody.
00;27;40;18 – 00;27;50;06
Jay
It's really hard to get a hold of and say, Come on my podcast. That person says Sure, right away. And I know the podcast has no listeners in that mine probably has more listeners, but I would have a harder time getting in touch with them.
00;27;50;17 – 00;28;04;20
Jay
There's there's a magic in having a large Twitter following because people assume that you have a large audience. But then also, if you do have a large Twitter following, you can be talking about your podcasts and be getting people aware of your podcasts at a much higher rate.
00;28;05;04 – 00;28;23;11
Jay
So my strategy for growing the show is I want to grow my own creative platform around Jay Clouse. And if I do that effectively, all those people that are now in my orbit, I can introduce to the show. And I think there's more opportunity on Twitter than any other social platform right now other than maybe TikTok.
00;28;23;11 – 00;28;34;09
Jay
But it's, I think, harder to deport people from TikTok over to podcasting than Twitter. So my strategy is like, I want to be active on Twitter. I want to get in front of more people on to build relationships with my audience there.
00;28;34;21 – 00;28;46;25
Jay
And then when they see me tweet about a new episode of my podcast every week, a couple of them trickle in. And as my Twitter following grows, that small conversion rate turns into more and more meaningful actual numbers of people.
00;28;47;13 – 00;28;49;10
Jay
And over time, you know, it's just a flywheel.
00;28;49;20 – 00;29;03;16
Zach
Yeah, it's kind of this maybe funnels the wrong word, but kind of this like stacking approach to content, right? You have this micro content that that fits in and engages people on a more like regular but smaller, bite sized basis.
00;29;03;16 – 00;29;22;01
Zach
And then that feeds down into the other layers that you have available that are longer form. Or maybe it's your next course or something that's monetized is something that we've talked a lot about on the podcast when it comes to video and how you can use it for clips to get people to watch the full for long
00;29;22;01 – 00;29;40;29
Zach
form content. And I think Twitter and you mentioned Instagram as well, like fit really well into that. And and here's a concrete strategy with Tweet 100 for how you can get more people into your Twitter network so that, yeah, the more content you create that is longer form or higher value, you have that base to get exposure
00;29;40;29 – 00;29;50;23
Zach
and have your own discoverability. Rather than just saying, Oh, discoverability in podcasts is broken, I'm going to pod fade, right? Like, we can actually do something about it here, and I think that's really beautiful.
00;29;51;08 – 00;30;04;18
Jay
I mean, think about like the guys who are running the Not Investment Advice podcast, which I think is pretty popular in circles that you and I probably run in. But I'm also in like there there Telegram chat, and that's grown to thousands of people.
00;30;04;25 – 00;30;22;09
Jay
You know, they have their own podcast Twitter account that has 5000 followers. How did that grow? Well, Jack Butcher has 200,000 followers on several different platform accounts, each like he'll have like three different accounts that each have 200,000 followers. Trung Phan one, the other co-hosts.
00;30;22;09 – 00;30;37;17
Jay
He has more than 100,000 followers on Twitter. So it's a lot easier to grow a podcast audience when you're starting with an existing audience than build an audience from the podcast in 2022. Unfortunately, in my opinion. So, you know, I'm doing the two in tandem.
00;30;37;17 – 00;30;50;03
Jay
I think they feed each other. So if I grow my broader platform on different social media platforms, I'm going to put those over to podcast listeners and vice versa. And every podcast episode I say, I'd love to know what you think.
00;30;50;11 – 00;30;56;08
Jay
Tweet at me at Jay Clouse, or send me a message on Instagram at CreativeElements.FM. You know you got to let time do its work.
00;30;56;23 – 00;31;12;06
Zach
Yeah, that flywheel is a beautiful thing and a little bit off topic here from Tweet 100. But what's your take on spaces? You know, it kind of started with Clubhouse that blew up and collapsed very rapidly. But like spaces seems to be enduring and doing well.
00;31;12;10 – 00;31;18;00
Zach
What's been your take on how you've seen maybe the Tweet 100 or your other content? Use spaces on Twitter?
00;31;18;24 – 00;31;38;07
Jay
Spaces are interesting. I think I'm bullish on spaces, but I think most of them are done pretty poorly, like it feels very performative in a way. I prefer actually private discord voice servers because inherent in that is like, Well, there's already a community here.
00;31;38;08 – 00;31;54;29
Jay
We kind of know each other. I do like the idea or the the medium of real time audio, especially in an age where we're like kind of zoom burned out just. Being able to do audio only is pretty nice, but yeah, I feel like most people who do spaces you get on stage, quote unquote, and you have
00;31;54;29 – 00;32;09;17
Jay
this like feeling of I have to perform and pontificate and as a listener, there's not even a great way to really engage in that. Another great thing about Discord voice servers, a lot of people who do that have a simultaneous or like a parallel chat channel.
00;32;09;24 – 00;32;18;13
Jay
So while people are talking, other people are just chatting and talking with each other about it in spaces don't have that mechanism, which it really, really should have. I think it.
00;32;18;13 – 00;32;19;22
Zach
Should. It should.
00;32;20;08 – 00;32;27;07
Zach
It should. Just like I'm not sure if those should live as tweets or that should maybe be maybe where the struggle comes from.
00;32;27;08 – 00;32;43;27
Jay
I mean, in Twitter communities. While the mechanism is still a tweet, it's only seen within that community, so they have to have underlying technology to show like, yes, you can tweet, but it's just related to a feed for this space, and it can boundary outside of that unless it's like screenshotted.
00;32;44;06 – 00;33;02;02
Zach
That's fascinating. Yeah, I know I met with, said one of the founders of Circle recently, and you mentioned them as like a community platform. That's something that we're talking about, how they're using the real time synchronous communications in addition to kind of the async.
00;33;02;06 – 00;33;15;08
Zach
That sounds like they already have a lot of those pieces in place and a lot of their communities are creators. So looking at ways that we can collaborate there is super interesting to both of our companies and products.
00;33;15;08 – 00;33;25;11
Zach
So to hear how Discord is approaching that is very interesting as well. What is your take on kind of where Circle's at with that? And yeah, for our listeners. Just to recap, Circle is a community platform.
00;33;25;11 – 00;33;40;08
Jay
Big fan of Circle. Disclosure. I am an affiliate of Circle because I love it so much. Do you wanna sign up? You can go to jayclouse.com/circle. (Both laugh) big fan of Circle. I do think that community platforms largely fall into one of two camps, either being like a forum based or chat based.
00;33;40;08 – 00;33;57;10
Jay
There has not been a good fusion of the two that I've found yet. I'm really hoping that Circle solves that and is the platform that merges the two together. I just wish that I could be on circle and have the real time chat feel that I do in Slack or Discord, even if it's in just certain parts
00;33;57;10 – 00;34;15;09
Jay
of the product. And I think that's what they're working towards. They have real time video capabilities now, which is great, but I want audio rooms. I want synchronous chat that feels more native and natural, and I think Circle is going to be the one that does it because they're building for exactly creators like me.
00;34;15;27 – 00;34;19;08
Jay
And yeah, I'm super, super optimistic about that platform.
00;34;19;21 – 00;34;42;08
Zach
Yeah. And I was really happy to hear that there seems to be, you know, awareness of their leadership and team that there's kind of a difference between these real time conversations that are lower quality. There's other call, there's other qualities to them, but they're not necessarily great for like consumption after the fact or monetizing that content, right
00;34;42;08 – 00;34;56;20
Zach
? So that is where we come in, right? It's very interesting that they understand that quality matters for these types of synchronous conversations, and it can be a little bit lower quality for if we're just talking about like a huddle on slack or something like that.
00;34;57;06 – 00;35;09;03
Zach
That's not necessarily for the purpose of being recorded. So the distinction there is super critical and it seems like the the team really gets it. And yeah, having creators already in there is something that I'm really hoping we can find a way to help with that.
00;35;09;15 – 00;35;20;12
Jay
I would love that. Yeah, I would love to have audio rooms in Circle, whether that's powered by you guys or built natively as a community builder, I think it's a great tool. I use it for the Tweet 100 social club.
00;35;20;24 – 00;35;28;01
Jay
That's where our community for that project is. I use it for my freelancing school community. Yeah, it's it's awesome.
00;35;28;22 – 00;35;34;00
Zach
Nice. And where does to kind of put a bow on this? Where do you see Tweet 100 going from here?
00;35;34;27 – 00;35;43;06
Jay
I think it's almost out of my hands at this point, to be honest, I was thinking about this yesterday. I was like, if I wanted to shut this down, like, could I.
00;35;43;13 – 00;35;44;05
Zach
Like blockchain?(both laugh)
00;35;46;08 – 00;35;56;11
Jay
I mean, I could shut the leaderboard down. I'm not saying that I want to shut it down by any means, but I could shut the leaderboard down. But you know, I don't. Outside of like I did a product campaign on Tuesday because it felt like something that I should do.
00;35;56;18 – 00;36;18;04
Jay
There's not a ton of marketing that I needed to do for the project because the participants, in order to have the tweet tracked by the leaderboard, have to use the hashtag. And yes, that's part growth marketing, but very pragmatically, it also helps me to not pay a bajillion dollars and automations just to like scrape Twitter for all
00;36;18;04 – 00;36;39;12
Jay
tweets all the time. It just searches for that hashtag. So it has a lot of like built in virality to the project and especially when it hits different circles that I'm currently in. Like you, and I probably see that hashtag pretty frequently now because we're in similar circles and it's starting to saturate that group.
00;36;39;21 – 00;36;54;16
Jay
But, you know, it's probably not that popular in like the the literary world yet or comedy Twitter. You know, those circles, if somebody started doing that and created kind of a precedent and a model, that's a whole group, people have probably never seen a hashtag.
00;36;54;25 – 00;37;12;14
Jay
So if it starts to go in those directions, it can be pretty powerful and really go bonkers, I think, which could become expensive for me. But you know, we'll we'll take it as it goes. And yeah, I like doing conversations about this to talk about it because it was a really fun, just side project that turned into
00;37;12;14 – 00;37;21;05
Jay
something that was really beneficial for me and my podcast and in all kinds of things, but not a lot of work that I need to do. And at this point, it's just all on autopilot.
00;37;21;23 – 00;37;39;16
Zach
Well, thank you for that innovation and contribution to helping content creators and podcasters and now SquadCasters and the audience of this show in a really concrete way to grow their audience. And their following and into the future as well, right?
00;37;39;16 – 00;37;56;08
Zach
With the growth of that feeding into the flywheel of growing the audience for our podcast is like a really beautiful strategy that rewards consistency. And that's that's another topic we're talking about constantly on on the show when it comes to releasing episodes for your podcast on a consistent basis.
00;37;56;08 – 00;38;13;20
Zach
But tweeting daily at least once will help you grow on another channel, and that can feed into this really, really well. So appreciate your work very much Jay, and joining us today to kind of share some of your thoughts on how this came together and the impact it's having and the other ways that SquadCasters can can benefit
00;38;13;20 – 00;38;15;17
Rock
from Twitter as part of their strategy.
00;38;15;26 – 00;38;30;28
Jay
Thanks for having me man. If people do want to join Tweet 100, go to Tweet 100 dot com. It is completely free, but you do have to enroll for your name to be on the leaderboard. Shout out to Rock who couldn't be here today but is an awesome dude and I'm grateful for what you guys are building at SquadCast
00;38;30;28 – 00;38;33;16
Jay
I use it every week and it's awesome. So thank you.
00;38;35;10 – 00;38;38;15
Rock
Thanks for tuning in to this week's episode of Between Two Mics.
00;38;38;26 – 00;38;43;06
Zach
If you learn something or are we intrigued you a bit? Let us know on social media.
00;38;43;24 – 00;38;59;18
Rock
You can follow us on Facebook, Twitter, Instagram and LinkedIn by searching for
SquadCast FM
This show is put together by us, Zach and Rock. It's mixed and produced by Vince Moreno with help from Arielle Nissenblatt. Our
logo
is designed by Alex Whedbee.
00;38;59;24 – 00;39;04;10
Zach
That's it for us this week. We're back next week with more from Between These Mics.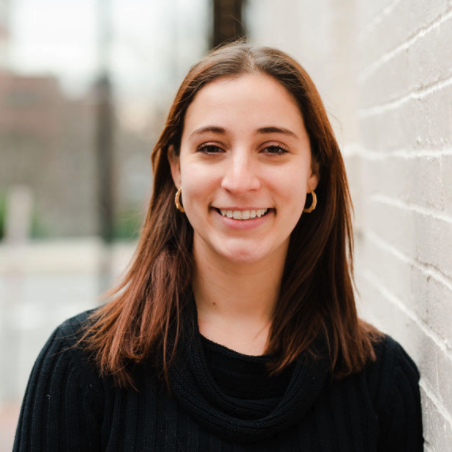 Arielle Nissenblatt is SquadCast's head of community and content. She's obsessed with all things podcast-related and is the founder of EarBuds Podcast Collective, a podcast recommendation engine.