Quality, connections, and reliability are core to the work that we do at SquadCast. We are honored to serve thousands of creators in our mission to amplify collaboration by building bridges and removing barriers within the creative process of making quality content. Our latest update embodies this mission more than any other has before, and we are proud to have found valuable new ways to enhance quality, connections, and reliability through our unique collaboration with Dolby.
Dolby is a titan in the "science of sight and sound" space, and we are proud of our industry-first collaboration with the amazing team at Dolby.io, their "innovative API platform for transforming media and communications." Our teams also collaborated on an amazing webinar where we launched this update together, check it out.
Invite, connect, and record with 10 people
Collaboration in the SquadCast Cloud Studio has, in the past, been limited to 1 Host + 3 Guests. We're stoked to have increased the capacity to 1 Host + 9 Guests for a total of 10 people recording together, the highest of any Remote Content Production platform. This unlocks new opportunities to collaborate with more people in new ways. For example…
Larger productions at organizations like Vox and ESPN can now include more people from their teams to collaborate in new ways or

Shows with multiple co-hosts and lots of guests can record together in the same studio quality that creators have come to depend on from SquadCast
Dolby.io, powered by Dolby Voice in the SquadCast Cloud Studio
We've added a new setting within the SquadCast Cloud Studio that empowers Hosts and Guests with the choice to take advantage of Dolby.io's advanced Noise Cancelling Technology within the real-time conversation, while never reducing the recording quality. If you've experimented with third-party noise-canceling virtual microphone apps like Krisp or Utterly, you no longer need an extra app/subscription. Dolby Voice is integrated right there within SquadCast. Dolby Voice adds a number of enhancements including…
Dynamic audio leveling for increased quality and clarity

An immersive experience with sound moving around you, thanks to advanced spatial audio

Improved sound clarity with noise-canceling and echo reduction
Dolby has a fantastic demo of these features in action. Check it out to experience the sound firsthand, and try it in your next Recording Session on SquadCast.
One-Click Audio Mastering with Dolby
Traditionally mastering audio takes time, which is why we are very excited to provide One-Click Audio Mastering from Dolby, saving creators more time in their post-production workflow. Mastering is non-destructive, meaning that the original HD Local Recording from SquadCast is not altered and is, instead, copied for the mastering feature. Audio mastering includes…
Normalize loudness to -16 LUFS, the industry standard, with Dolby Dialog Intelligence

Optimize speech dynamics and tonality that may be skewed by microphone technique

Reduce background noise and sounds that are not human speech

Filter out undesirable noises like thumps and low-frequency hums under 100 Hz

Reduce sibilance from harsh consonant sounds like "s", "ch", or "th" to enhance speech

Screen share & recording
Our SquadCaster community has been supportive of adding Screen Share to the SquadCast Cloud Studio for some time now and combined with Video Recording (v3), we felt it was the perfect time to amplify this new feature with Screen Recording as well. Recording video of your screen is as simple, clicking the new Share Screen button while Recording and an additional video will be added to your Recordings menu in the Cloud Studio. Resolution of screen recordings will render to match the resolution of the screen or window you choose to share giving you added flexibility above or below our 720p Video Recordings.
Screen share layout
The Cloud Studio layout has been updated and will now adapt to give the real-time video of your screen lots of space to see everything clearly.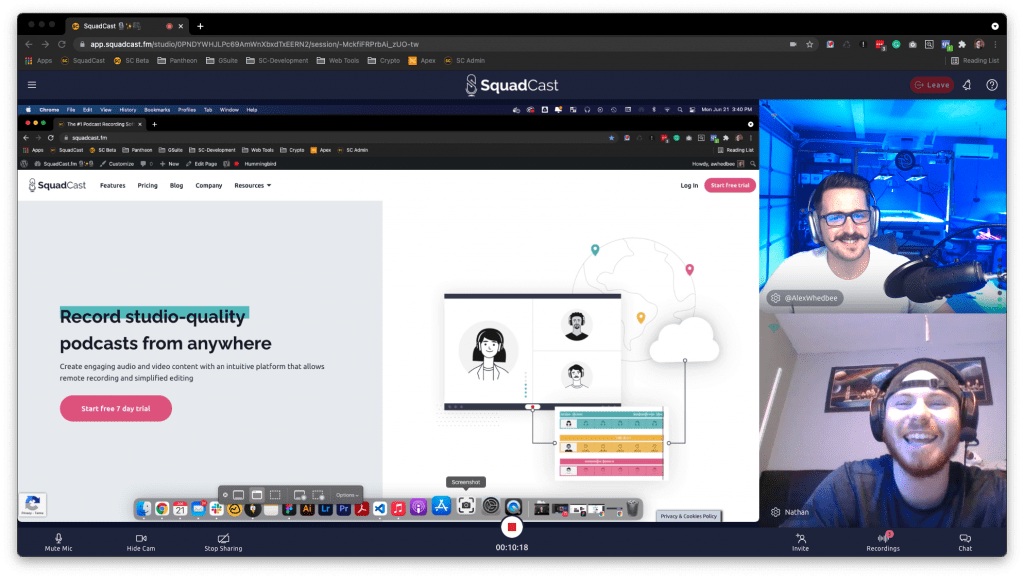 Transparent connectivity and enhanced network resilience
Staying connected is a critical component of recording flowing conversations that will resonate with your audience.  why we are excited to have found new ways to make that a reality, even in challenging network conditions.
Soundcheck equipment and connectivity in the Green Room
We've designed a new industry-first experience right within our Green Room that empowers Hosts and Guests to run a quick check of their equipment and network. This will help SquadCasters gain confidence and insight into their recording environment to proactively make any adjustments needed before joining a Recording Session in the Cloud Studio. Think of this like a personal and private soundcheck. It's just for you and is not saved or uploaded anywhere.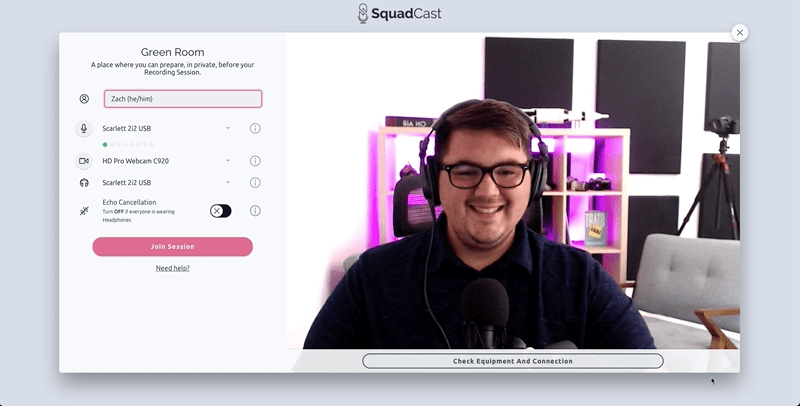 Network strength in the Cloud Studio
Once you join a Recording Session in the Cloud Studio, you also now have visibility and transparency into the real-time network connectivity strength for all of the people you are recording with. Think of these like bars on your cell phone; they can be helpful to understand fluctuating network conditions through time and clicking on them brings up helpful tips to take action and improve your network strength.
Network warnings, insights, and actions in the Cloud Studio
In the past, unstable network connectivity would typically lead to a hard disconnection and the person would be prompted to quickly reconnect. With robust network connectivity thanks to Dolby.io, we are able to provide a better experience even in less-than-stable network conditions. Now in v4, the platform detects the network strength and if someone is disconnected, the app will attempt to automatically reconnect, leading to an experience in most cases that does not interrupt the conversation. But if it is unsuccessful after retrying a few times, the person is presented with a warning notification where they can choose to ignore, learn more, and/or reconnect.
Connection reliability
We have also found opportunities to improve the overall experience of connecting and recording in the SquadCast Cloud Studio with…
Bandwidth optimizations for real-time audio, video, and screen share

Advanced network resilience to help maintain quality conversations, even in challenging network conditions
Polished experience
Notifications menu
The new Notifications menu will help you stay up-to-date with the latest in SquadCast product updates, community, events, promotions, and opportunities to collaborate.
Pronouns & better random names
Pronouns are now included in the Name inputs within the Green Room and Cloud Studio because they are critically important to helping everyone present as they like and in helping everyone address people with respect.
We would love to serve as an inspiration and a model for other Remote Content Production platforms to embrace this as a standard and we are proud to be the first in this effort.
We have also improved our random name generator to provide better unique names for Hosts and Guests without the need for adjectives (we'll miss you, Tenacious Educator). Moreover, we have increased the visibility of the name input to help ensure that everyone who wants to provide or change their name can easily find it and do so at any point in the Recording Session.
Improvements everywhere
Our product teams have left no stone unturned in their efforts to make v4 the best version of SquadCast ever. From modals and menus to proration and performance, the experience has been improved at every opportunity and we are so proud of the craft that we all put into this update that we want you to experience it for yourself. Please let us know what you think! Happy SquadCasting!
v4.1 – Updated on Friday, July 2, 2021
Improved Audio Quality in Cloud Studio Conversations: We were a bit too optimistic and forward-leaning in our v4 launch, rolling out Dolby Voice as the default for all conversations on SquadCast. It turns out that, in limited sonic environments, this innovative technology can cause undesirable side-effects that lead to some conversations being lower quality than desirable. We are working with Dolby to smooth that out in future releases, and we are confident in our collaborators. We have improved the conversation audio quality in the v4.1 update for all conversations and audio quality has been restored to what you are used to in your conversations in the SquadCast Cloud Studio. Cloud Recordings are also now, pre-mixed and contain the entire recording time but no longer include the full conversation.

Coming Back Soon, Dolby Voice Settings:

More next week in v4.2.

Recording vs Conversation Quality: Premium recording quality remains constant and is not impacted by any of the conversation quality adjustments.

Improved 

Accessibility

 and Color Contrast: Thank you to Kevin Lowe (The Lowe Down podcast) for sharing ideas on how to make this better.
Improved Echo Cancellation: We fixed an unintentional issue with muting.
Improved Sorting for Future Sessions: Sorting of Future Recording Sessions is fixed!
Improved Video Aspect Ratio in Firefox: Back to the standard 16:9.
Improved File Downloads in the Cloud Studio: Host now stays in session.
No Longer Supporting the Audio-Stop Setting: We have removed the need for the Auto-Stop Setting.