As technology continues to advance, it's crucial that we keep up with the latest trends and implement changes that enhance user experience. At SquadCast.fm, we're constantly striving to improve our platform, making it easier for users to communicate with their guests and teams. In this blog post, we'll discuss some of the latest updates and quality of life improvements we've made.
Stats for Nerds 🤓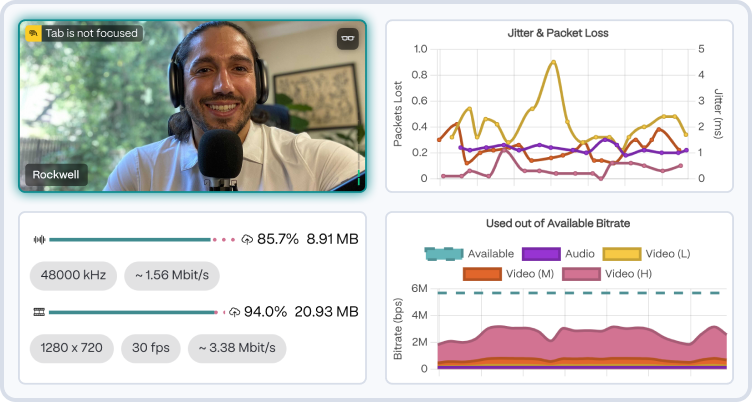 Our latest update brings Stats for Nerds, which allows users to view network stats for themselves and their guests to quickly troubleshoot network issues. This feature is available in the green room as well as the participant side panel.
Stats for Nerds is especially useful for those who frequently experience network issues during conferences (maybe your internet connection isn't up to par or your firewall has blockers). Providing users with detailed network stats enables quick identification and troubleshooting of any problems, ensuring a smoother and more reliable conference experience.
We're excited about this new feature and believe it will be a valuable tool for our users.
Revamped VU Meters 🎚️
Available in classic conference types, the VU Meter is a visual representation of audio levels.
We have reworked the VU Meter to provide more information for users and guests during a conference. 
We're delighted to reintroduce the VU Meter and are confident that it will serve as a useful resource for our users.
Active Speaker Highlight 🔊
We've introduced the Active Speaker feature to our platform, which highlights the active speaker during a conference, making it easier for users to identify who is speaking.
Available in all conference types, the Active Speaker feature enhances user experience by allowing them to better follow conversations and participate more effectively.
PCM Audio 🎛️
As an advanced show setting, PCM Audio enables the capture of raw PCM audio tracks in supported browsers for the highest quality. This feature is particularly useful for those who require top-notch audio quality for their recordings.
Capturing raw PCM audio tracks allows users to achieve the best possible audio quality, which is especially beneficial for professionals like podcasters or musicians.
We're enthusiastic about the addition of the PCM Audio feature and anticipate that it will prove to be a significant asset for our users.
Increased Bitrate for Classic Conferences ↗️
We've increased the bitrate for classic conferences from 16kbps to 128kbps. This allows users to enjoy better audio quality during their conferences. The increased bitrate results in clearer and more defined sound, enhancing the ease of communication between participants.
Additionally, this bitrate improvement benefits those using our platform for recording purposes. Users can now record audio from their conferences at a higher quality, enabling a variety of applications.
We're thrilled about this enhancement and firmly believe that our users will greatly value the elevated audio experience it provides.
Simplified Switching Between Dolby Voice and Dolby Classic 🎙️

Another update we've introduced makes it easier for users to switch between Dolby Voice and Dolby Classic conference types. Dolby Voice is our newest audio technology, designed to deliver a superior audio experience. However, some users may still prefer Dolby Classic, our original audio technology.
Now, users can easily transition between the two technologies with just a few clicks, streamlining the process and allowing them to choose the audio technology that best suits their needs.
We believe this improvement will make our platform more user-friendly and enhance the overall experience.
Equipment Green Room (Coming Soon)
We're working on reintroducing the Equipment Test in the Green Room in a future update. This feature will offer users and their guests the ability to test from the comfort of the Green Room. 
Wrapping Up the Enhancements
At SquadCast.fm, we're committed to providing our users with the best possible conference experience. These recent updates and enhancements, including increased bitrate, simplified switching between Dolby Voice and Dolby Classic, Stats for Nerds, revamped VU Meters, Active Speaker, and PCM Audio, all contribute to a more user-friendly and enjoyable platform.
We're excited about these improvements and we're confident they will greatly benefit our users. As always, we welcome any feedback or suggestions on how we can continue to refine our platform and deliver the best possible conference experience for everyone.

Loving SquadCast? Join our community!