Normally, at this point in a blog post, we would introduce you to a brilliant person in the podcast industry — but the podcast tables have turned!
Instead, Between Two Mics hosts and SquadCast founders Rock Felder and Zach Moreno appeared on an episode of That Digital Show, where they discussed the latest trends in podcasting with host Chris Hood.
That Digital Show showcases conversations about innovations in the digital world. It's produced by Google Cloud, which is particularly exciting for Rock and Zach. In addition to being Google Cloud customers, Zach interned on the Google Chrome team in 2012 and has written a book about the Google-maintained web framework AngularJS.
Ultimately, Zach and Rock turned their skill sets towards podcasts, founding SquadCast in 2017. Here are the changes they've seen in the industry since those early days, including podcasters building mini media empires, shifts in attitude towards remote podcasting and technology that makes starting a show easier than ever.
Remote podcasting isn't a last resort anymore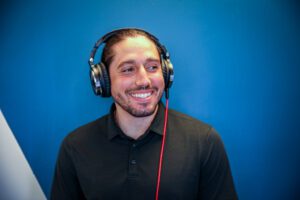 Before the COVID-19 pandemic forced even podcast pros to go remote, many podcasters assumed that studio recording would always be the gold standard for audio and conversation quality.
However, it's since become clear that multiple people can absolutely make engaging, great-sounding podcasts from wherever they all happen to be in the world. And on top of that, recording remotely has some pros over studio sessions.
Recording your podcast remotely is less expensive long term
Renting a professional studio to record your show can cost between $40 to $100 an hour. If you wanted to record an hour-long show every week, you would have to spend $160 to $400 a month. Many studios have minimum recording times, so even if your show is 20 to 30 minutes, you would still have to pay for a full hour.
There's also the sad but unavoidable fact that since COVID-19 is ongoing, studios may  temporarily close on short notice if a staff member tests positive.
Although recording at home requires some upfront costs, you have more flexibility, depending on your budget. (And the closet is never closed due to unforeseen circumstances.) For example, you can spend a lot on a microphone if you want to, but there are also very good USB microphones available for less than $200.
Your biggest expenses would likely be a laptop, an internet connection, and a SquadCast subscription (which can be as little as $10/month depending on how much you podcast). You probably already have a laptop and an internet connection, and SquadCast has a range of price points depending on your needs.
Think of it as the difference between renting and owning a house. Renting a studio means someone else pays for the equipment and takes care of the technical stuff. If you're recording at home, you have to pay for the equipment and operate it yourself, but you get to shop around, and you own what you buy.
Guests are more likely to say yes to a call than a studio interview
Admittedly, sitting in a fancy studio can feel more glamorous than hunching over a microphone in your closet. But the process of getting to that studio session involves more effort than recording remotely, especially if the people you're interviewing are busy.
In addition to finding a gap in their schedule for the interview, the guest has to factor in travel time there and back — as do you. Unless you have high download numbers or impressive industry influence, this limits your list of potential guests to those within driving distance.
Recording remotely does mean that your guests will have to do some of the technical setup themselves. And as anyone who has sat through a family Zoom call already knows, different people have different levels of technical literacy.
However, it should still take less time to guide them through the recording process than it would for them to travel to and from a studio. (And SquadCast has technology built in to correct some audio issues.)
TL;DR: A 45-minute video call takes less time and effort than a 45-minute interview in a studio. This makes it easier to connect with busy people, and to book people outside your local area — basically anywhere with an internet connection.
Podcasters are building mini media companies
You don't need a deal worth millions of dollars or a HelloFresh sponsorship to call yourself a professional podcaster. People who would never have described themselves as creators have built shows with solid download numbers and strong listener communities. And they aren't stopping there.
This increased professionalization of the industry has created opportunities for podcasters beyond podcasts. More than ever, creators are using their shows as a foundation on which to add other types of media. For example:
Newsletters
Social media groups
Blogs
YouTube channels
That's not to say making podcasts has suddenly become easy. Creating and maintaining a high quality show has always been hard, and there's more competition now than there was 10 or even five years ago.
The point is that increasing interest in podcasts has led to better tech and software, at more affordable prices, which has made the industry more accessible to more people. And now those people have experience and fan bases, they're expanding those skills to other forms of media too.
The future of podcasting
Podcasting has come a long way in the last decade, and it's only getting started. Here's a preview of two developments Zach and Rock hope to see in the near future and longer term respectively.
Easier collaboration
For podcasters with a team bigger than one, collaborating on a show — and especially on multiple shows — can be a logistical nightmare. SquadCast is working on tools to make pre- and post-production teamwork run smoother, so it's easier to bring your individual talents together in group projects.
Use your home speaker to record
The smart speaker in your home that tells you the weather, plays music or reads recipes also acts as a microphone. And those microphones live up to their smart name: They can hear you from another room, and can tune out background noises like a running dishwasher. They're also already connected to the cloud, which should make uploading audio easier.
The hope is that one day, the microphones in your smart speaker could produce a high enough audio quality to work as podcast recording devices.
The bottom line: Podcasting is exciting!
The podcast world has grown so much since SquadCast was founded in 2017. More people are hitting record and sharing their ideas, and they're finding more listeners. 
Improvements in technology have made it possible for people who don't have access to fancy recording studios to still put out great-sounding work with interesting guests. And they're even moving beyond audio to other forms of media. Obviously we're a little biased, but we're excited for what the future holds.
To hear more from Rock Felder and Zach Moreno on podcasting trends and their plans for SquadCast, listen to their episode of That Digital Show, and subscribe to Between Two Mics.
Rockwell Felder is a CPA, entrepreneur, and co-founder of SquadCast. He and his team are on a mission to amplify collaboration, seeking to empower creatives to engage in meaningful conversations without barriers.