At first, SquadCast co-founders Zach Moreno and Rock Felder didn't get the hype around video podcasting. But after some research and SquadCaster push (thank you!), they're all in. We released our video recording capability in January and have, ever since, been producing video content for Between Two Mics. On this episode, Zach and Rock share why they believe video is the biggest opportunity to grow your show.
Shoutout to our video content producers over at Motion Agency, Justin and Tristan.
Whether you're producing short clips from your interviews, repurposing the entire thing to be posted as a YouTube video, or something in between, creating video elements allows your listeners to interact with you and your content in another way.
Shoutout to the brands and products we trust to produce this show:
ATR 2100
Apple AirPods Max
Focusrite Scarlet 2i2 Audio Interface
Simplecast
Adobe Audition
Show Notes
Episode Transcription
Cloud Unplugged: [00:00:00] Hey, before we get to this episode of Between Two Mics, we want to tell you about another show we think you're going to love, and it's recorded on SquadCast. I am the co-host of Cloud Unplugged, and it's a podcast that takes a lighthearted and honest look at the who, what, when, where, why, how and OMG of cloud computing. Give it a listen wherever you're listening to Between Two Mics. Thanks.  [00:00:20][20.1]


Zach Moreno: [00:00:25] I would propose that there's a lot to gain from listening to your listeners and listening to your audience, so ask them if you have a relationship with them. Hey, would you be interested in video?  [00:00:37][11.5]


Zach Moreno: 
[00:00:40] 
Welcome to Between Two Mics, the podcast that brings you
remote recording
resources from SquadCast.fm. 
 [00:00:47][6.4]


Rock Felder: [00:00:48] I'm Rock Felder, co-founder and CFO of SquadCast.  [00:00:51][3.0]


Zach Moreno: [00:00:52] And I'm Zack Moreno, co-founder and CEO.  [00:00:54][2.2]


Rock Felder: 
[00:00:56] 
On Between Two Mics. We bring you interviews with podcasters, experts in the field of
remote recording
. We discuss current events in podcasting and so much more. 
 [00:01:05][8.7]


Zach Moreno: [00:01:05] Twice a month you'll hear a Founders' episode. That's just the two of us chatting about all things remote recording, updates to SquadCast, what we're up to, and what we're listening to.  [00:01:16][10.9]


Rock Felder: [00:01:17] The other two weeks of the month, we'll bring you interview episodes. Zach and I will sit down with experts in the podcast space to discuss their companies, their podcasts, their thoughts on podcasting, creating content, and more.  [00:01:29][12.2]


Zach Moreno: [00:01:30] The most exciting part, we're recording all of this on SquadCast, the best place to record remote audio and video interviews in studio quality.  [00:01:40][9.2]


Rock Felder: [00:01:41] So let's get Between Two Mics.  [00:01:43][2.8]


Zach Moreno: [00:01:47] Video is the biggest opportunity to grow your podcast is today's topic, but first, what's up, Rock?  [00:01:54][7.5]


Rock Felder: [00:01:55] Yo, what up, Zach?  [00:01:56][0.7]


Zach Moreno: [00:01:56] We got a lot to cover today. So to give you a quick preview of what we're going to talk about, we're going to talk about why video for podcasters. We're going to talk about the different ways and strategies that you can use to grow your podcast using video strategically. And then we're going to talk about how this fits into the overarching show that you're creating and your workflow for your remote content production. But first, we have a we have a new segment here that we're introducing to Between Two Mics, where we kind of share and unpack what's going on in the universe of SquadCast. So first up, we have SquadCast V4 that just landed. So join us and we're super excited about this. Please join us for our launch event webinar that's called Breaking Remote Content Barriers. That will be on June 16th at 2:00 p.m. Pacific Time or 5:00 p.m. Eastern Time. And what else we got in the universe of SquadCast, Rock?  [00:02:55][58.5]


Rock Felder: [00:02:56] Yeah, thanks, Zach. So we also want to hear from you out there. We want to hear all about your experience recording on SquadCast. So we created a page, it's SquadCast.fm slash share, and you can submit your content there and have the opportunity to be a featured testimonial. So again, that SquadCast.fm slash share, that's s h a r e. We love to hear from you and see some cool ways that we can help spread the word about your show. So thank you.  [00:03:25][28.8]


Zach Moreno: 
[00:03:26] 
And with that, let's get into today's topic about video and why that is the biggest opportunity we believe, we have been convinced, to grow your podcast and we'll see if we can convince you as well. To kick us off, we we've never really done this before. We first presented on this topic at some events. We Are Podcast invited us to be speakers. Thank you, Ronsley, James, and the team for that generous invitation for an amazing community that you've built for podcasters to succeed in their marketing efforts and all the things. So following that, we were inspired, let's say, Ray Ortega and Dave Jackson, to invite us to come and discuss this topic of video and why it's important to podcasters for their growth strategy on the Podcasters Roundtable. So really awesome. I think there's a lot of interest in this topic and we have a lot to share. So thanks again to Ray and Dave for inviting us on, to Ronsley and James for inviting us to to speak. This is going to be a really great conversation today, Rock, because this wasn't intuitive to us. We didn't quite see it when people started asking us for
video recording
on SquadCast, how that would fit into the podcasters' toolkit, the podcasters' repertoire. How did you feel just to kind of zoom out and back up for a second real real quick and paint the picture of where we've come from…How did we initially think about video? If I say, hey, Rock, I want I want to record videos for my podcast, like, why? 
 [00:04:57][91.5]


Rock Felder: 
[00:04:58] 
Yeah, it didn't make sense to me either. I thought we were somewhat like we were just podcast listeners at first. Right. So I think there's a lot of things we didn't really know. Right. Or, you know, not our fault. We didn't know any better. But it's always been a huge deal to us to to listen to the community and learn from them. And I think it's because we were kind of like for lack of a better term, outsiders at first. But they, of course, as we've talked about much on this show, opened us with or welcomed us with open arms, rather. So we just like wanted to be a part and and be good stewards and listen. And so but, yeah, I was I was pretty skeptical. But I think this has been a journey maybe two or three years in the making now. And, you know, seeing the reception that we've got from the We Are Podcast presentation, Ray Ortega and Dave Jackson, you know, two longtime podcasters, folks that we were learning from when we first got started as far as like the nuts and bolts of being an indie podcast or what that was like, those are some of the best information out there. And then just seeing in general, like I'm seeing it on Twitter more, I'm seeing podcasters share their experiences and how they're growing their show and how they're building their audiences. And like, it just all keeps coming back to video. So it's been really interesting and exciting to to be a part of. And, of course, you know, again, it's also well documented on this show that SquadCast now offers
video recording
. But, yeah, I don't think we've ever really highlighted what we've learned in this journey and how we can share it with the listener and consider it for their podcast. And of course, I'm you know, one of the reasons why I think we were so skeptical was not just because it's like, oh, podcast is an audio medium. Why would they need to have the video recorded? Like there's that, but I think it was also, at least for me, like, do they know how much post-production this is going to be? Like this is another job or at least, you know, I mean, like growing and creating a show is an audio show is difficult. Adding on all the other jobs that that are to be done with the exclusion of
video recording
is still a lot. But
video recording
is its own thing. It adds complexity to the post-production process. It adds probably some some money is going to need to be spent, you know, for like lighting or video cameras and maybe having a proper set. Like now your background actually matters a lot more. So, yeah, I was just wondering, like, I get why you would want the new thing or why you're using SquadCast and you're see, you're able to see your guest. There's that video component that's always been a part of SquadCast. And so I get why you would it's easy to say, well, I want the video recording, too, but it was just like, are they actually going to use it? Is it really as beneficial as what folks are thinking? But now the data is starting to show that audiences are there. It's a huge opportunity to grow your audience. There being like
YouTube
, social media is quickly becoming a huge way that new shows are being discovered and video content is the best way to stand out and engage with folks rather than just like a still image. So I'm happy that I don't want to say we were where we're wrong or even that we were right, we just were like we didn't know we were again, we were skeptical. We were thinking all these things. But it's been pretty. I feel like it's been confirmed. You know, you have Edison Research, who are the best in the business when it comes to, you know, listener and viewer behaviors and analytics and stuff like that. And then, of course, just us being so engaged with the community, talking to our customers and podcasters in general, like they all want video, they're all using video. And I personally, as a consumer, get it now more than ever too, because I consume both and there's a use case for both. And so being able to help creators out of one interview, you know, one hour interview, they can now have a presence on YouTube. They can do special things with creating social media assets in addition to having the audio show, like, you know, giving them that ability to just expand their reach has been really exciting and interesting too. I feel like we've been at the ground level in our own way. 
 [00:09:14][255.7]


Zach Moreno: [00:09:14] And I think that's what first tipped me off to there was a huge opportunity here was the Infinite Dial Report from Edison and how listeners and how audiences look at podcast content, how they look at video content, how they just look at the content that they run into. They're not necessarily thinking, oh, this is a podcast because it's coming from an RSS feed and this is a YouTube channel because I go and click subscribe over here. On social media all these things are mixed up. And I think that that has really opened up the possibilities for reaching people in new ways. We'll unpack this more as we as we get into today's topic. But I think yeah, definitely converts, wasn't intuitive, but we got there and then brought it to life in our product so that podcasters could get more out of their creative conversations that they're having on the platform to just really expand the potential, not just repurposing audio content, but having source quality video content for each person in an interview is is really just opens up a tremendous amount of potential.  [00:10:20][65.5]


Rock Felder: [00:10:23] So, Zach, why do we believe that video is the biggest opportunity to grow your show?  [00:10:28][5.6]


Zach Moreno: [00:10:29] We're always on Squadcast and between Two Mics talking about the audience, right. That's why we do this. That's when when we talk about growing a show, we're talking about reaching more people. And the experience of of the the audio that you're creating is a really big part of developing those relationships, of differentiating yourself from the other shows in your category. But also we can go deeper into what what do audiences think about my podcast? What do they how how does my audience look at my podcast relative to other forms of content? And really what it comes down to is this this notion first proposed, I believe, in the Edison Research Infinite Dial Report to not necessarily, from the audience, they don't talk about it like a podcast on a YouTube channel and Instagram story. They talk about it as a show and a show with a capital s and the content that we're creating is meeting them in all of these different channels on an Instagram story, on your podcast, where we go deep into a topic in a long form conversation and on social media in all of its forms or videos and clips on YouTube. So I think that that's really was eye opening to me at first. This this idea of a show and a podcast is part of that, which in hindsight seems super obvious because we talk about the importance of having a website and having an email list to engage your audience and really build up those relationships there. Like nobody's saying don't have a Facebook community. Right. Or don't have an Instagram. And that's really where I think video, how does video fit into that umbrella, that concept of a show? And that's really because of, I believe, how habits are evolving for our audience, and our listeners, like these platforms, are evolving all in parallel and habits of quality or habits of taste and how we engage across these different channels. If I'm driving, I have my ears. If I'm washing the dishes, I have my ears. But if I'm on my lunch break, I have my eyes to watch. And I think that that's really cool. Do you want to unpack, Rock, what's the opportunity here when we talk about growth that's not necessarily nurturing our current audience? Right. Growth kind of assumes we're reaching new people. So what do you think the the opportunity is here for for growth with our audience?  [00:13:00][150.3]


Rock Felder: [00:13:00] Yeah. So I think the biggest when my I started to get really open to this idea that this was something that was kind of a movement in the industry, was when we were at Podcast Movement in Orlando, which I believe was what, 2019. And when Tom Webster presented and he's he works with Edison Research. So this this company that does annual and probably more frequent than that, reporting on different media consumption data and analysis. And so for podcasting, this is like where the best information in the business comes from. And he was basically talking about in this presentation that there's like a new wave of audience members or listeners or viewers or whatever, like followers to a show. They have different consumption behaviors. They have different interests. They're they're kind of like finding podcasts in new ways. And they're coming for different reasons. And a lot of them aren't really accessible or looking for a podcast on Spotify or on Apple Podcasts or any of those other listening apps. But they are on social media and they are searching for things on YouTube. And so I think it's really this opportunity to expand your reach and the opportunity to engage with folks that, again, aren't necessarily looking for a podcast. They're looking for a show. They're looking for entertainment or information on a particular topic. That's what makes podcasting so awesome, is that, you know, there's all these there's a diverse amount of podcasts on all sorts of different types of topics. And there's a podcast for everybody. But not everybody necessarily knows where to go or where to search it. But YouTube, as I'm sure many of us that are listening to Between Two Mics, probably know is that YouTube is the second most popular search engine. And a lot of it is purpose searches. It's like a big 'how to' search platform. Like people are looking for specific things. They're looking to learn about it or, yeah. So, you know, really having a presence on YouTube is important, but it's not enough just to have the audio only in some blank image or very little engaging image. That's probably not going to be rewarded by the algorithm, which is not very interesting or captivating to an audience member, so for me personally, what I like as a consumer is not necessarily watching the entire podcast on YouTube, but I love watching the clips. It's a great way to not necessarily just find a new show, but also like test out the episode, like maybe the show. Like you're a big fan of the Lex Fridman podcast. He's interviewing a lot of people. I don't know who they are.  [00:15:46][165.3]


Zach Moreno: [00:15:46] Same here.  [00:15:46][0.1]


Rock Felder: [00:15:46] So I can watch a 5 to 10 minute clip and get get myself familiar with the guest and a highlight from the show. And it helps me kind of see if I want to dig deeper and listen to the show in its entirety, which I think it's partly for. It's for that. But it's also to introduce yourselves to new folks and only ask for a shorter amount of time than the podcast. But the content's engaging, they're going to want more. And I think that's what we're seeing, is that if you're looking at yourself as just a podcast, there's nothing wrong with that. But if you want to grow and expand your reach, it probably is better to start looking at it like a show. I keep using this term like you're like a micro media company. And maybe the podcast is where most of your your business or your efforts are going. But like, there's a lot of other things you can be doing, such as having a presence on YouTube that is just only expanding your reach and going to be able to access more folks.  [00:16:46][59.3]


Zach Moreno: [00:16:47] What I particularly love here from both perspectives as as a creator of of a podcast and a show, this show, but also as a consumer of other people's content and other people's shows, is that it gives me a choice of how I want to engage. If I'm in an elevator, I might like that post on the feed on Instagram. But that's Lex Fridman's Instagram. Right. And then if I have only a little bit of time and like you, I don't know who this astrophysicist is or this person who's teaching at MIT about A.I., I have no idea who these academic people are. I might be interested in the episode title to loop me in, but these are like three hour long conversations. So it gives me the opportunity to kind of dip my toe in the water with one shorter video to, like you said, get to know this person. And after I find myself after watching like two or three of these short topical clip episodes where it's like, well, now I'm invested a little bit more, I might as well. I clearly like this. I might as well go super deep into the full length conversation. And that's where the podcast is there and meets that need. So I look at this kind of as like you said, search on YouTube to discover these people, to discover these topics have a minimal investment of time to watch and get to know, to inform my decision on going deeper on these topics. So a lot has been said about funnels and how podcasters can use marketing strategies like funnels to get more subscribers. Right. But what we're talking about here is like that same approach. It's a bit nuanced. So I want to draw this distinction. We're talking about this on a per episode basis. So we're not talking about a subscription to your whole show that comes later on. That's like deeper in the funnel. But somebody is going to come in through one episode or another because podcasts are awesome as evergreen content. Right. So how do we set up funnels for each individual episode and get the most out of that episode? YouTube seems like a great way to build out these funnels, to not just repurpose our content, but to stretch it out into all these different topical clips. And you can still have the full length video interview there right alongside the clips. That's what Lex does. You don't have to do that. But that's a way that you can really drive searches and therefore new people to have a minimal investment at the top of the funnel to watch a topical clip, watch a second topical clip because YouTube is great at next up. Right. That that recommendation auto play. And then after watching two or three of these go super deep on the two or three hour long conversation. And after they love that, then the subscription to the the podcast in Spotify or Apple Podcast to get notified of your next episode. Right. And that's how you can kind of string these things together, from search to funnels to subscription and grow your show over time.  [00:19:52][185.0]


Rock Felder: [00:19:52] Yeah, I love that. That's some master level stuff, super important to highlight. And as much as like we've kind of seen YouTube work as a as a good funnel to the show, another thing we've seen is with social media, it's its own funnel, but it's all about being shareable, right? Someone sharing with another person and it goes on and on and on. So what have we seen work for social media? And why do we think social media is its own channel, if you will, that can really benefit from using video? [00:20:23][30.4]


Zach Moreno: [00:20:23] Yeah, and to pause here for a second, YouTube is I don't think of it like this, but it is it is fair to say that YouTube is its own social media network. And I think the the comments on YouTube are really engaging place and opportunity for you to engage. There's a lot of gnarly stuff going on and YouTube comments as well. So big asterisks here. But that doesn't mean that it can't be used for audience engagement and relationship building to nurture our audience. And that's really where we're going to talk about here with social to come back to that is specifically organic, right? Because you can do promoted stuff. You can do paid ads. That's another topic for another podcast. But for this conversation with video being the biggest opportunity to grow your your podcast, we're going to talk about organic and we're going to talk about how you can use the share-ability if we can kind of make up that word, if it doesn't already exist on the fly so that you can grow your show and reach your audience and and have that as a as a way to utilize video more strategically. And a statistic that's interesting is that social media has grown to be the second most popular way that people discover podcasts. Word of mouth is always been number one. I think that's one of the magical parts about podcasting. Is that…What else is that true for today? In like 2021, that's that's super awesome. And if you think about it, social media now being the second. It's kind of just a digital version of the same thing. Right. If somebody shares something that's kind of word of mouth, right. Like, oh, I, I'm telling my friend about this, that's kind of the same thing, just digital or in person.  [00:22:03][99.3]


Rock Felder: [00:22:03] So that scales but is far less predictable. Well, I guess they're both pretty unpredictable.  [00:22:08][4.8]


Zach Moreno: [00:22:09] Depends. Yeah. Yeah. I think some people can predict depends on which side of the fence we're on I guess.  [00:22:14][4.4]


Rock Felder: [00:22:14] But I'm yeah. I'm talking like how it's hard to predict virality. Like, you know, imagine if we said, you know, what's your strategy to grow SquadCast? Oh, we're just going to go viral. Like, OK, good luck.  [00:22:25][10.7]


Zach Moreno: [00:22:25] Yeah, exactly. Yeah. And I think one reason why you can make it easy for your audience to share, and that's how you can grow to have exposure to their networks. And you can do this to to make this more tactical for a second and get less abstract if you, let's say, have a community for your audience, a Facebook community for your audience. When you drop a new episode, of course, like engage with them, share that new episode in the community, but you can make it super easy for them to share that post that content about your new episode outside of the community. Right. And that's where people who are friends with those individuals in your community already, probably there's a good chance that they're going to be into something similar, you know, and that's where you're kind of seeding from your community and growing that into, like, bigger and bigger sized audience from there. So I think that tagging and sharing these tools that are built into modern social media platforms make it easy for for our community, our listeners, our audience, to share and help grow, to reach more people. And they even benefit from that because the more people who come into that community that they're a part of, that's value add for them to reach more people to connect with more people. So I think that that's super cool. And how how you can use you can use your existing audience relationships to reach new people and develop new relationships.  [00:23:58][92.7]


Rock Felder: [00:23:59] Right. And then, of course, doing it with video content as well, right.  [00:24:03][3.5]


Zach Moreno: [00:24:03] Yeah. I think research pretty clearly suggests that if you look at the different types of things. Right, when you go to Twitter or Facebook and it's like, hey, what's happening? Right. And you have a bunch of options as to the type of content that you can share. Right. So first, that we're all probably familiar with is I can write something right. I can put a picture to go along with that writing thing that'll engage a little bit more than just the words on their own. And then you can do like a poll. You can even change the background color on it now on Facebook and have some like graphics to make it a little bit more engaging if it's just text. But out of all of those options, video is king, right? And video is the most engaging thing on YouTube. Videos like auto play. Video is going to travel the farthest and have the most kind of bang for the buck of one post that you make easy for your audience to share with other potential audience members that will travel the farthest research has suggested.  [00:25:00][56.8]


Rock Felder: [00:25:01] Yeah, I'm not the biggest fan of social media. I'm big into YouTube. So, you know, if you consider that social media, fine. But the traditional if that's even a thing, social media. But I think it's pretty undeniable that it's a great way to reach people that you necessarily wouldn't be able to reach and able to engage with folks. And there are some amazing communities that are built on these social media platforms, and so I think if it's working and that and that's a channel that yields good results, like, absolutely do it. I mean, remember on a recent episode of Between Two Mics, Ona Oghogho, her community was her whole empire, her show, whatever you want to call it, like it started from Instagram.  [00:25:45][43.7]


Zach Moreno: [00:25:45] Yea, it's amazing. [00:25:46][0.3]


Rock Felder: [00:25:46] I mean, that's just one anecdotal example. But again, backed up by data, we're starting to see that this is just becoming more and more of a common place to to find new people. And so, you know, certainly worth it if your goal is to grow your show.  [00:26:01][15.1]


Zach Moreno: [00:26:03] We're going to take a quick break, but we'll be back soon with more from Between Two Mics.  [00:26:08][4.8]


Rock Felder: [00:26:09] Hey. Hey. We're just popping in here to tell you about what's going on with our SquadPod community.  [00:26:13][4.5]


Zach Moreno: [00:26:14] That's right. We're going all in on community at SquadCast.  [00:26:17][3.2]


Rock Felder: [00:26:18] We know that podcasting can be a solitary activity even if you've got a co-host.  [00:26:22][3.7]


Zach Moreno: [00:26:23] That's why we started SquadPod.  [00:26:23][0.9]


Rock Felder: [00:26:25] SquadPod is a Slack-based customer community where SquadCasters gather to discuss their podcasts, look for guests, share ideas, and give feedback.  [00:26:34][8.7]


Zach Moreno: [00:26:35] In addition to meeting on Slack SquadPodders meet twice a month for a get together with the SquadCast team. They're the first to hear about updates to SquadCast right from me, Rock, and others on the squad.  [00:26:46][11.0]


Rock Felder: [00:26:47] It's free to join the SquadPod. The only requirement is that you're a SquadCast customer.  [00:26:51][4.0]


Zach Moreno: [00:26:51] We hope that you'll apply to join us.  [00:26:53][1.6]


Rock Felder: [00:26:53] There's a link in the show, notes to our application form.  [00:26:55][1.9]


Zach Moreno: [00:26:56] Now let's get back to the show.  [00:26:57][1.4]


Rock Felder: [00:27:00] All right, we're back. So, Zach, what's the theme about our whole video is the biggest opportunity to grow your podcast? Like, obviously we're being we're being a little cheeky. We're being we're trying to grab the headlines here a little bit. But I mean, we're coming from a real place. So what does that mean?  [00:27:14][14.5]


Zach Moreno: [00:27:15] Totally. I think it all boils down to using these different channels, these different forms of content in a strategic way that's informed by what audiences' behavior actually is and kind of using that to meet them where they are and provide the best experience, whether they're on Instagram, YouTube, TikTok, Facebook, email, whatever your website and and using your content to, along with the data, both the consumer research from places like Edison, but other data like what formats travel the farthest on these platforms and really tying all of those things together to inform what do you as the creator, spend your time doing? Where does it make sense to invest your time, your energy, your resources to provide an experience to your audience that meets them where they are and engage with them and nurture those relationships? Whether your podcast is for your business, whether it's a sci fi audio drama, whatever it is, we're doing it for our audience. And this is a strategy for using video in parallel, in addition to your long form audio content, not replacing it. Right. Working on these things in service of one another and how you can create this flywheel to attract new people and nurture relationships with your existing audience, all in this really beautiful way where thankfully we're in a position to help with that, with SquadCast, where it's not necessarily more work to record video. You have added considerations. You have some things that we'll touch on here in a second on how you can actually work video into your podcast workflow. But but how all of these things fit together, I think is really beautiful from a content creator perspective, from a content consumer perspective, and and really have this beautiful relationship between the two so that we're we're smart investors with our content investments.  [00:29:13][118.3]


Rock Felder: [00:29:14] It's also a time investment. So, yeah, it's good advice. And going on that theme, I guess we should wrap up with some, like, actionable advice, like if you are a podcaster, thinking about incorporating video or maybe you already are and looking to really just optimize like with some some takeaways here. And I think I'll start with my first two and then I'll kick it over to you, Zach. But I think my first one may be a little counterintuitive to our whole discussion here, but I would say think about it. Do you really need video in your your show? Are you going to be able to produce it? It's one thing to record. And by all means, we would love if you use SquadCast and, you know, we think it'd be a good use of your time because if you're already recording your show remotely now, you can have the audio and video. So we'd love to help with that. But I don't want folks to feel pressured that like they have to right now. Like, I think it's more important to just be creating your show consistently, really producing a quality show, like if your show already needs some adjustments for like the audio quality or just the overall quality of the show, like the picture art, all of those little improvements are going to help grow your show as well. Like the best thing that you can do to grow your show is reinvesting your the quality of your content. So I think if you your audio show isn't the best version, it can be like I don't think it's very smart to add in video recording. That's not going to be the best version that it can be either. So I would really just kind of like pause and say, like, is this the right time? Do I really need it? You know, not like I think it can be easy to feel like we we need to do all the things. And we are telling you to do a lot of things right now. And there's good reason for it. But, you know, I think like just not setting yourself up for failure or having these unrealistic expectations or just like a lot of pressure, you know, it could be a lot of pressure and not feel well, if you're like video, the growth of, like your YouTube channel is in isn't really developing. But it might be just because the show itself needs a lot of tweaks that that's totally within your power to tweak. So, yeah, my first takeaway would be, you know, really think long and hard and be be skeptical yourself. Like, I think it's OK to say 'not now', but that doesn't mean not forever. And then the second one is is OK, let's say you do say yes. And you are going to add video to your show, whether on YouTube or starting to use on social media, come up with a strategy, really plan it out and not just be, you know, throwing content out there and expecting it to stick. And that's really where we're at to be truthful at SquadCast right now is our YouTube channel is still developing in something that we're really focusing on more this year than ever. Now that we have video recording with SquadCast, but also we're creators, so that's where we're at, is developing our strategy and seeing how we're going to use it. We're working with a great company called Motion that's helping us repurpose these podcast episodes, the video recording of it, and creating some really fun and engaging content that we're promoting on social media and also adding to our YouTube. But, yeah, not just like willy nilly seeing what sticks. I mean, sometimes that can be fun. But I do think, like having a strategy and a plan is really another thing because now you just you have less time. Yeah. Everything needs to be be tighter and more more precise. And if you if you want to stay on schedule, like keeping to your production schedule is a very important thing. And a hard thing as well as a as a content creator. So just putting a game plan in place to help ensure that you are staying on track and releasing content at a good clip is my other piece of advice.  [00:32:57][223.1]


Zach Moreno: [00:32:58] And one thing that came up when we were talking with with Ray and Dave on Podcasters Roundtable was if you have a co-host, it might make sense for one co-host to focus on the production of the the audio for the podcast and might make sense for the other co-host to focus on video for the YouTube channel and social media. And that's one way that you can kind of divide up the work, if that's at all possible with the skills that you have. Or maybe that's an area where you don't, to your point, Rock, you don't start with jump in head first with video, but you start with 'what are the skills that I need to produce these videos' and how to make that workflow sustainable rather than just kind of jumping in head first, you can say, OK, I need to not just edit audio, I need to edit video now, I need to potentially work with, like motion graphics. I need to worry about bigger files to store on my computer. Can my computer handle a workload like that? But lighting right. Background the lens on my camera, how am I going to run my camera for two or three hours like on battery? Do I plug it in? Do I have to buy like an adapter for that? New cables in addition to the audio cables?  [00:34:09][70.7]


Rock Felder: [00:34:11] Ah more cables.  [00:34:11][0.2]


Zach Moreno: 
[00:34:11] 
We love it. Yeah, exactly. So that's all fun stuff. And depending on your personality type, that may be a turn on. That may be a turn off. And that's really where I come back to try to you know, we've been providing a lot of data and and and perspectives and strategies to consider. But I don't think that that's necessarily a replacement for asking your audience. We think of our audience like they listen to us. This is like a one way conversation where my audience listens to what I have to say. I would propose that there's a lot to gain from listening to your listeners and listening to your audience. So ask them if you have a relationship with them. Hey, would you be interested in video? How would you want those videos? Would you want the full conversation? Would you want topical clips? You can use some of what we've covered today to inform those
questions
. But I think that there's no substitute for, like, your audience and what they want. Right. We've been talking about a general audience here today, and these are indicators that this may be a direction you want to go in. But let's say your audience says, yeah, Rock, I am into video. I, I would like a choice of how I consume your content across these channels. I would like to see the body language of your guest. I would like to see some visuals along with the interview that I've only been able to listen to in the past. Then what do you do? Right. You could just decide off of that. That could be very strong. Very strong. Yes. Or you could use that to say, all right, well, I want to minimize my investment here. Let's do an experiment. Let's test this. Let's do, let's commit to doing the next five episodes as video and we'll learn what's all involved with that. What's the what's the legwork like to get those episodes out consistently on time? Do I need to get them out on time? One thing that we've been doing with the Between Two Mics video interviews that that we've been publishing on our YouTube channel is they're not published at the same time as the audio. So that may not even be a constraint that you need to worry about. And it may actually give your audio episode more travel over time, because now you have this second bump of this video coming out and this new piece of content that you can share to pull people back into your evergreen content. Right. So I'm just trying to give some
questions
that you can ask to be skeptical, empower you with ways that you can run these experiments to validate these indicators for yourself and for your show and for your audience, because I think that's really how to make an informed decision here for your for yourself. And your show is start with the question and then do some tests to find out some interesting answers. And I think let us know the results if you take us up on this opportunity. We're doing this ourselves, as Rock said. So really exciting times, really great ideas. And I'm really stoked that we listened to people asking us for video recording, we listened from, of course, the platform perspective on SquadCast, but also as content creators and we're trying this for ourselves. So smash that subscribe button and click that notification bell if you're watching this on YouTube. 
 [00:37:19][187.3]


Rock Felder: [00:37:20] Yeah, no, I'm glad we listened. But even more better, if you will, is I'm glad they talked. I mean, we have the privilege of serving talkative creators. So keep talking, y'all. We're listening.  [00:37:31][11.5]


Rock Felder: [00:37:35] Thanks for tuning in to this week's episode of Between Two Mics,  [00:37:38][2.8]


Zach Moreno: [00:37:39] We hope you enjoyed our conversation. If you learn something or we intrigued you a bit, let us know on social media,  [00:37:45][5.7]


Rock Felder: 
[00:37:45] 
you can follow us on Facebook, Twitter, Instagram and LinkedIn by searching for
SquadCast FM
. 
 [00:37:51][5.7]


Zach Moreno: [00:37:52] And if you want to show the podcast some love, you can leave us a rating or review wherever it is you're listening right now.  [00:37:58][5.5]


Rock Felder: 
[00:37:59] 
This show is put together by us, Zach and Rock. It's mixed and produced by Vince Moreno with help from Arielle Nissenblatt. Our
logo
is designed by Alex Whedbee. 
 [00:38:08][9.3]


Zach Moreno: [00:38:09] Since we're a podcast about a podcasts, we want to shout out the brands and products that we trust. We're recording using SquadCast.FM and here's our current stack: for recording, we're using ATR2100 mics, Apple AirPods Max headphones and Focusrite Scarlett 2i2 audio interfaces.  [00:38:28][19.6]


Rock Felder: [00:38:29] We edit the show on Adobe Audition in our hosting site is Simplecast.  [00:38:32][3.1]


Zach Moreno: [00:38:34] That's it for us this week. We're back next week with more from between these mics.  [00:38:34][0.0]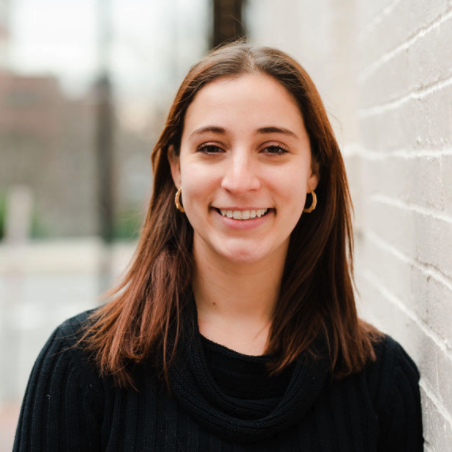 Arielle Nissenblatt is SquadCast's head of community and content. She's obsessed with all things podcast-related and is the founder of EarBuds Podcast Collective, a podcast recommendation engine.