It's 2022! Happy New Year.
What better way to start the year than by looking back at the glorious year that was. We asked our team and our community to contribute podcast recommendations. There's a pretty spectacular variety of shows represented in this episode. We hope you find a new fave!
Recommendations
Chris Angel Murphy, host of Allyship is a Verb, recommends The Love Doctor
Rabiah Coon, More Than Work, recommends WTF with Marc Maron
Rock Felder, Between Two Mics (our co-founder), recommends Turning the Tables
Deadair Dennis Maler, So, What Do You Really Do?, recommends World's Greatest Con
Pam Uzzell, Art Heals All Wounds, recommends Breathing Wind & Material Feels
Arielle Nissenblatt, Feedback with EarBuds (our community manager), recommends An Eyesore and a Plague
Paige Friend, The Beach Speaks, recommends A Little Bit Culty
Liz Sumner, I Always Wanted To, recommends Because of Anita
Kim Reyes, SquadCast's marketing manager, recommends Ghost of a Podcast
John Kundtz, The Disruptor, recommends the Up2 Podcast
Vince Moreno Sr., SquadCast's CIO, recommends Huchos
Dan Turchin, AI and the Future of Work, recommends Masters of Business
Laura Joyce Davis, Shelter in Place, recommends The Pod Broads & The Happiness Lab
Arun Sridhar, Skraps Podcast, recommends Lost Women of Science
Michelle Simone Miller, Mentors on the Mic, recommends Smartless
Chad Parizman of Ader Communications recommends Pivot
Leah Jackson, founder and CEO of Puka Puka Creative, recommends Bad Queers
Pat Flynn, Smart, Passive Income Podcast recommends Wave Form from MKBHD
Alex Whedbee, SquadCast's chief of design, recommends Wave Form from MKBHD
Manny Faces, Hip-Hop Can Save America and Newsbeat, recommends NPR's Life Kit
Vince Moreno Jr., SquadCast's head of customer support, recommends The Dave Chang Show
Tyler Basu, freelance branding and marketing strategist, recommends Daily Mind Medicine
Zach Moreno, Between Two Mics (& our co-founder), recommends The Lex Fridman Podcast
Extras
Credits
Written & produced by Arielle Nissenblatt
Mixed & designed by Vince Moreno Jr.
Music by Shawn Valles
Logos/website by Alex Whedbee
Transcripts by Ian Powell
Hosted by Zach Moreno & Rock Felder
Episode Transcription
[00:00:00] Liz Sumner: Hi SquadCasters. I'm Liz Sumner and before we get started with Between Two Mics, I want to tell you about another show recorded on SquadCast that might give you a boost of encouragement. It's called I Always Wanted To, where I interview people who are doing things that others long to do. Things like travel the world on your own, go parasailing, dig for dinosaur fossils or learn to sing. What have you always wanted to try? Check out I Always Wanted To, wherever fine podcasts are streamed.
[00:00:36] Rock: Welcome to Between Two Mics and hello 2022. Happy new year y'all! I'm Rock and I'm the co-founder of SquadCast.fm, the cloud recording studio. On Between Two Mics, we bring you conversations with leaders in the podcast and audio space. Sometimes we share podcast recommendations. We also get product updates, really anything content production and remote recording is fair game.
[00:01:01] Glad to have you with us. So for today's episode, our first of the year, we're actually looking back on the year that was. 2021 was an amazing year for podcasting, both for us as a company and for the industry on the whole. So we've asked our team and our SquadCast community to send in voice clips, telling us about their favorite podcasts from the year.
[00:01:25] This is our podcast recommendation episode. We've got a wide array of responses and recommendations here, and we hope you find something new to check out.
[00:01:38] Before we get to our podcast recommendations a few notes. First up, in case you missed it, just before Christmas, we launched a huge update. SquadCast is now available on iPhone and iPad in beta and it's stable on safari via desktop. We are so excited about this. It makes SquadCast the first cloud recording platform available on safari.
[00:02:01] We can't wait to hear the amazing audio you and your guests make with this new found capability. We wrote up a whole blog post detailing this update, and we released a YouTube video, demoing it. Both the blog and the video will be linked in the show notes.
[00:02:17] Next, right before the new year, we released our year in review of blog post. As I said, 2021 was a big year for us. We released video in early 2021, attended a bunch of events, both virtually and in person, grew our community, hosted many, many episodes of this podcast, appeared on tons of other podcasts and so much more. It's all in our year in review blog posts, which will also be linked in the show notes.
[00:02:43] And last, make sure to check back in your, Between Two Mic's podcast feed to listen to our community series. We dedicated the month of December to the community. Zach and I interviewed more than 15 SquadCasters about their lives, passions and podcasts. The result are Between Two Mic's community series, which highlights and honors our amazing members. Learn about business, brain injury, the beach, disability rights, hip hop, dating, and relationships, and so much more.
[00:03:12] Big thank you to our community members for sharing their voices. Phil, Jayne, Manny Felice, Joe JJ, Kelly, Keith Paige, JoJo, Arun, Jessica, Tom, Shubham, Dino, Chaz, Randy, Chris Angel, and Jade. You are all so amazing and it was an honor getting to share your story. Okay. Let's get to today's episode. It's podcast recommendation time.
[00:03:43] Chris Angel: Hey, I'm Chris Angel and my pronouns are they them? I'm the host of the podcast Allyship Is a Verb. The best podcast I listened to in 2021 was The Love Doctor. I enjoy it because Dr. Leah Tidy is a sexual health and arts-based researcher who answers questions from people about sex and interviews professionals in the field on various related topics.
[00:04:10] Although I had a decent sex ed experience throughout my academic career. I always find it fascinating and love learning more. She's funny and smart, and I appreciate how she makes research accessible.
[00:04:23] Rabiah: Hey, I'm Rabiah Coon host of More Than Work. The best podcast I listened to in 2021 was WTF with Mark Maron, especially the canceled comedy with Kliph Nesteroff and David Bianculli episode.
[00:04:35] I liked it because it challenged me to think and grow as a comic and a podcaster.
[00:04:40] Rock: Hey, there I'm Rock. And I'm a co-founder of SquadCast. My favorite podcast I listened to in 2021 was Turning the Tables, which is a show where a father and son listened to music together. And I liked it for three reasons.
[00:04:53] First, the albums that the son played to his dad, or some of the soundtracks of my life, like Frank Ocean's Blonde, Kid Cudi's Man on the Moon, and Dark Fantasy by Kanye. Another thing I love is you can clearly tell the father and son are musicians because they're rocking out together while listening through the different tracks, which I think makes for a really cool visual experience.
[00:05:12] That's unique from just listening. And then finally I'm a sucker for the father son component, because while the show is like really high quality at its essence, it's a son just playing his favorite tunes to his dad. And I think that's really cool.
[00:05:25] Deadair Dennis Maler: Hello, I'm Deadair Dennis Maler, host of So What Do You Really Do?
[00:05:29] A podcast where I interview artists and entertainers about their day jobs, because the things we do during the day to support what we want to do at night suck. The best podcast I listened to in 2021 was World's Greatest Con, traveling magician and YouTube host, Brian Brushwood tells the incredibly unbelievable story of how the Axis pulled off the most audacious swindle to defeat Germany and win World War II.
[00:05:53] You can find it on iTunes and everywhere else podcasts are podded.
[00:05:59] Pamela: Hey there, this is Pam Uzzell, host of Art Heals All Wounds. This year, I discovered two amazing podcasts that I know are going to be in my feed for 2022. The first one is Breathing Wind, founded by Sarah Davis. This podcast has helped me so much in processing the grief I feel about the loss of my mother six years ago. Hearing how others have handled the loss of a parent has helped me to find my own path to healing. The second podcast is a great podcast about artists and their chosen materials. It's called Material Feels, and it's hosted by Catherine Monahon. Catherine manages to take you on a journey of art, materials and social justice issues during the podcast, all with dashes of humor and narration, that's a great blend of written script and improv.
[00:06:48] So I hope that you'll check out Breathing Wind and Material feels and have a great 2022.
[00:06:55] Arielle: Hi, this is Arielle, SquadCasts, community manager. I listened to a lot of podcasts this year, but one that really stands out to me that I really enjoyed is called An Eyesore and a Plague. It's about the formation of New York suburbs and it's about history and it's about geography and everything in between.
[00:07:12] I really enjoyed it. You can listen to it wherever you get your podcasts. Hope you check it out.
[00:07:17] Paige : Hey, it's Paige Friend, host of The Beach Speaks podcast. And the best podcast I listened to in 2021 was A Little Bit Culty. I've always had a secret obsession with the subject of cults and culty behavior. So naturally I was drawn to this podcast. The hosts, both survivors of Nexium, share their personal experiences and speak to experts about all things culty.
[00:07:44] And after listening to just a few episodes, I realized a recent business opportunity I'd been asked to join and thankfully declined was actually a cult. Definitely worth a listen.
[00:07:56] Liz Sumner: I'm Liz Sumner host of, I Always Wanted To. I listened to a lot of great podcasts this year, but one stands out: Because of Anita from Pineapple Street Studios in the media. Anita Hill's story moved me deeply in 1991, and unfortunately continues to have relevance.
[00:08:15] She is the only celebrity to whom I've ever written a fan letter. Listen to Because of Anita.
[00:08:21] Kim: Hey, I'm Kim, the marketing manager at SquadCast. The best podcast I listened to this year is Ghost of a Podcast. I loved it because Jessica lets us know what's going on in the universe with the planets to make us feel better about the chaos and change in our own lives.
[00:08:39] John: Hi, the best podcast I've listened to in 2021 was the Up To podcast hosted by Adam Kaufman. I liked this podcast because Adam has an excellent focus on interviewing impressive guests that are, as he says, as humble as they are successful. During the interview, they explore the guests, challenges, their fears, their motivations, and what it takes to become a humble leader. On a personal note, Adam helped and encouraged me when I was just getting my show launched.
[00:09:12] This is John Quince, humble listener and the host of the disruptor, which airs on The Apex podcast.
[00:09:21] Vince: Hey, I'm Vince Moreno Sr, SquadCast's CIO. The best podcast I listened to in 2021 was who chose on YouTube. I liked it because he's got a great sense of humor and the information is very informative.
[00:09:39] Dan: Hello, this is Dan Turchin, CEO of PeopleReign and host of AI in the Future of Work and the best podcast I listened to this year was the episode of Masters in Business with Barry Ritholtz with Chamath Palihapitiya, who was an early Facebook employee and the founder of social capital. Usually the show is kind of a capitalism orgy, but with Chamath, it was much more interesting. He talks not just about how to make money, but really why to make money and how to distribute it fairly plus also how to fix the education system and little bit about geopolitics as well.
[00:10:14] All kind of using his soap box as an investor and a perennial underdog.
[00:10:20] Laura: Hey, I'm Laura Joyce Davis, the host and executive producer of Shelter in Place, an award-winning podcast about re-imagining life through creativity and community. There are two podcasts episodes this past year that I loved so much that I listened to them twice.
[00:10:37] The first was Alexander Cole's interview with Avery Truffleman on the Pod Broads. And the second was Laurie Santos and Dan Harris's conversation about how to be happier at work on the happiness lab. These episodes made me feel seen and encouraged and greatful. They capture the fatigue and overwhelm of work this past year, but they also remind us how rewarding work can be and offer some great insights and practical tools for the coming year.
[00:11:06] Arun: Hey, this is Arun, producer and host of SKRAPS podcast, where we explore the stories of sparks of brilliance in science and innovation. The podcast that I love listening to this year was Lost Women of Science. A podcast produced by Scientific American and narrated by Katie Hafner. The podcast details, the untold, an underappreciated story of Dr.
[00:11:29] Dorothy Anderson, who was so far ahead of her times and played a significant role in identifying one of the leading genetic disease and the reason why it was causing death in children, cystic fibrosis. While the actual genetic mutation was identified in the late 1990s, Dr. Anderson seminal contribution to diagnosis, testing treatment, and compassion to our patients during the period between 1920s and 1960s is largely forgotten.
[00:12:01] And in fact, as it happens to be deliberately erased out of memory. This podcast, revives that story.
[00:12:10] Michelle: Hey, I'm New York city actress, Michelle Simone Miller and I'm the host of Mentors on the Mic podcast. The best podcast I listened to in 2021 was Smartlist with Jason Bateman, Will Arnett and Sean Hayes. I never missed an episode.
[00:12:25] I love it because of the teasing witty off the cuff banter among the hosts. They even make the ads sound different and fun. And their guests range from actors like Woody Harrelson, Sandra Bullock, Halle Berry, to US Surgeon General, Dr. Vivek Murthy, sports commentator, Joe Buck, and more. And you can tell the guests really enjoy themselves in their interviews.
[00:12:44] And it just feels like a really fun conversation. Check it out.
[00:12:49] Chad: Hey, this is Chad Parizman from Ader Communications. My favorite podcast of 2021: Pivot from NY Mag and Vox media network. No one covers the intersection of tech and business like Kara Swisher and Scott Gallaway.
[00:13:03] Leah: Hey folks. This is Leah Jackson, founder and CEO of Puka Puka Creative, and we make podcasts for brands.
[00:13:11] And my favorite podcasts of the year in damn near the whole pandemic has been Bad Queers. It's an unapologetically black and queer show hosted by Shana and Chris and listening to it I feel like a queer fly in the wall into conversations between two close friends, which they are. And they talk about queer news trends, very important discussions around intersectionality and how to be an ally.
[00:13:39] And even a co-conspirator. I've absolutely loved every 90 plus episodes of it. And my #stan moment here is done.
[00:13:51] Pat: Hey, this is Pat Flynn, host of the Smart, Passive Income podcast, a podcast about online business and entrepreneurship. And the best podcast I listened to in 2021 was actually called Wave Form by MKB HD.
[00:14:02] You might recognize that name. He is a huge tech reviewer on YouTube, and he recently turned on the cameras and the microphone to record a podcast with him and his editor. And they just do so many amazing things together. And I'm a big fan of his. So it's been really neat because not only am I able to sort of get the behind the scenes of how he does what he does, but they just have really interesting conversations about tech in a way that's a little bit less formalized than his videos.
[00:14:27] Um, so I really love it as well because it is video and I am watching it because I watch his other videos. So I think this speaks to the importance of where things are headed with video and podcasting in the future. So wave form by MKBHD.
[00:14:40] Alex: Hey there. I'm Alex Whedbee, SquadCasts chief of design. My favorite podcast of 2021 was Wave Form, the MKBHD podcast.
[00:14:50] I enjoy it because they review all the latest tech that I'm interested in. Computers, phones, cameras, EVs, and more. Along with the production quality is top-notch. I look forward to seeing how they continue to evolve.
[00:15:04] Manny: Thanks to the SquadCast crew for letting me offer up my favorite podcast episode of 2021. I'm Manny Faces, host of Hip Hop Can Save America and Newsbeat.
[00:15:13] Now it took me a couple of days to get this recommendation in, which is ironic because my favorite app was an NPR life kit episode called Procrastination is More Than Putting Things Off. Here's how to kick the habit. Now, if I'm not deep diving into something, I love these kinds of short, informative, helpful episodes about a specific topic. In this case, one that can help us serial put-er- off-er types.
[00:15:33] I was tempted to pick a super highly produced or purely indie show for this. But to be honest, I'm a huge fan of the host TK Dutez, who also has one foot firmly planted in the indie pod game. So I'm all for more of her work, no matter where it is. Thanks. Y'all. Peace.
[00:15:49] Vince Jr.: Hey there. I'm Vince Morneau Jr. SquadCast head of customer support.
[00:15:54] The best podcast I listened to in 2021 was the David Chang show. The Secrets of Barbecue with chef Rodney Scott. I liked it because I love to barbeque.
[00:16:04] Tyler: Hey, this is Tyler Basu, I help SquadCast with their marketing strategy and online advertising. And the best podcast that I listened to this year was a podcast called Daily Mind Medicine from Traffic and Funnels.
[00:16:17] And the reason I love this podcast is because every single day, they publish a short episode. Usually five minutes long and it just helps give me a little dose of positivity and motivation for the day. And if I fall behind for a few days, I can easily binge a bunch of episodes all at once. And that doesn't take too much time.
[00:16:38] If you think that you'd benefit from a few minutes of extra motivation each day, I highly recommend checking them out.
[00:16:44] Zach: Hey, I'm Zach Moreno, the co-founder and CEO of SquadCast, and the best podcast I listened to in 2021 was the Lex Friedman podcast. I love it so much because it's a very quick, but deep dive into complex topics like AI, ML, blockchain, physics, and love.
[00:17:07] Rock: Thank you to everyone who contributed podcast recs to this episode, we'll link to everyone's recommendations and to their podcasts in the show notes. Thank you for listening to this episode of Between Two Mics. We'll be back next week with more remote recording content. Listeners. We'd love to hear your feedback.
[00:17:27] What do you like about the show? What could we be doing better? What do you want more of? How about less of? Please let us know. The only way we can fix it is with your help. Leave us a review wherever it is you're listening, right now. You can also get in touch with us on social media. We're at SquadCast FM on all major platforms Between Two Mics is written and produced by Arielle Nissenblatt. It's mixed and designed by Vince Moreno Jr.
[00:17:55] Our music is by Sean Vallis, Alex Whedbee designs, our logos in our website. Our transcripts are by Ian Powell. Zach Moreno, and me, Rock Felder are your hosts. Thanks for listening. Bye.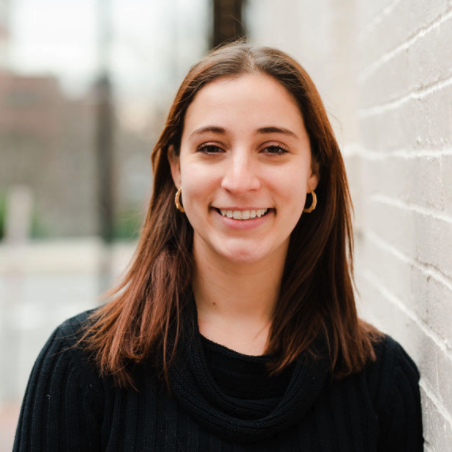 Arielle Nissenblatt is SquadCast's head of community and content. She's obsessed with all things podcast-related and is the founder of EarBuds Podcast Collective, a podcast recommendation engine.